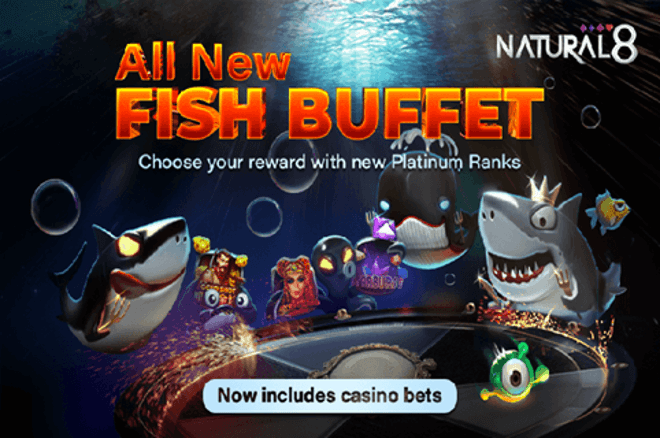 GGPoker Network (GGPN) It is currently the fastest growing online poker network and the main operator Natural8 has become one of the most popular options for poker enthusiasts around the world. In addition to record-breaking ads and a variety of competition schedules, another reason for success is the loyalty program.
is named Fish Buffet And offers a total of one ton of value with eight different rankings. The more you play, the more you can unlock as a cash reward.
How does a fish buffet work?
Players earn FP points for their actual activity, and after reaching the goal, each rank in the fish buffet receives a cash reward. On average, players earn 100 fish points for every $ 1 paid in the cash game table and Sit & Go and tournament fees paid. In addition, players now earn FP for casino play, and points are bet on amount.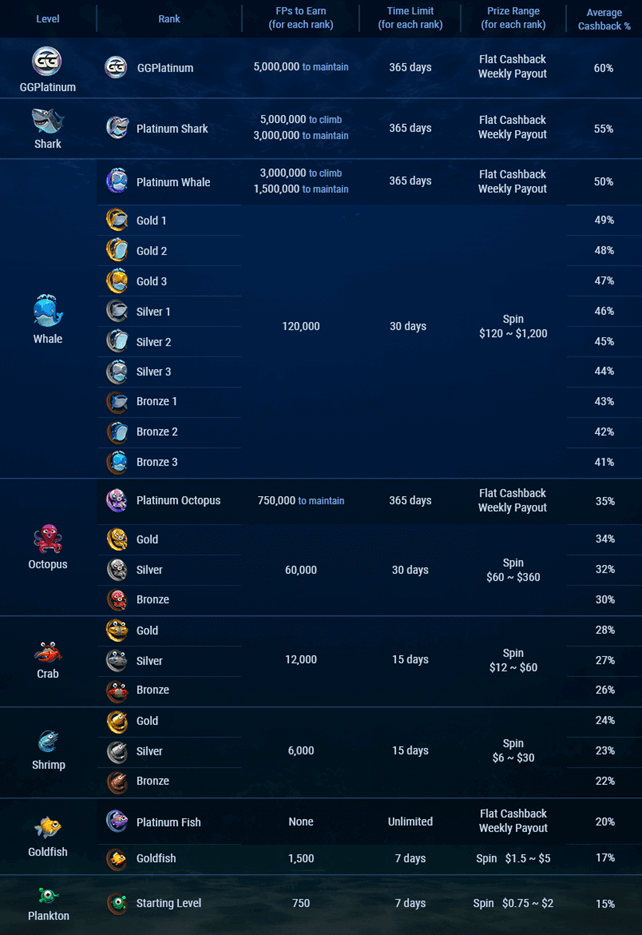 Cashback Earn up to 60%
Ascending the various categories, players open up the chance of receiving higher cashback rewards. As a beginner, you will start working at Plankton and can earn up to 15% in refunds. To unlock this extra money, you must earn 750 FP within seven days. Once this requirement is met, wheel rotation becomes available, earning you between $ 0.75 and $ 2.
The next rank is called Goldfish and consists of two rows: Goldfish pays back up to 17% in cash with a maximum spin of $ 5 and requires FP 1,500 in seven days. There is also Platinum Fish, which gives you a weekly refund of 20% refund, but you will use more of this option later.
For the next three ranks of shrimp, crab and octopus, there are three categories: bronze, silver and gold. The refund percentage for each row increases by 1% until Gold Crab and FP requirements increase, respectively. However, you also have 15 days to reach the required goals.
For octopuses, each top row is accompanied by a 2% increase for a possible refund. The minimum possible price for an octopus wheel is $ 60 and the maximum is $ 360.
Two other species of sea are responsible for the names of the following two degrees: whale and shark. There are a total of nine sub-rows for the whale, and by earning 120,000 FP in 30 days, the spin opens with prizes between $ 120 and $ 1,200. Gold 1 as the highest row with a reward through wheel spin, equal to 49% refund.
Weekly flat refund with platinum ratings
All players have the opportunity to access one of the Platinum rankings as they climb the fish buffet ranks. The lowest is the platinum fish, which has a 20% flat repayment and no maintenance points.
For Platinum Octopus, the weekly return on the bed increases to 35%. To maintain this rank you must earn FP 750,000 within 365 days. The other three top rankings with equal payouts provide the opportunity for high-volume mills to maximize their rewards. The attributes of Platinum Shark and GGPlatinum can only be obtained by satisfying the conditions, and you can find the exact numbers in the diagrams below.
Change mode to Platinum Ranks and Back
As players climb the ranks of the Fish Buffet, they have the option to switch to a Platinum level and open a fixed payout instead. This fixed percentage will be credited directly to your account every Monday based on points earned last week.
Anyone with a degree of octopus, crab and shrimp can turn to platinum fish. Likewise, anyone with a Whale degree can turn to Platinum Octopus. Beyond that, the requirements for ranking must be cleared as mentioned above.
Platinum ranks last 365 days from the moment you change. The only exception to this rule is platinum, because the situation is maintained indefinitely and is associated with a fixed return of 20%.
When you can go to the Platinum rankings, you can return to the ranks of Fish Fish. As a result, a platinum fish starts as a bronze fish and a platinum octopus starts as a bronze whale. Players still receive Platinum bonuses for all FPs collected until the switch is changed, but the new rank starts from zero.
The Fish Buffet Loyalty app is available to all Natural8 players. In addition to amazing payouts, Natural8 offers a variety of promotions for new players as well as long-time fans. 200% first deposit bonus Offers one of the most generous match rewards for online poker. For more information or help, contact Natural 8 24/7 Live support team.
Content produced by sponsor by Natural8