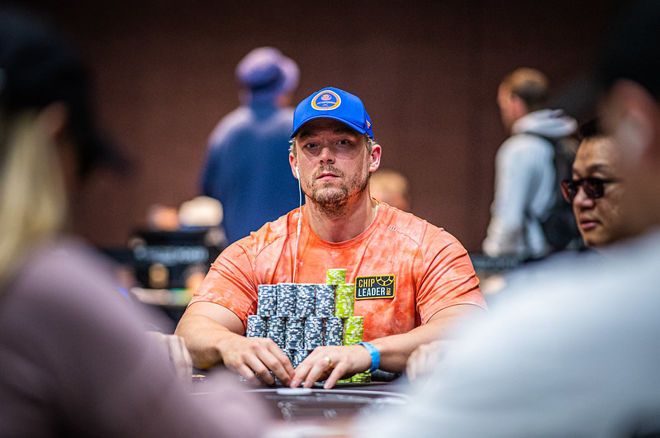 When Sunday's Day 2 session began at noon CT in Durant, Oklahoma, there were 187 players remaining in the World Poker Tour (WPT) Choctaw $3,800 buy-in Main Event. Twelve hours of play later and the field had dwindled down to the final 28 players, all of whom still have a shot at the $400,740 first place prize.
One of those individuals is none other than the great Alex Foxen, one of the top tournament players in the world. The two-time GPI Player of the Year recipient is not only on to Day 3 at noon CT on Monday. When play resumes inside the Grand Theater at Choctaw Casino & Resort, he'll have 3,380,000 chips, good for 135 big blinds. Only Brandon Guzmanwho secured his first ever WPT cash, has more (3,600,000).
Bubble Bursts on Day 2
Just before 7 pm on Sunday evening, with 78 players remaining on the stone bubble, three players were eliminated at separate tables — Megan Moore, Joey Gargiuloand Ashkan Massahi. They each received a $4,653 payout.
The trio of eliminations took some pressure off the remaining 75 players knowing they'd, at the very least, go home with some money. But there was still much to play for the rest of the day — and will be even more to play for on Monday.
There were a number of notable players who reached the money but busted prior to the conclusion of the session. That list includes Eric Baldwin (74th place for $6,980), Anthony Zinno (48th place for $9,600), Jeremy Joseph (42nd place for $9,600), Andrew Moreno (38th place for $10,860), Fabian Quoss (36th place for $10,860), and Josh Reichard (34th place for $10,860).
PokerNews Interview With Anthony Zinno at WPT Choctaw
Foxen Seek's Second World Poker Tour Title
When play resumes on Day 3, each remaining player has a guaranteed minimum payout of $12,480. But when the day concludes, the field will be down to the final table of six, all of whom will win at least $81,700. That final table, however, won't take place until May 26, and instead of playing it out in Southern Oklahoma, the players will travel to Las Vegas and compete inside the HyperX Arena at Luxor.
One day prior in the same venue, am weng will enter the final table of the WPT Seminole Hard Rock Poker Showdown with the chip lead playing for a shot at $1.1 million.
If Weng continues to stack chips at WPT Choctaw, he could end up playing in WPT final tables in consecutive days. If that were to happen, regardless of the outcome in each final table, it would go down as one of the most impressive accomplishments in poker history. The poker pro who is on a dream heater bagged 2,000,000 chips on Day 2, which puts him in third place. But there's a sizable gap between Weng and the top two stacks — Foxen and Guzman.
Foxen is chasing his second WPT Main Tour title. Hey won the WPT Five Diamond World Poker Classic at the Bellagio in Las Vegas for $1,694,995. The former college football athlete has been big stacked for most of his first two days of play.
Other familiar faces moving on to Day 3 include Loni Hui (975,000), Jared Jaffee (935,000), Hunter Cichy (925,000), and former WPT Player of the Year Erkut Yilmaz (595,000).
Top 10 Day 2 Chip Counts
| Place | player | stacks |
| --- | --- | --- |
| 1 | Brandon Guzman | 3,600,000 |
| 2 | Alex Foxen | 3,380,000 |
| 3 | am weng | 2,000,000 |
| 4 | Christopher Moon | 1,500,000 |
| 5 | Spencer Champlin | 1,495,000 |
| 6 | Andrew Ostapchenko | 1,365,000 |
| 7 | Lawrence Chang | 1,310,000 |
| 8th | Ashlyn Raney | 1,280,000 |
| 9 | Emmanuel Ignacio | 1,275,000 |
| 10 | Phu Vo | 1,100,000 |
*Images courtesy of WPT.