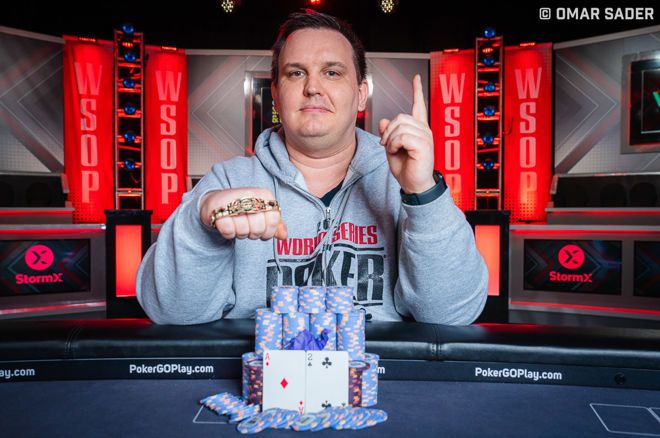 A hard-fought final table which lasted almost seven hours was finally put to bed by Robert Schultzwhen defeated Julien Sitbonto take down the $675,275 prize for first place in Event #59: $3,000 No-Limit Hold'em Freezeout.
In keeping with previous events at the 2023 World Series of Poker at the Horseshoe and Paris Las Vegasthe numbers exceeded the previous edition of the contest, attracting 1,598 runners and generating a prodigious prize pool of $4,266,660.
2Event #59: $3,000 No-Limit Hold'em Freezeout Final Table Results
| Place | players | Country | Prize |
| --- | --- | --- | --- |
| 1 | Robert Schultz | Germany | $675,275 |
| 2 | Julien Sitbon | France | $417,338 |
| 3 | James Mendoza | Philippines | $303,884 |
| 4 | Barack Wisbrod | Israel | $233,657 |
| 5 | Dario Sammartino | Italy | $166,404 |
| 6 | Robert Burlacu | Romania | $125,170 |
| 7 | Nazar Buhaiov | Ukraine | $95,203 |
| 8th | Kunal Patni | India | $73,225 |
| 9 | Jesse Lonis | United States | $56,963 |
| 10 | Shon Aroeti | Israel | $44,823 |
Schulz is no stranger to big final tables, having previously amassed over a million dollars on his Hendon Mob profile, but this was his grandest win to date. The occasion did not hinder the unflappable German, who remained the personification of calmness throughout.
The final table was a veritable United Nations of poker, with no fewer than nine countries being represented. And there were boisterous rails supporting several of the participants, but nothing could distract Schulz from fulfilling his ultimate goal.
Final table action
First to bust from the unofficial final table of ten, was Shon Aroeti, when his ace-ten was outkicked by Schulz's ace-king — and that was before the board ran out with two more kings. He was swiftly followed to the payout desk by Jesse Lonis other Kunal Patni.
Nazar Buhaiov fell in seventh place, his nines out flopped by Schulz's ace-king. other Robert Burlacu went in sixth, another victim to the unstoppable German.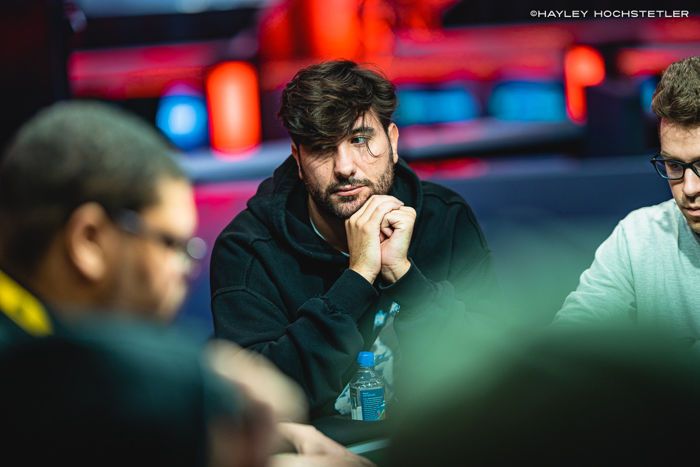 Dario Sammartino what next to go Barack Wisbrod rivering an ace to end his WSOP dream, at least for the time being.
But it was Wisbrod who would succumb in fourth when he couldn't overcome Sitbon's pocket eights.
James Mendoza departed in third place, with what proved to be the defining moment in Shultz's tournament, giving him a commanding lead over Sitbon, who only lasted a few more hands.
Winner's reaction
Asked if he was always composed like that, Schulz replied, "I would say so. I think I'm on the calmer side. Usually, it takes pretty extreme things to put me out of balance." It is hard to imagine much that could be more extreme than a WSOP final table.
Summing up his emotions, he said he felt, "Exhausted, relieved, and yeah, proud as well. I think I played fine."
On the subject of what he will do next, Schulz commented, "I think I'm coming down with a cold; I've been sniffing and coughing, so I think I'm going to take it slow. Let's see how tomorrow is, and then maybe then I'll want to play again."
Finally, reflecting on how he managed to remain unfazed through the vociferous railing, Schulz simply said, "I don't speak French, so I've no clue what they said."
Schulz's impressive victory takes his lifetime earnings from live poker tournaments past the $1.76 million mark and bumps him up to 37th in Germany's all-time money list. Based on this performance alone, it is highly likely we shall see Schulz at another WSOP final table in the not-too-distant future.
stay tuned to PokerNews throughout the 2023 WSOP to see if Schulz shakes off his cold and battles his way to glory once again.
1

Peter Thai Wins First Bracelet of the 2023 WSOP: Event #1: $500 Casino Employees ($75,535)

2

Alexandre Vuilleumier Captures 2023 WSOP Event #2: $25K High Roller Title

3

Cody "1eggadaymike" Bell Wins WSOP Bracelet and $87,665 in the Triple Treys Summer Tip Off

4

Michael Moncek Wins Event #6: $5,000 Mixed No-Limit Hold'em/Pot-Limit Omaha for $534,499

5

Chad Eveslage Steamrolls to Second WSOP Bracelet in Event #5: $1,500 Dealer's Choice (6-Handed) ($131,879)

6

Ronnie Day Reigns Supreme in Event #4: Tournament of Champions ($200,000)

7

Vadim Shlez Takes Down Event #7: $1,500 Limit Hold'em For $146,835

8th

Chanracy Khun Wins Event #8: $25,000 Heads-Up No-Limit Hold'em Championship

9

Nick Schulman Wins Event #9: Seven Card Stud For Fourth WSOP Bracelet ($110,800)

10

Ian "IanMa" Matakis Wins Online Event #2: $500 No-Limit Hold'em Bankroll Builder for $120,686

11

Ryan "dna2rna" Hughes Wins Third Bracelet, Defeats Shaun "fortnite" Deeb in Online Battle

12

Tyler Brown Crowned Champion of Event #3: $1,000 Mystery Millions ($1,000,000)

13

Kenneth O'Donnell Wins Event #11: $600 No-Limit Hold'em Deepstack For $351,098

14

The Chosen One: Chad Eveslage Wins Third Bracelet in the $10,000 Dealer's Choice Championship

15

Estes Nabs Second WSOP MI Online Bracelet; Kershaw Victorious in First PA Event

16

Joseph Altomonte Returns to Poker With a Bang; Rake in $217,102 and a WSOP bracelet

17

Jeremy Eyer Defeats Felipe Ramos in Gruelling Heads Up Duel for $5K Freezeout Title ($649,550)

18

Danny "jackdaniels1" Wong Finally Bags WSOP Bracelet After 13 Hour Day

19

Isaac Haxton Removes Name from "Best Without a Bracelet" List w/ $25K High Roller Win

20

Brian Yoon Wins 5th WSOP Bracelet in $10,000 Seven Card Stud Championship

21

Brazil Out in Force for Reis' First Bracelet in $1,500 6-Handed No-Limit Hold'em

22

Three Isn't a Crowd for Jim Collopy Who Wins His Third WSOP Bracelet

23

Valentino Konakchiev Denies Andres Korn a Second Bracelet in $2.5K NLHE Freezeout

24

Michael Rodrigues Becomes First Badugi Champion in Event #20: $1,500 Badugi

25

Stephen Nahm toasts to his victory in Event #21: $1k Pot-Limit Omaha

26

Fifth Bracelet for Josh Arieh in Event #22: $10,000 Limit Hold'em Championship for $316,226

27

Leon Storm bests Bill Klein in Event #23: $50,000 High Roller ($1,546,024)

28

Two Big Bets and a Chair – David "ODB" Baker Fights Back from the Felt to Win His Third Bracelet

29

Jason Simon Becomes WSOP's First Gladiator of Poker for $499,852

30

Renji Mao's Deepstack Aggression Earns Him First WSOP Bracelet ($402,588)

31

Belyalovsky Defeats 2020 WSOP Online Domestic Main Event Champion Hebert

32

12 Year Drought Ends: Ben Lamb Runs "Hotter Than the Sun" to Win 2nd WSOP Gold Bracelet

33

Six is ​​Sweet For Shaun Deeb in Event #27: $1,500 Eight Game Mix

34

Jans Arends Tops Star-Studded Final Table to Win $100K High Roller for $2,576,729

35

Benjamin Ector Busts Seven Straight to Win Event #28: $1,500 NLH Freezeout ($406,403)

36

Houston Firefighter Scott Dulaney Extinguishes the Opposition in Event #31 of 2023 WSOP

37

Cash Game Specialist Mark Ioli Wins First WSOP Bracelet for $558,266

38

John Monnette Joins Five-Timers Club With $1,500 Triple Draw WSOP Title

39

Sean Troha Wins 2nd WSOP Bracelet; Takes Down Event #34: $1,500 PLO for $298,192

40

"It's Gonna Be Tough for You" Says Jerry Wong on Way to Winning 1st WSOP Bracelet

41

Chris Klodnicki Returns to WSOP, Wins $10,000 NLH Secret Bounty for 2nd Career Bracelet

42

Ryutaro Suzuki Becomes Japan's Mixed-Game Master in Event #36: $3,000 Nine Game Mix

43

Yuan Li Adds Name to List of 2023 WSOP Bracelet Winners after $2K NLHE Triumph ($524,777)

44

Benny Glaser Joins Five-Timers Club with Win in Event #38: $10K 2-7 Triple Draw Championship

45

Morgan Magee & Josh Dempsey Lay Claim to WSOP Online Bracelets in MI & PA

46

"suited_h13" Last One Standing in WSOP Online Event #6: $500 No-Limit Hold'em Turbo ($134,527)

47

Chris Brewer Wins $250k Super High Roller and First Bracelet ($5,293,556)

48

Joe "jimjam01" Serock Wins 2023 WSOP Online Event #7: $500 PLO 6-Max ($93,911)

49

"I've Got It!" Qiang Xu Wins First Bracelet in $800 Deep Stack ($339,033)

50

Scott Abrams Becomes Inaugural Big O Champion for $315,203

51

Braxton Dunaway Wins Monster Stack for $1,162,681; Now Headed to Son's College World Series

52

Jeremy "ChipChecka" Ausmus Claims Sixth Bracelet in Online Event #8: $3,200 No-Limit Hold'em

53

Jay Lockett Turns $500 into $262,526 and a Bracelet at the 2023 WSOP

54

Braxton Dunaway Wins Monster Stack for $1,162,681; Now Headed to Son's College World Series

55

William Leffingwell Brings A Bracelet Home to Houston a Week After His Friend Did the Same!

56

Pengfei Wang Plays First Tournament Ever; Wins $270,700 in Event #49: $1,500 Super Turbo Bounty

57

Brian Rast Wins $50,000 Poker Players Championship For the Third Time ($1,324,747)

58

Yang Zhang Captures 2023 WSOP $3,000 No Limit Hold'em Title ($717,879)

59

Yuri Dzivielevski Wins Third Bracelet and $207,678 in Event #47: $1,500 HORSE

60

Poker Player Proposes to Girlfriend After Winning WSOP Bracelet & $1,309,232

61

Team Savakinas Reign Supreme in WSOP Tag Team Event ($190,662)

62

Nick Pupillo Wins First Bracelet In $2,500 Mixed Triple Draw for $181,978

63

Justin Vaysman & Rudy Gavaldon Win WSOP Online Bracelets in Pennsylvania & Michigan

64

Ryan "GoFeltaFish2" Eriquezzo Multitasks His Way to His Third WSOP Bracelet

65

Lonnie Hallett Defeats Billy Baxter Heads-Up to Win 2023 WSOP Seniors Championship ($765,731)

66

Mike Gorodinsky Blazes Down the Home Stretch to Win $10,000 HORSE Championship ($422,747)

67

Marcin Horecki Denies Mike Matusow as he Captures Poland's First-Ever Live WSOP Bracelet

68

Retired Fireman Steven Genovese Climbs a Different Type of Ladder to Take Home a WSOP Bracelet!

69

Jason Daly Steamrolls Final Table of Event #58: $3,000 Limit Hold'em to Win First WSOP Bracelet

70

Millionaire Maker Winner Pavel Plesuv Becomes Moldova's First WSOP Champion ($1,201,564)

71

Ka Kwan Lau Finds Redemption in $25K PLO High Roller ($2,294,756)

72

WSOP Online Pennsylvania & Michigan: Christopher Nunez & David Ferus Find Mystery Bounty Success

73

Calm, Collected, and Deadly: Robert Schulz Becomes a WSOP Champion