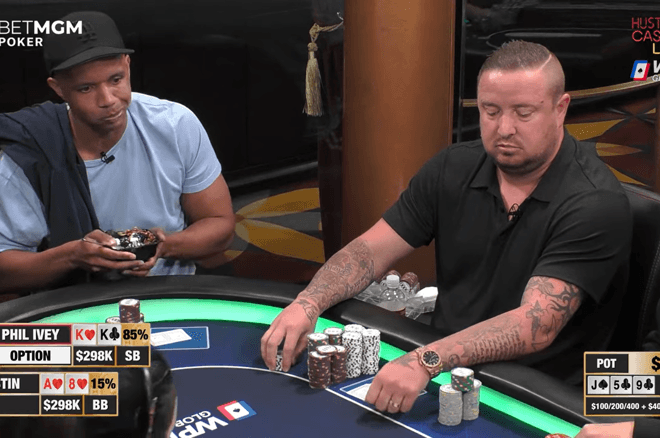 Premium hands were few and far between for Phil Ivey in his first appearance on Hustler Casino Live since October 2021, but he still lost nearly $200,000, while Garrett Adelstein had an unusually brutal session and dropped $238,000.
The game, commented by David Tuchman other Billy "DGAF," was slated to be $100/$200/$400 no-limit hold'em, but that was only the start. There were multiple straddles on throughout much of the seven-hour session that concluded around midnight PT Wednesday night. When the cameras stopped rolling, the biggest winner with a $328,000 profit was "JR," a recreational player but regular in the high-stakes HCL games.
Eric Persson, far and away the most active player with a 52% VPIP (voluntary put in pot), dominated much of the session. He was up more than $200,000 at one point and was seemingly getting inside Adelstein's head, something that doesn't often happen. By using speech play to his advantage, the Maverick Gaming CEO Persson won a number of big pots and even convinced "GMan" to call a $60,000 bet on the river with ace-high in a hand the nut straight.
Phil Ivey Back in Action
When play began, there was $2.5 million on the table, a number that would progress to above $3.4 million. As per usual, Adelstein's initial stack of $500,000 couldn't be topped, although Persson opted to match it. Ivey, the 10-time World Series of Poker bracelet winner, started play with $300,000.
Fresh off on impressive 2022 WSOP, Ivey made his first appearance on Hustler Casino Live in nearly a year. during two 2021 streams, the Poker Hall of Famer was clearly more interested in his college football wagers than the poker game. hey bolted early from one of the sessions.
On Wednesday night, however, he came out firing and ready to play, although he was card dead throughout most of the night. He picked up few premium hands, but had pocket kings on the first hand of the session and won a small pot. In the second hand, he won another small pot with ace-queen against GGPoker China Ambassador Andy "Stacks" Tsaia Los Angeles high-stakes livestream regular.
The premium hands then disappeared for Ivey, who couldn't find much of a rhythm. A few hours into an otherwise uneventful session for the poker legend, he'd pick up the aggression to win a couple of minor pots. Then, he made one mistake that turned out to be costly against Persson.
With
in the hole, the WSOP champ made a river raise to $110,000 on a board of
. While the play may have surprised his opponent considering Ivey had played tight most of the night, it didn't matter because Persson had
for a flush and snap called.
That hand cost Ivey over $125,000 and he'd finish the session down $192,000. He'll be back in the saddle again on Hustler Casino Live at 5 pm Thursday night.
Adelstein Can't Get Anything Going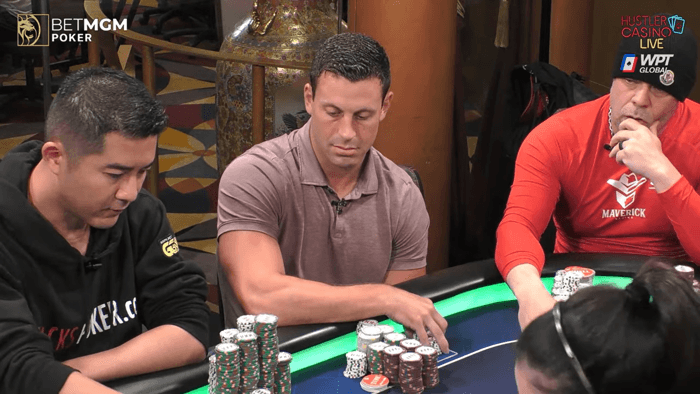 Adelstein's was the top high-stakes live stream cash game player for years. According to TrackingPoker.com, he's up over $1.8 million on Hustler Casino Live lifetime, easily the biggest winner. But the cards simply didn't go his way Wednesday night.
That said, he did successfully pull off a massive bluff against his longtime foe Andy "Stacks," who had kings and couldn't find the call on a double-paired board when Adelstein, with $82,000 in the pot, put him all in with just ace high for around $300,000. Had his opponent called, it would have gone down as one of the biggest failed bluffs on livestream in quite some time. Instead, he got it through and avoided an even worse session.
For the night, Adelstein VPIP'ed at 37%, a tad lower than his usual output. Ivey's VPIP was 26% and only DJ Washburnwho busted his $100,000 starting stack and then left well before the stream ended, had a lower VPIP (25%).