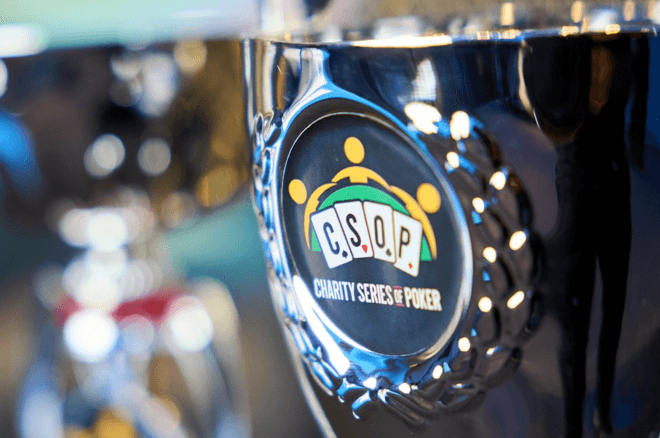 the Global Poker Awards Coming to Las Vegas on March 3 aren't the only poker awards show in town. On Tuesday, February 21, the Charity Series of Poker (CSOP) will host its first-ever award dinner as well as a charity poker tournament.
The CSOP 2022 Awards will honor charities, players, volunteers, sponsors, photographers, and emcees. A lot of time, effort, and planning goes into each CSOP event, and it wouldn't be possible without sponsors and volunteers. Now, it's time for those hard-working individuals and charity-supporting companies to get some time in the poker spotlight!
A limited number of tickets are still available for the upcoming CSOP. Here are the details you'll need to know:
Via Brasil Steakhouse at 1225 S Fort Apache Dr Las Vegas, NV 89117
Dinner + Poker: $300
Dinner Only: $150
Rebuys & Addons: $100
VIP Reception: 5:30pm
Tournament: 7:00 pm (late registration closes at 9:30 pm)
10,000 starting chips; 10,000 chips per rebuy; 20,000 chips per addon
Silent auction ends at 10 pm
Attire: Business Casual
Click here to register for the CSOP now!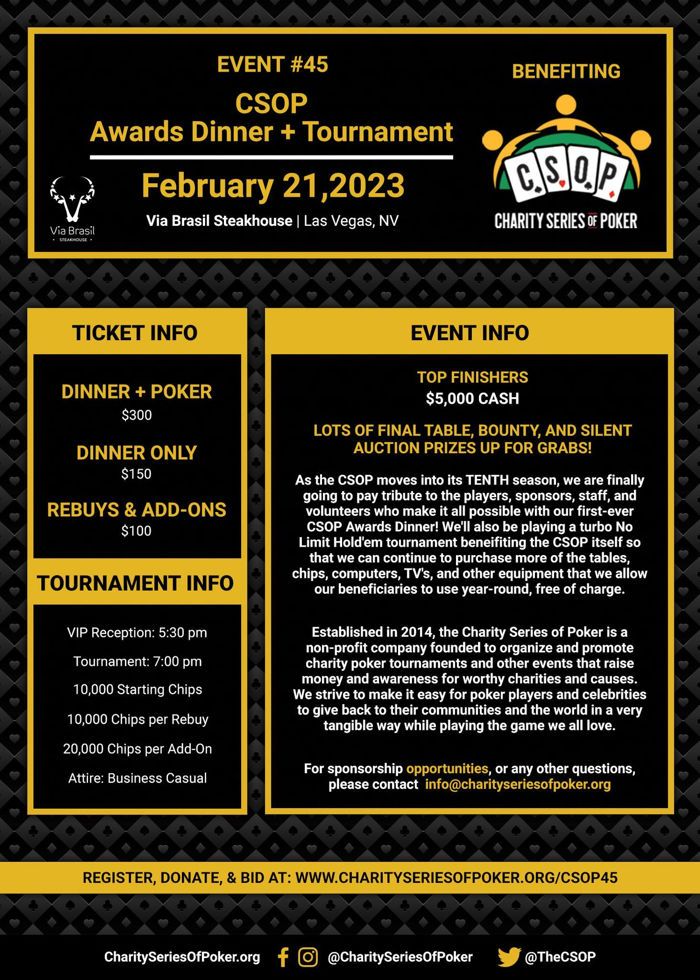 Silent Auction Live
The tournament, which marks the 45th in CSOP history, will also be accompanied by a silent auction, which is live now. Not only will attendees be able to place bids, but those unable to attend in person can do so online. In the auction, you can bid on multiple packages which include extraordinary items like Peonis by Janel Raihl, a $500 Via Brasil GC, a Celebrity Cash Game with Daniel Negreanua Palomino King of Clubs Experience, VGK Glass Seats, and so much more!
For more information including sponsorship, volunteering opportunities, or any other questions, please contact [email protected].
---
Click here to check out the silent auction items.
---
The CSOP 2022 Award Nominees
The CSOP, which was established in 2014 by Matt Stout, is entering its 10th season, which made it the perfect time for them to pay tribute to the players, sponsors, staff, and volunteers from throughout the years. They will be honored via the first-ever CSOP Awards, which is comprised of several categories including event of the year, Emcee of the Year, Mike Sexton Ambassador Award, Daniel Negreanu Extra Effort Awardand more.
Here's a look at all the categories and nominees: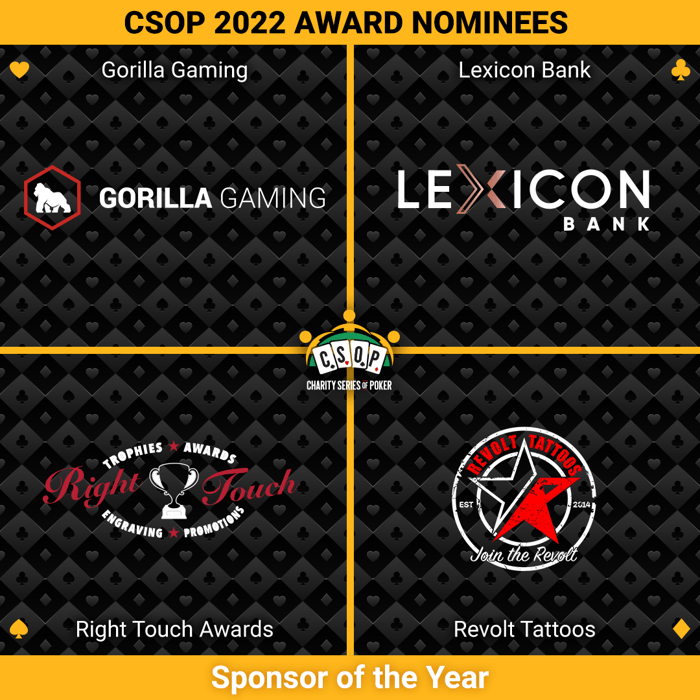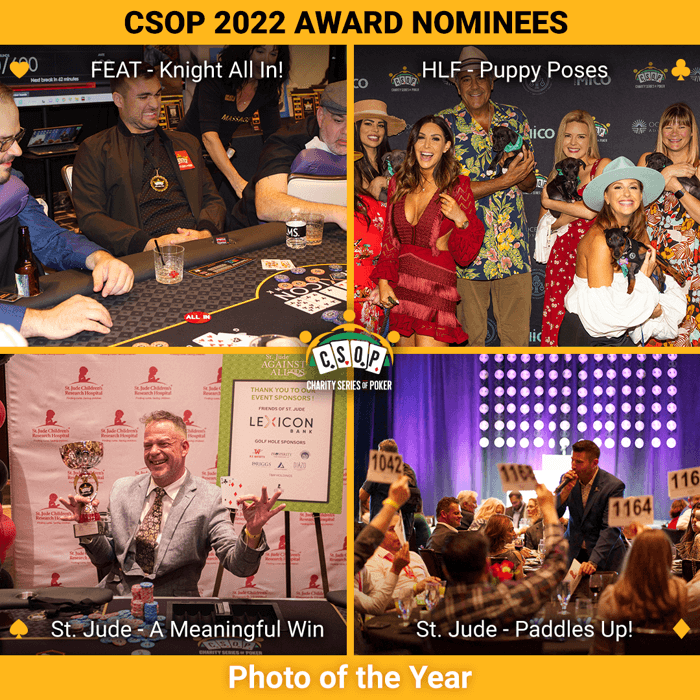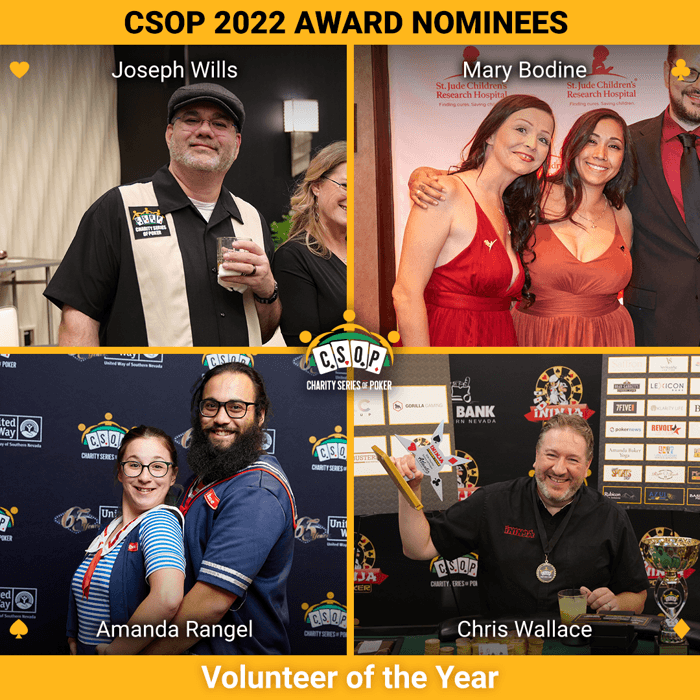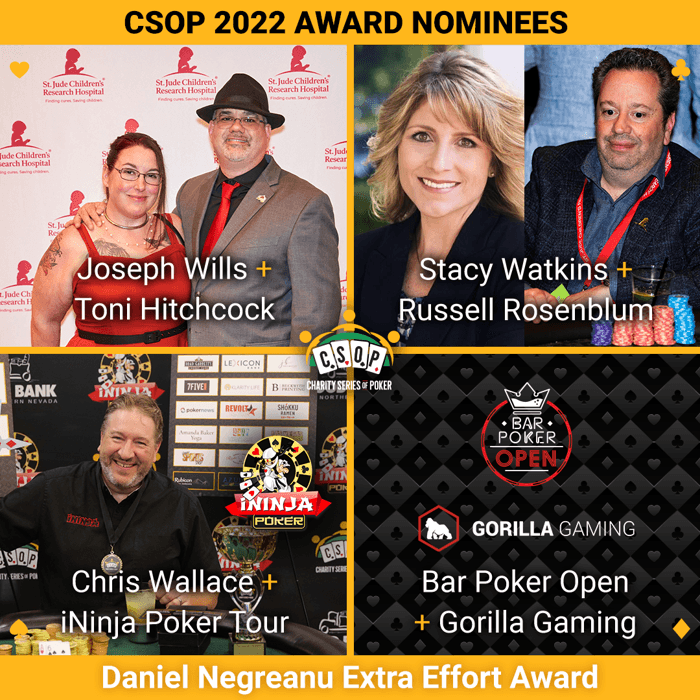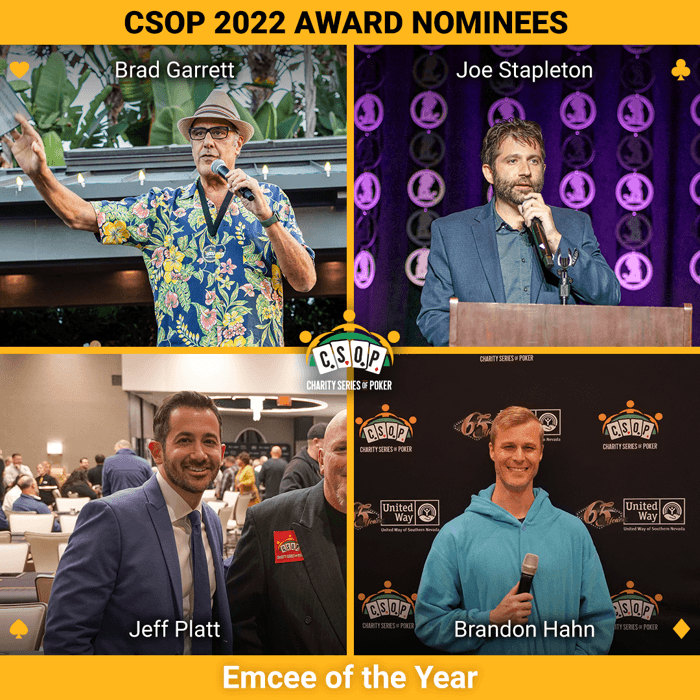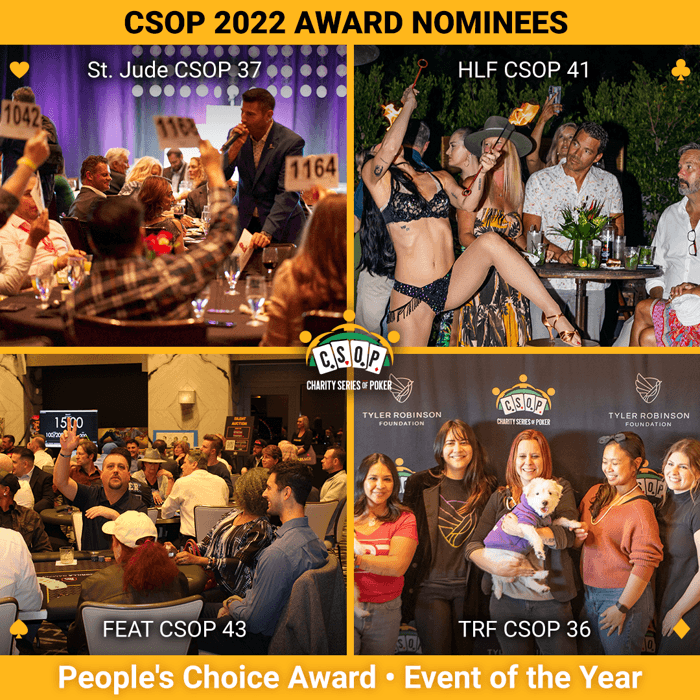 Vote now for the CSOP People's Choice Award
Additionally, CSOP has already revealed that St. Jude won "Earner of the Year" while FEAT of Southern Nevada won Breakout Event of the Year.
what's next
The CSOP is a non-profit company founded to organize and promote charity poker tournaments and other events that raise money and awareness for worthy charities and causes. We strive to make it easy for poker players and celebrities to give back to their communities and the world in a very tangible way while playing the game of poker.
In March, the CSOP will go Go all in to Slay Cancer with Poker! Benefitting Tyler Robinson Foundation. The "Slay Cancer with Poker" CSOP 46 will be held at The Stirling Club on Saturday, March 25.
Click here for more details on that event.
You'll also want to mark your calendar for Sep 7-9, 2023which is when the CSOP will partner with St. Jude for Viva St. Jude at Resort World. It'll be a weekend filled with golf, fashion, food, and poker. The St. Jude charity poker event has a long history and is one of the biggest and best in the world!