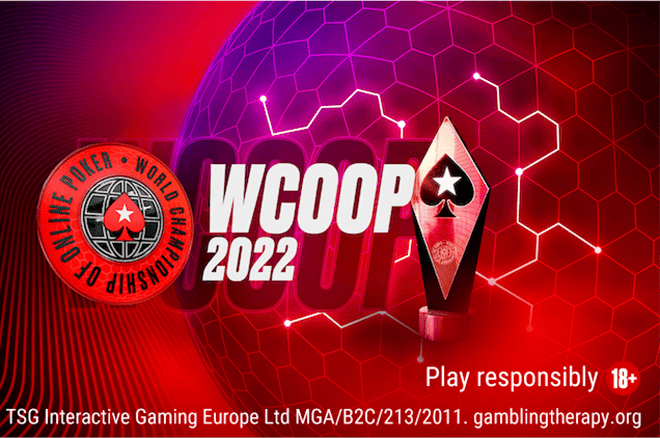 The Main Events for the World Championship of Online Poker (WCOOP) on PokerStars came to a sudden halt last month following Distributed Denial of Service (DDoS) attacks, which resulted in the cancellation of all games running on the platform.
To make up for the unfortunate situation, PokerStars announced a brand new WCOOP Championship Weekend which will run from November 5-6. The new schedule also sees new tournaments added as well as bigger guarantees for certain events.
WCOOP events to take place on Sunday, November 6
$109. $1,050, $10,300 NLH Main Events
$109. $1,050, $10,300 PLO Main Events
$5.50, $22, $109 Women's Events
The rescheduled tournaments will still run for the same amount as days as originally planned. So, the No Limit Hold'em Main Events will run from November 6-9. The PLO Main Events will then play out over November 6-8.
Even with the new schedule and bigger guarantees, PokerStars is continuing to provide as much value to players as possible by running additional freerolls and added value satellites to help even more people get involved in WCOOP.
Qualify for the WCOOP Main Event – Low for Free!

PokerStars player can stretch their bankroll further thanks to the plethora of freerolls to the WCOOP Main Event – Low. Now these tournaments aren't freerolls that feed into further satellites, they lead directly into the $109 buy-in edition of the Main Event.
Each direct satellite to this specific tournament has two seats guaranteed and they begin on the quarter past of every hour. Even if you were to bust on your first bullet, rebuys are unlimited and only cost $0.11! So even if you can't freeroll your way into the $3 million guaranteed eventit is still very possible to qualify for under a single dollar!
Don't Miss Out on These Step Satellites

Those who want to play the $1,050 and $10,300 versions of the WCOOP Main Event also have many avenues to explore when it comes to getting in on the cheap.
While neither edition has direct freerolls planned at the moment, players can use step satellites to qualify for WCOOP Main Event – Medium for free as well as WCOOP Main Event – Highwhich has step to satellites beginning at just $2.20.
Direct satellites to the $1,050 buy-in Main Event vary from $22-$109 which run several times a day. The same applies to the $10,300 edition except these satellites come with higher buy-ins which range from $215-$530.
Make sure to check out the PokerStars client to plan your path to WCOOP glory!
"Eat, Drink and Don't Over-Study!" – Spraggy Shares PokerStars WCOOP Advice
Join PokerStars for a $600 match bonus
Those of you who do not already have a PokerStars account can Download the excellent software via PokerNews. Make your first deposit safe in the knowledge that PokerStars matches your deposit 100% up to a maximum of $600. In fact, your first three deposits in the first 90 days after creating your account are matched 100% up to a combined maximum of $600.

Editor & Live Reporter

Calum has been a part of the PokerNews team since September 2021 after working in the UK energy sector. He played his first hand of poker in 2017 and immediately fell in love with the game. Calum's proudest poker achievement is winning the only tournament he has ever played in Las Vegas, the prestigious $60 Flamingo evening event.