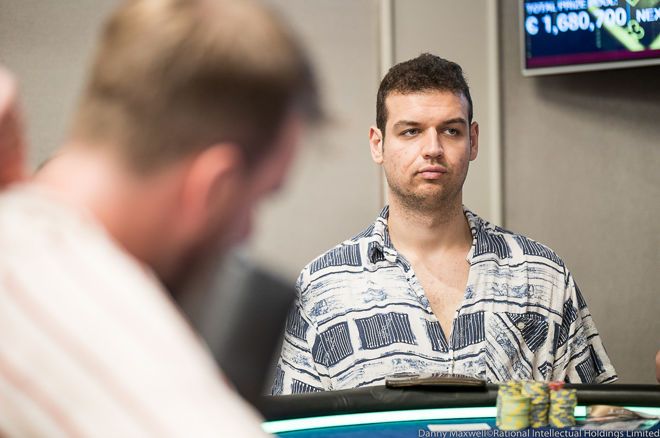 This is one of the craziest but equally impressive bluffs I have seen in a poker tournament! In this $300,000 buy-in at the 2021 Super High Roller Bowl we have two of the best players in the world battling it out: Michael Addamo and the controversial Jake Schindler (click here to read PokerNews' reporting on the cheating allegations against Schindler).
In this PokerNews strategy column, I discuss the poker strategy that you must consider when deciding to check-raise bluff on the river and what cards would be good to have to make great bluffing candidates.
In order to play a balanced poker strategy you must find hands that you can use as bluffs, and Addamo managed to pick the perfect spot and hand to do it with! Can Schindler find an epic hero call?
The hand kicks off on Day 1 with blinds at 1,000/1,500/1,500 and Schindler opening to 4,000 from early position with
. Addamo then three-bet to a massive 28,000 from the big blind holding
. Schindler called off his stack of 283,000.
This three-bet size is not something I've seen the solver do, but Addamo has shown that he will frequently do strange things that his opponents don't know how to respond to. I think he's probably doing this with a range containing the best hands like aces and kings as well as some suited connectors thrown in there as bluffs.
I don't think Schindler should ever be four-betting in this spot against a polarized range so I like the call.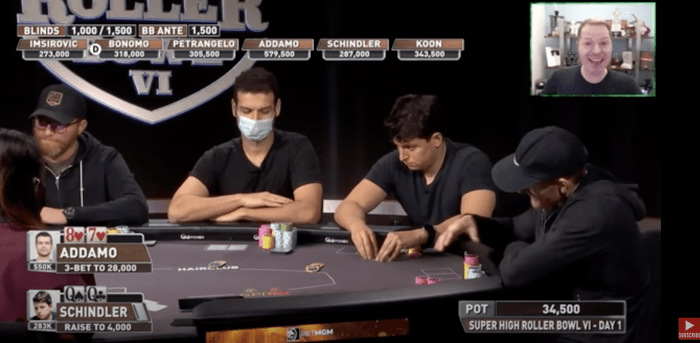 The flop landed
to give Addamo a pair of sevens but to keep Schindler ahead with his queens. Addamo continued with a bet of 19,000 and Schindler called, pretty standard action by both players.
the
on the turn spiced things up as it improved Addamo to an open-ended straight draw and flush draw and he decided to check as Schindler checked back.
While the turn is excellent for Addamo's exact hand, it is not a good hand for his range, especially after getting called by Schindler on the flop. Schindler has an easy check back in my mind.
The river brought the
and Addamo checked with his sevens and kings. Schindler bet 55,000 for value and Addamo used a few time banks, leading the commentators to speculate the Australian was considering either calling or folding.
But Addamo shocked them when he check-jammed to put Schindler all in for 240,000. Schindler quickly folded the best hand.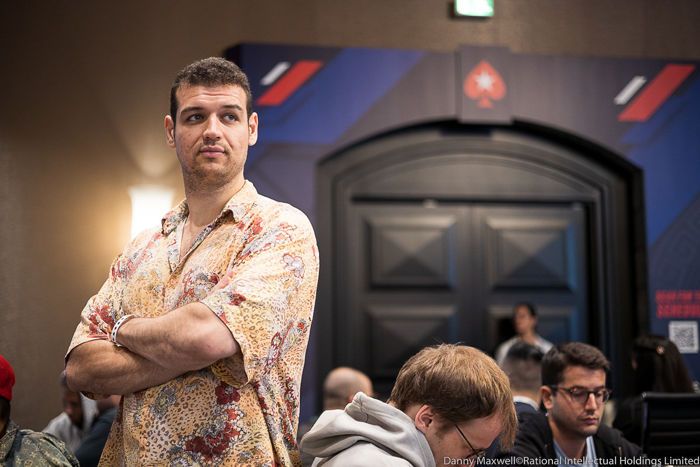 I think Schindler bet a little too large on the river with his pocket queens but overall his play is fine. Addamo decided to unleash his savagery in a spot where players rarely have bluffs, putting his opponent in a very difficult spot. If you want to protect your checking range, you need to have some check-raise bluffs.
Should Addamo have just called? While I do think calling is viable, it is hard for Addamo to be bluffing in this spot and that makes it hard to find a call.
Since Addamo's pair of sevens is probably no good in this scenario, he should be raising with hands that block his opponent from having full houses or straights. And since his hand contains a seven, I think this is a reasonable hand to use as a bluff.
I like Schindler's fold because queens are a bad bluff-catcher in this spot as they make it less likely Addamo has a bluffing hand containing a queen. So Schindler just has to let it go!
Addamo's bold playing style paid off and he went on to win the $300,000 buy-in event for $3.4 million.
For more on this hand check out my breakdown in the following video:
Jonathan Little is a professional poker player and author with over $7,000,000 in live tournament earnings. He writes a weekly educational blog and hosts a podcast at JonathanLittlePoker.com. Sign up to learn poker from Jonathan for free at PokerCoaching.com. You can follow him on Twitter @JonathanLittle.