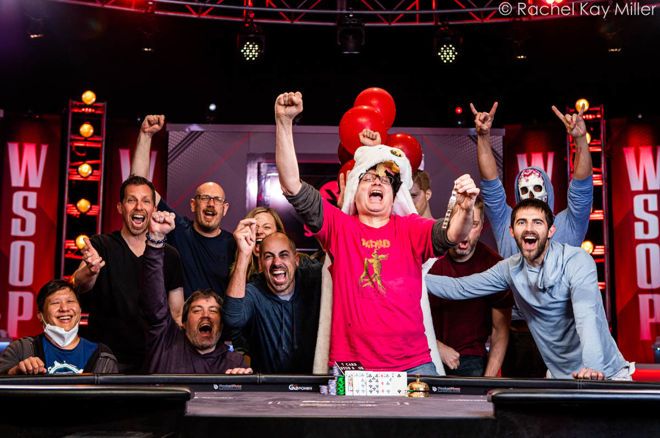 Steve Albini has worked with some of the biggest names in music in his job as a recording engineer. Now his name is on the list of multiples World Series of Poker bracelet winners after taking down Event #32: $1,500 HORSE for $196,089.
Albini beat a field of 773 players full of professionals and mixed game specialists. But he's not a pro himself. He owns his own recording studio in Chicago and has produced albums for the likes of Nirvana and Jimmy Page.
Poker is just a hobby for Albini, Albeit one he takes seriously. "Everything in my life comes in pieces, in parts. Poker is one part of my life," he said after his win.
"So when I'm playing poker, I try to commit to it. I try to take it seriously. I try to make sure I devote the attention to it that it deserves as an occupation. But it's only part of my year. I only play tournaments at the World Series of Poker. I play cash games informally in Chicago. It's a part of my livelihood, but it's not my profession."
2022 WSOP Event #32: $1,500 HORSE Final Table results
| | | | | |
| --- | --- | --- | --- | --- |
| Place | players | Country | earnings | |
| 1 | Steven Albini | United States | $196,089 | |
| 2 | James Morgan | Canada | $121,195 | |
| 3 | Jason Daly | United States | $85,943 | |
| 4 | Richard Bay | United States | $61,862 | |
| 5 | Kyle Loman | United States | $45,209 | |
| 6 | Peter Brownstein | United States | $33,552 | |
| 7 | Eddie Vataru | United States | $25,294 | |
| 8th | Tamon Nakamura | Japan | $19,373 | |
2022 World Series of Poker Hub
Bookmark this page! All you need to know about the 2022 WSOP is here.
A Fluke?
Albini's first bracelet came in a Seven Card Stud event in 2018. Not even he could believe that he's now topped two fields of poker's best.
"The first one felt like a fluke. This one also felt like a fluke. I was all in a million times in this tournament," he said.
"Everything in my life comes in pieces, in parts. Poker is one part of my life."
"In the Stud tournament, the bracelet that I won in 2018, I was never all in in that tournament. I was never short of chips. But it still felt like I kind of fluked it because I beat a table full of really great players that I didn't expect to beat.
This time it felt like a fluke because I was so short on chips so often, and I kept getting all in, and I kept surviving."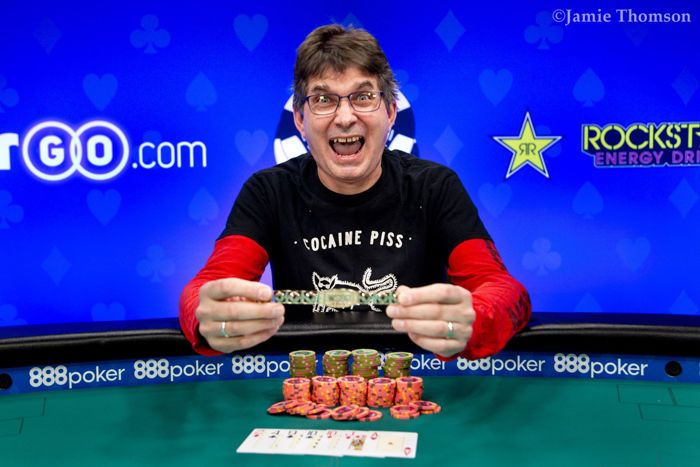 Breaking the bracelet
While Albini's first bracelet, by all accounts, is still whole, his second one immediately got damaged after receiving it. Albini's friend Eric Rodawig sent out the news to the poker world with the following tweet.
Sometimes, a photo says more than a thousand words. Here's what Albini's second bracelet now looks like. Whether the bracelet can and will be fixed is unknown at this time.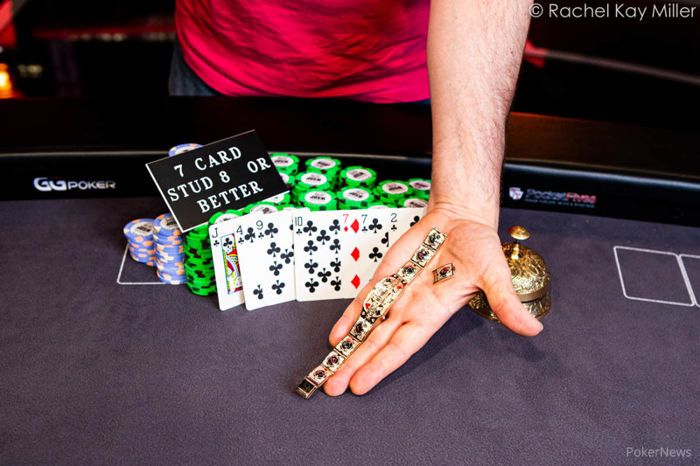 The Golden Bell
Albini was supported on the final table rail by Brandon Shack-Harris. It was Shack-Harris who gave Albini an idea that played a part in the entire final table: the golden bell.
"Brandon Shack-Harris got an ornate hotel bell that he would ding at the table when he was going to check. I thought it was really charming and he brought it here so the rail could ding when I won a pot," Albini explained.
"The first one felt like a fluke. This one also felt like a fluke. I was all in a million times in this tournament."
"It got irritating to some of the other players, so I brought it to the table so anyone who wanted to could celebrate by ringing the bell."
The bell tolled for the other seven players at the final table today.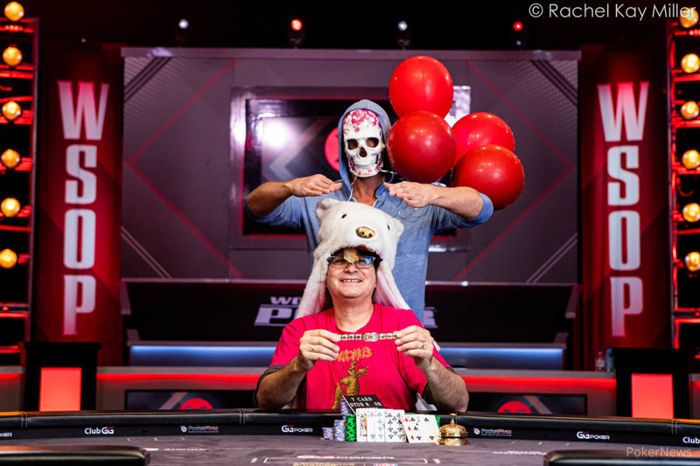 Action of the Day
It took the players under three hours today to reach the final table. Adrian Panocki (22th) did not resist too long, and he was followed by Jamie McCarrell (21st), Ziya Rahim (20th), Michael Estes (19th), Danny Chang (18th), Jason Bigelow (17th), and Steven Loube (16th).
The last two women in the tournament were then simultaneously released, with Shirley Rosario (15th) and Michelle Roth (14th) eliminated before the last two tables. Then, it was the last European player in the field, Maurizio Melarawho finished in 13th place.
Murilo Figueredo (12th), Robin Rightmire (11th), and John Fahmy (10th) fell at the gates of final table.
The final table lasted for around nine hours, but it was not that long for David Williamsas the WSOP champion finished in ninth.
Kyle Loman started this final table with the chip lead, but Albini quickly caught up with him to take the lead. Then, it was Tamon Nakamura who scored an eighth-place finish for the fourth time during this summer's series. Eddie Vataru, which was the short stack for a long time, eventually finishing in seventh place, the best result of his career. In the battle of the short stacks, Peter Brownstein did his best to end in sixth place on his fourth WSOP final table appearance.
While Albini was still cruising, Loman took fifth place for his second final table on this event, followed by Richard Bay, in fourth position. The 2019 WSOP Circuit winner busted just after the dinner break.
During this three-handed battle, Jason Daly was chip leader for a long period, but Albini never gave up and managed to come back little by little until Daly's moment in the spotlight passed once and for all.
Daly took third place for his second-best career result, while James Morgan failed to make a comeback and finished as the runner-up.
That concludes PokerNews' Coverage of Event #32. Stay tuned throughout the 2022 WSOP at Bally's and Paris Las Vegas for all the action.

Senior Content Manager

A former professional poker player from the Netherlands with a background in sports marketing and journalism. Yori has been a part of PokerNews since 2016 and manages the content team.
1

Can't Stop Kopp: Katie Kopp Wins First Bracelet of the 2022 WSOP

2

David Peters Wins 2022 WSOP Event #2: $100K High Roller Bounty for 4th Gold Bracelet

3

Scott Seiver Wins 4th Bracelet in 2022 WSOP Event #3: $2,500 Freezeout NLH ($320,059)

4

For a Higher Cause: Brad Ruben Wins 4th Bracelet in 2022 WSOP Event #4: $1,500 Dealer's Choice

5

Dan Smith Captures 1st Bracelet; Wins 2022 WSOP Event #6: $25K Heads-Up Championship

6

Norbert Szecsi Captures The Third Bracelet of his Career at the 2022 WSOP

7

Manig "Ohio77" Loeser Wins Second Online Bracelet in as Many Years

8th

Amnon Filippi Wins First WSOP Bracelet in Event #7: $1,500 Omaha Hi-Lo 8 or Better ($252,718)

9

Chad Eveslage Wins 2022 WSOP Event #8: $25,000 High Roller ($1,415,610)

10

Alex Livingston Wins 2022 WSOP Event #9: $1,500 Seven Card Stud ($103,282)

11

Henry Acain Wins 2022 WSOP Event #5: $500 The Housewarming ($701,215)

12

Raj Vohra Wins His First Bracelet at the 2022 WSOP; Takes Down the $600 deep stack

13

Ben Diebold Wins 2022 WSOP $10,000 Dealer's Choice 6-Handed Championship ($299,488)

14

Jake Schindler Wins First Bracelet and $1,328,068 in Event #12: $50,000 High Roller

15

First Time's the Charm: Michael Moncek Wins Event #13: $1,500 Limit Hold'em

16

Frenchman Leo Soma Wins First WSOP Bracelet in Event #14: $1,500 Six-Handed No-Limit Hold'em ($456,889)

17

Dominick Sarle Wins 2022 WSOP Event #17: $2,500 Mixed Triple Draw Lowball ($164,243)

18

Bryan Schultz Wins 2022 WSOP Event #18: $1,000 Freezeout No-Limit Hold'em ($330,057)

19

Stefan Lehner Wins First Bracelet in Event #16: $3,000 No-Limit Hold'em ($558,616)

20

Denis Nesterenko Wins Event #20: $1,500 Limit 2-7 Lowball Triple Draw ($108,250)

21

Tong Li Wins $1,467,739 and First Bracelet in Event #19: $25,000 Pot-Limit Omaha High Roller

22

Adam Friedman Wins Fifth WSOP Gold Bracelet in Event #22: $10,000 Seven Card Stud Championship

23

Brian Altman Captures His Maiden WSOP Bracelet in the Online $400 Ultra Deepstack

24

Christopher Chatman Flips to Win First WSOP Bracelet in Event #24: $1,000 Flip & Go

25

Rob Wazwaz Ships Event #25: $800 No-Limit Hold'em Deepstacks For $358,346

26

Mike Jukich Wins the $1,500 Monster Stack at the 2022 WSOP For $966,577

27

K9 & Canine Lucky for Jonathan Cohen in Event #26: $10,000 Limit Hold'em Championship ($245,678)

28

Michael Simhai Hits the Mark in 2022 WSOP Event #27: Shootout NLH ($240,480)

29

Robert Cowen Wins Bracelets in Back-to-Back Years; Bink's $50K PLO High Roller for $1.4M

30

Maxx Coleman Wins Elusive First Bracelet in the $1,500 No-Limit 2-7 Lowball Draw

31

15 Years in the Making: Daniel Weinman Nab's 1st Bracelet in Event #30: $1,000 PLO

32

Nino Ullmann Wins His First WSOP Bracelet in the $3K NLHE 6-Max Event

33

Brian Hastings Captures Sixth Bracelet in Event #31: $10,000 Limit 2-7 Lowball Triple Draw Championship

34

Musician Steve Albini Wins (And Breaks!) Second Bracelet in 2022 WSOP $1,500 HORSE