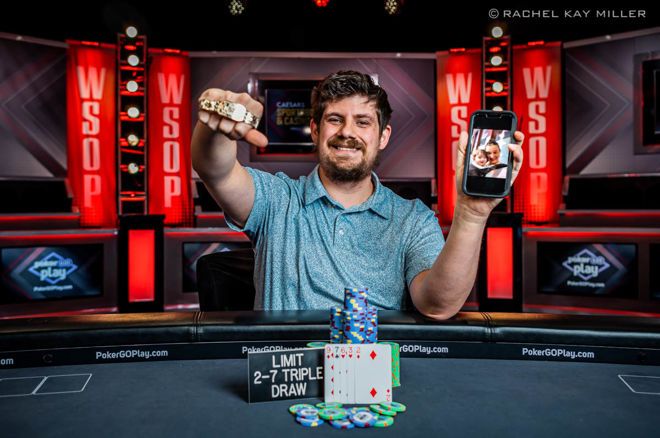 This year's iteration of Event #52: $2,500 Mixed Triple Draw at Horseshoe and Paris Las Vegas saw a total player tally of 353 create a prize pool of $785,425. That money was divided up between the final 53 players, of which 19 returned to the Horseshoe for Day 3.
At the end of it all, it was a three-time WSOPC ring winner Nick Pupillo who took down his first WSOP bracelet for $181,978.
"It's pretty surreal, it feels good," the newly minted champion said with tears in his eyes. "I love the mixed games, it really felt like my tournament. I late regged and ran really well."
The Illinois-born poker professional has amassed over $4,675,902 in lifetime earnings, with WSOP cashes dating back to 2014. Often in the conversation of best player without a bracelet, Pupillo recently final-tabled the $10,000 Limit Hold'em and finished in sixth place for $62,255. "It's definitely a sense of relief, it feels good to win a bracelet, and I'll try to win more."
Pupillo was supported by rail of Midwestern friends that included the likes of Sarah Stefan, Josh Reichard other Michael Perrone. "I'm thankful for everyone that supports me and roots for me. I've had ups and downs, but I'm just grateful." While the photos were being taken, Pupillo pulled up a picture of his family, his biggest supporters.
Final table results
| Place | player | Country | Prize |
| --- | --- | --- | --- |
| 1 | Nick Pupillo | United States | $181,978 |
| 2 | Ryan Moriarty | United States | $112,472 |
| 3 | Aaron Mermelstein | United States | $74,545 |
| 4 | Tomomitsu Ono | Japan | $50,608 |
| 5 | Hyepark | United States | $35,212 |
| 6 | Brant Hale | United States | $25,126 |
Day 3 action
The day's early action saw the end of many a notable player's run. Matt Vengrin (19th-$6,948) became the first player to bust just before the final three-table redraw. Others who fell included Cary Katz(18th – $6,948), Robert Mizrachi (17th – $8,495), John Monette (16th – $8,495), Joao Viera (10th – $10,690), and Ray Henson (9th – $13,834).
The last player to fall before the final table was WSOP bracelet winner Andrew Brown who got in his final few chips in at 2-7. He held an eight-seven against Aaron Mermelstein's eight five. Brown collected $13,834 for his eighth-place finish.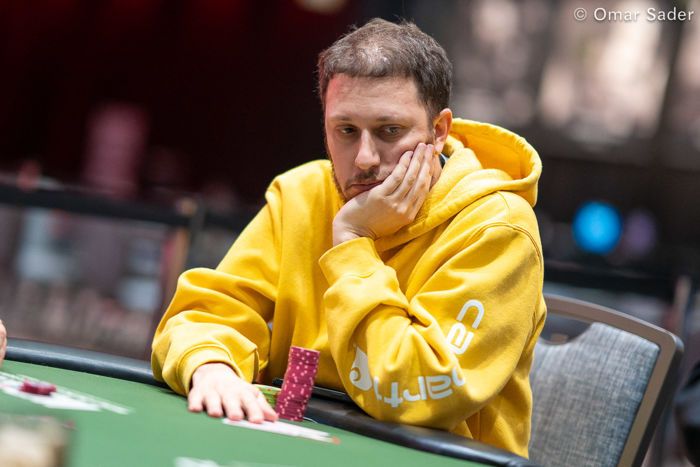 Final table action
It did not take long for the final table to lose its first player. The only prior bracelet winner at the table was Anatoly Cyrin, who came in as the shortest stack. He ended up staying pat during a 2-7 hand with a nine-six against Brant Hale who drew an eight-seven on the end. The two-time bracelet winner collected $18,398 for his seventh-place finish and the official final table was set.
Hale would be the next one out the door after a massive pot with Nick Pupillo would leave him with just a quarter of a small blind. He ended up being forced all in from the big blind in A-5 and made a nine-eight against Aaron Mermelstein six-five, and he exited the tournament in sixth place for $25,126.
Hyepark came into the final table as one of the shorter stacks, but his undoing came in multiple hands. The first saw a Badugi hand where he accidentally mucked the winner against Pupillo, the next was when Mermelstein caught a seven-six in 2-7, and the final hand saw him run into the wheel in 2-7 against Ryan Moriarty. The 2021 WSOP Main Event 6th place finisher wished his table well and collected $35,212 for his fifth-place finish.
Tomomitsu Ono saw a few coolers in Badugi end his chances of the bracelet. The final cooler saw him get in a blind versus blind confrontation with Pupillo when Ono was dealt a pat ten, and Pupillo was dealt a pat seven. All the chips went in on the second round of betting, and Ono took home $50,608 for his fourth-place finish.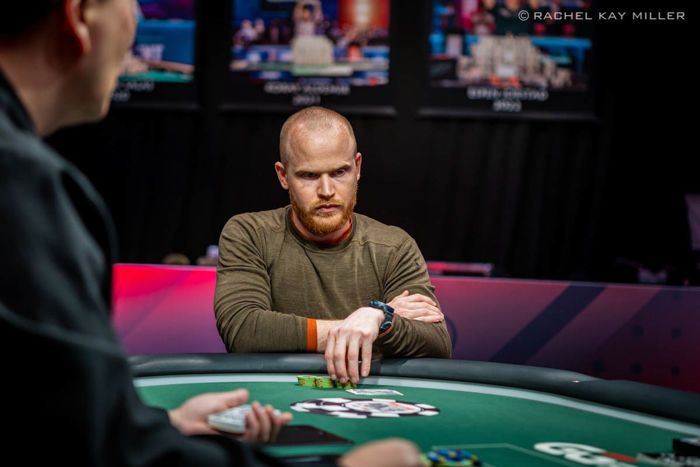 Mermelstein was the next to depart the field in third place. As the blinds progressed, many hands did not go his way and as his chip stack got shorter, he found himself in a multiway pot in Badugi while Pupillo and Moriarty would play for a side. Pupillo made a perfect jack which bested Mermelstein's three-card ten and Mermelstein collected $75,545 for his efforts, while Pupillo went into heads up with a massive lead.
Heads up did not last long as the players never left the round of 2-7 Triple Draw. The final hand saw Moriarty make a king-nine on the final draw, while Pupillo made a nine-seven which secured Pupillo his first bracelet and saw Moriarty take home a career-best score of $112,472 for his second-place finish.
Thank you for reading along here on PokerNews. Stay tuned for all updates regarding the 2023 WSOP.
1

Peter Thai Wins First Bracelet of the 2023 WSOP: Event #1: $500 Casino Employees ($75,535)

2

Alexandre Vuilleumier Captures 2023 WSOP Event #2: $25K High Roller Title

3

Cody "1eggadaymike" Bell Wins WSOP Bracelet and $87,665 in the Triple Treys Summer Tip Off

4

Michael Moncek Wins Event #6: $5,000 Mixed No-Limit Hold'em/Pot-Limit Omaha for $534,499

5

Chad Eveslage Steamrolls to Second WSOP Bracelet in Event #5: $1,500 Dealer's Choice (6-Handed) ($131,879)

6

Ronnie Day Reigns Supreme in Event #4: Tournament of Champions ($200,000)

7

Vadim Shlez Takes Down Event #7: $1,500 Limit Hold'em For $146,835

8th

Chanracy Khun Wins Event #8: $25,000 Heads-Up No-Limit Hold'em Championship

9

Nick Schulman Wins Event #9: Seven Card Stud For Fourth WSOP Bracelet ($110,800)

10

Ian "IanMa" Matakis Wins Online Event #2: $500 No-Limit Hold'em Bankroll Builder for $120,686

11

Ryan "dna2rna" Hughes Wins Third Bracelet, Defeats Shaun "fortnite" Deeb in Online Battle

12

Tyler Brown Crowned Champion of Event #3: $1,000 Mystery Millions ($1,000,000)

13

Kenneth O'Donnell Wins Event #11: $600 No-Limit Hold'em Deepstack For $351,098

14

The Chosen One: Chad Eveslage Wins Third Bracelet in the $10,000 Dealer's Choice Championship

15

Estes Nabs Second WSOP MI Online Bracelet; Kershaw Victorious in First PA Event

16

Joseph Altomonte Returns to Poker With a Bang; Rake in $217,102 and a WSOP bracelet

17

Jeremy Eyer Defeats Felipe Ramos in Gruelling Heads Up Duel for $5K Freezeout Title ($649,550)

18

Danny "jackdaniels1" Wong Finally Bags WSOP Bracelet After 13 Hour Day

19

Isaac Haxton Removes Name from "Best Without a Bracelet" List w/ $25K High Roller Win

20

Brian Yoon Wins 5th WSOP Bracelet in $10,000 Seven Card Stud Championship

21

Brazil Out in Force for Reis' First Bracelet in $1,500 6-Handed No-Limit Hold'em

22

Three Isn't a Crowd for Jim Collopy Who Wins His Third WSOP Bracelet

23

Valentino Konakchiev Denies Andres Korn a Second Bracelet in $2.5K NLHE Freezeout

24

Michael Rodrigues Becomes First Badugi Champion in Event #20: $1,500 Badugi

25

Stephen Nahm toasts to his victory in Event #21: $1k Pot-Limit Omaha

26

Fifth Bracelet for Josh Arieh in Event #22: $10,000 Limit Hold'em Championship for $316,226

27

Leon Storm bests Bill Klein in Event #23: $50,000 High Roller ($1,546,024)

28

Two Big Bets and a Chair – David "ODB" Baker Fights Back from the Felt to Win His Third Bracelet

29

Jason Simon Becomes WSOP's First Gladiator of Poker for $499,852

30

Renji Mao's Deepstack Aggression Earns Him First WSOP Bracelet ($402,588)

31

Belyalovsky Defeats 2020 WSOP Online Domestic Main Event Champion Hebert

32

12 Year Drought Ends: Ben Lamb Runs "Hotter Than the Sun" to Win 2nd WSOP Gold Bracelet

33

Six is ​​Sweet For Shaun Deeb in Event #27: $1,500 Eight Game Mix

34

Jans Arends Tops Star-Studded Final Table to Win $100K High Roller for $2,576,729

35

Benjamin Ector Busts Seven Straight to Win Event #28: $1,500 NLH Freezeout ($406,403)

36

Houston Firefighter Scott Dulaney Extinguishes the Opposition in Event #31 of 2023 WSOP

37

Cash Game Specialist Mark Ioli Wins First WSOP Bracelet for $558,266

38

John Monnette Joins Five-Timers Club With $1,500 Triple Draw WSOP Title

39

Sean Troha Wins 2nd WSOP Bracelet; Takes Down Event #34: $1,500 PLO for $298,192

40

"It's Gonna Be Tough for You" Says Jerry Wong on Way to Winning 1st WSOP Bracelet

41

Chris Klodnicki Returns to WSOP, Wins $10,000 NLH Secret Bounty for 2nd Career Bracelet

42

Ryutaro Suzuki Becomes Japan's Mixed-Game Master in Event #36: $3,000 Nine Game Mix

43

Yuan Li Adds Name to List of 2023 WSOP Bracelet Winners after $2K NLHE Triumph ($524,777)

44

Benny Glaser Joins Five-Timers Club with Win in Event #38: $10K 2-7 Triple Draw Championship

45

Morgan Magee & Josh Dempsey Lay Claim to WSOP Online Bracelets in MI & PA

46

"suited_h13" Last One Standing in WSOP Online Event #6: $500 No-Limit Hold'em Turbo ($134,527)

47

Chris Brewer Wins $250k Super High Roller and First Bracelet ($5,293,556)

48

Joe "jimjam01" Serock Wins 2023 WSOP Online Event #7: $500 PLO 6-Max ($93,911)

49

"I've Got It!" Qiang Xu Wins First Bracelet in $800 Deep Stack ($339,033)

50

Scott Abrams Becomes Inaugural Big O Champion for $315,203

51

Braxton Dunaway Wins Monster Stack for $1,162,681; Now Headed to Son's College World Series

52

Jeremy "ChipChecka" Ausmus Claims Sixth Bracelet in Online Event #8: $3,200 No-Limit Hold'em

53

Jay Lockett Turns $500 into $262,526 and a Bracelet at the 2023 WSOP

54

Braxton Dunaway Wins Monster Stack for $1,162,681; Now Headed to Son's College World Series

55

William Leffingwell Brings A Bracelet Home to Houston a Week After His Friend Did the Same!

56

Pengfei Wang Plays First Tournament Ever; Wins $270,700 in Event #49: $1,500 Super Turbo Bounty

57

Brian Rast Wins $50,000 Poker Players Championship For the Third Time ($1,324,747)

58

Yang Zhang Captures 2023 WSOP $3,000 No Limit Hold'em Title ($717,879)

59

Yuri Dzivielevski Wins Third Bracelet and $207,678 in Event #47: $1,500 HORSE

60

Poker Player Proposes to Girlfriend After Winning WSOP Bracelet & $1,309,232

61

Team Savakinas Reign Supreme in WSOP Tag Team Event ($190,662)

62

Nick Pupillo Wins First Bracelet In $2,500 Mixed Triple Draw for $181,978