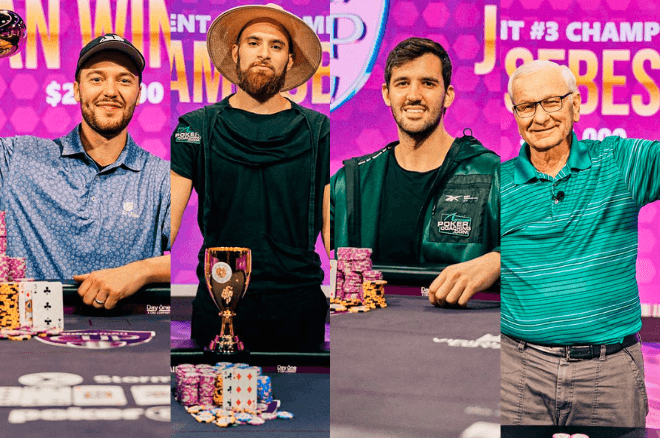 The 2023 PokerGO Cup got underway last week in Las Vegas and has awarded four trophies so far. So far, trophies have gone to PokerGO Studio familiars, including 2022 US Poker Open champion Sean Winters (Event #1: $10,000 No Limit Hold'em – $216,000) and PokerCoaching.com's Justin Saliba (Event #4: $10,000 No Limit Hold'em – $195,000).
Other PokerGO Cup winners so far include Aram Zobian (Event #2: $10,000 No Limit Hold'em – $207,500) and Ed Sebesta (Event #3: $10,000 No-Limit Hold'em – $216,000), neither of whom are strangers to the Vegas high-roller scene.
Read how Jeremy Ausmus won the 2022 PokerGO Cup!
Saliba on Fire
Saliba has started the year on a bit of a heater as just a week ago he finished fifth in the Borgata $5,300 The Return in Atlantic City for $304,629.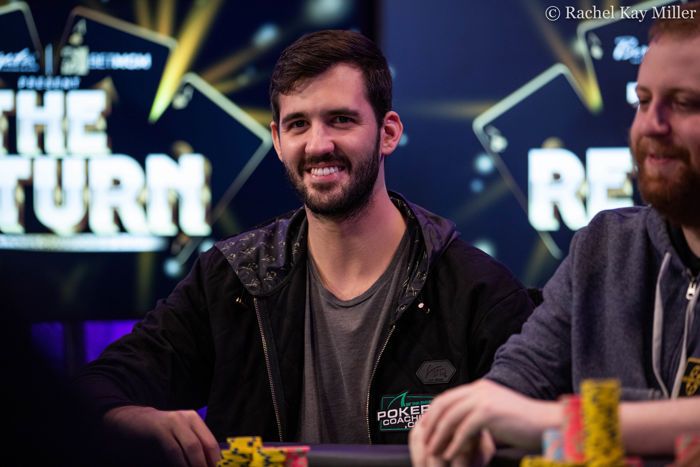 His victory in the most recent PokerGO Cup event was as unlikely as they come as he entered the six-handed final table as a short stack and early on ran queen-jack into the pocket queens of Eric Seidel. Seidel was a 97% favorite to win the hand on the flop of
but the unlikely runout of
gave Saliba a Broadway straight to double up and leave Seidel with crumbs.
"How did that, what?! What?!" reacted PokerGO commentator Brent Hanks. "You could serve a jail sentence for a bad beat like that."
Seidel wound up in sixth for $46,800, though the Poker Hall of Famer and music enthusiast is still alive in at the table of Event #5: $15,000 No Limit Hold'em.
Saliba's run-good continued all the way up to heads-up play with Anthony Hu, who was in fine shape to double up for the chip lead when he got it in with ace-seven against the ace-four of Saliba. the flop
gave Saliba a chance to scoop with a Wheel draw, and the runout of
gave him another unlikely straight to win his first PokerGO title.
Other Early PokerGO Cup Highlights
The 2023 PokerGO Cup kicked off with Winter, who is no stranger to success in the PokerGO Studio, winning Event #1 for $216,000 after defeating heads-up opponent Alex Foxen. Another Foxen has found results at the PokerGO Cup as Kristen Foxen finished third in Event #2 for $99,600 and sixth in Event #3 for $54,000.
In Event #2, Zobian defeated Thailand's Punnat Punsri during heads-up play to earn $207,500, while other players who made deep runs include poker vlogger Ethan "Rampage" Yau (7th – $41,500) and Andrew Moreno (5th – $66.40), who managed to final table his first-ever PokerGO Studio event.
In the third $10K of the series, poker commentator Nick Schulman fell to heads-up opponent Sebesta as the retiree in his 70s earned $216,000, which wound up going to a good cause.
According to PokerGO updatesSebesta pledged to donate his winnings to the Holy Cross in honor of his son, a Catholic priest, who passed away from a brain tumor in 2012.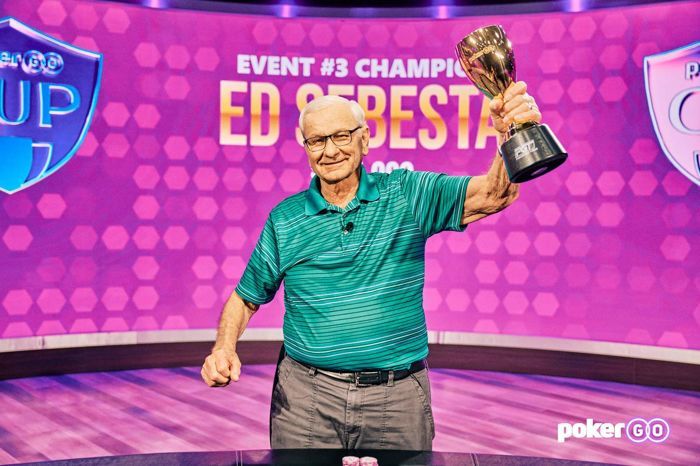 Mateos at Front of Leaderboard
So far, Adrian Mateos leads the PokerGO Cup standings despite not having won an event so far. The Spanish pro finished fifth in Event #1 for $72,000, fifth in Event #3 for $72,000, third in Event #4 for $93,600.
The PokerGO Cup continues today with the final table of Event #5 while Event #6: $25,000 No Limit Hold'em so want to get underway. The PokerGO Cup leaderboard and a list of winners so far are available in the tables below.
2023 PokerGO Cup Leaderboard Top 10
| | PLACE | PLAYER | COUNTRY | POINTS |
| --- | --- | --- | --- | --- |
| | 1 | Adrian Mateos | United States | 238 |
| | 2 | Ed Sebesta | United States | 216 |
| | 3 | Sean Winters | United States | 216 |
| | 4 | Aram Zobian | United States | 208 |
| | 5 | Justin Saliba | United States | 195 |
| | 6 | Anthony Hu | United States | 185 |
| | 7 | Cary Katz | United States | 167 |
| | 8th | Kristen Foxen | Canada | 154 |
| | 9 | Alex Foxen | United States | 153 |
| | 10 | Nick Schulman | United States | 153 |
2023 PokerGO Cup Winners So Far
| | DATE | EVENTS | ENTRANTS | PRIZE POOL | WINNERS | COUNTRY | PRICE (IN USD) |
| --- | --- | --- | --- | --- | --- | --- | --- |
| | Jan 12 | Event #1: $10,000 No Limit Hold'em | 90 | $900,000 | Sean Winters | United States | $216,000 |
| | Jan .13 | Event #2: $10,000 No Limit Hold'em | 83 | $830,000 | Aram Zobian | United States | $207,500 |
| | Jan 14 | Event #3: $10,000 No Limit Hold'em | 90 | $900,000 | Ed Sebesta | United States | $216,000 |
| | Jan 15 | Event #4: $10,000 No Limit Hold'em | 78 | $780,000 | Justin Saliba | United States | $195,000 |
| | Jan 16 | Event #5: $15,000 No Limit Hold'em | 56 | $840,000 | TBD | TBD | $268,800 |
Photos courtesy of PokerGO