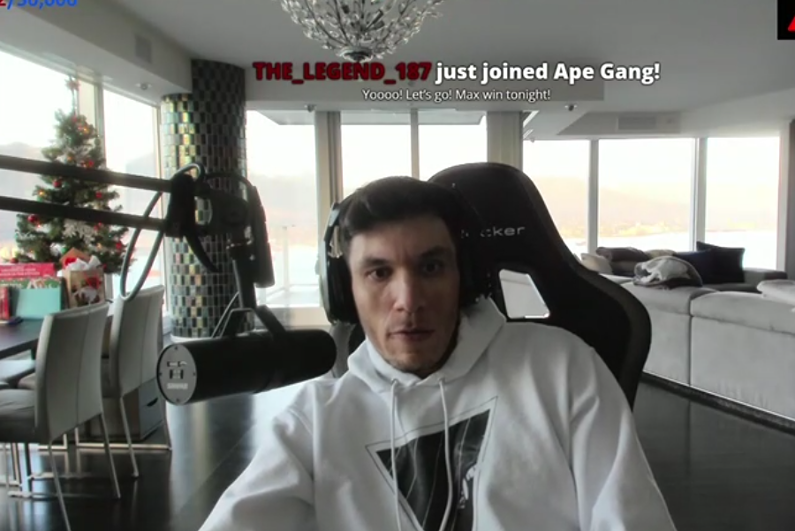 Famed slot Twitcher Trainwreck has taken aim at fellow streamer Roshtein for hiding his losses from followers. [Image: Shutterstock.com]
Trainwreck versus Roshtein
Gambling Twitch streamer Tyler Niknam, known to most through his moniker Trainwreck, is one of the platform's top streamers with around 1.7 million followers. The Texan gambles (and often loses) eye-watering amounts of cash through online slots, blackjack, and other forms of iGaming.
Those who follow Trainwreck praise his honesty regarding the losses he incurs. Last month, for example, the streamer revealed that he was down around $12.9m overall through his expensive habit. He later added that he had actually managed to reduce this from a $22.9m loss over the nine months prior.
called out other gambling Twitchers for lying about their losses
While Niknam might believe in an honesty first policy, he doesn't think other streamers are employing the same transparency. In a stream on Monday, he called out other gambling Twitchers for lying about their losses, taking particular aim at popular casino streamer Roshtein.
"Selling a false reality is just f*****g whack," Trainwreck ranted to his followers. "Trying to show gambling as profitable every day is just f*****g dumb. There is already an attraction to gambling for human beings there is no need to sell a false reality of it."
Questionable bonus hunts
Swedish streamer Roshtein, real name Ishmael Swartz, has amassed more than 867,000 Twitch followers by live-streaming slots. Unlike Trainwreck, Roshtein seems to win a lot more than he loses. In a recent 12 hour spell, for instance, the streamer hit two mind-blowing jackpots of $9.5m and $16.5m.
He took to Twitter on Wednesday to share a clip of the $16.5m win – his largest jackpot to date:
This jackpot, much like a lot of the streamer's other recent profits, came from bonus hunting, in which a gambler plays a slot continuously until hitting a bonus before moving on to the next. As everyone knows, however, gambling can be a dangerous game, and Trainwreck has argued that Roshtein is making more losses than he admits behind the scenes.
In his recent stream, Trainwreck drew attention to a table of Roshtein's profits over the previous three weeks. He was up $32.5m since mid-January, with just two out of 20 gambling sessions ending in a loss overall. "Maybe privately behind the scenes he is spinning the slots for his bonus hunts and losing just as much as I am," Niknam suggested. "But what he's presenting publicly is a different story."
I'm not friends with anyone outside of my Discord call"
Ultimately, Trainwreck said he refused to affiliate himself with the likes of Roshtein, also naming Canadian streamer Xposed as another he couldn't voucher for. "I'm not friends with anyone outside of my Discord call," he affirmed, arguing that people were using an association with him to earn more followers.
Not the first time
Calling out the gambling Twitch community is not something new to Trainwreck. In a since-deleted expletive-filled Twitter rant in September last year, Niknam voiced his disapproval of streamers who claim they win every day, deeming them "scammers":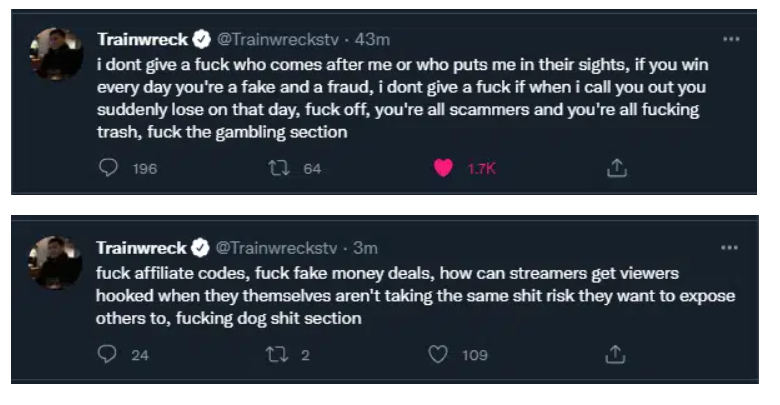 According to the Texan, these impossibly lucky streamers are forming secret deals with gambling companies in which they will use "fake money" to play slots while taking home a portion of the profits. Therefore, they are enticing followers to gamble at absolutely no cost to themselves.
Of course, Trainwreck also makes money from sponsorship deals with gambling companies. In January, when a viewer suggested Trainwreck was making more than $1m per month from his deal with Stake, he was quick to correct them that he in fact earned far more. He argued that his vast earnings are clear from the size of his regular multimillion-dollar stakes and losses.
Trainwreck ultimately made the decision to delete his Tweets from September, but it is clear from his rant on Monday that the debate over transparency is far from over. "I feel like it's my responsibility to bring it up since at one time I platformed and helped their channel grow," he concluded. "But there's a reason I don't stream with these guys. I don't know everything that's going on."