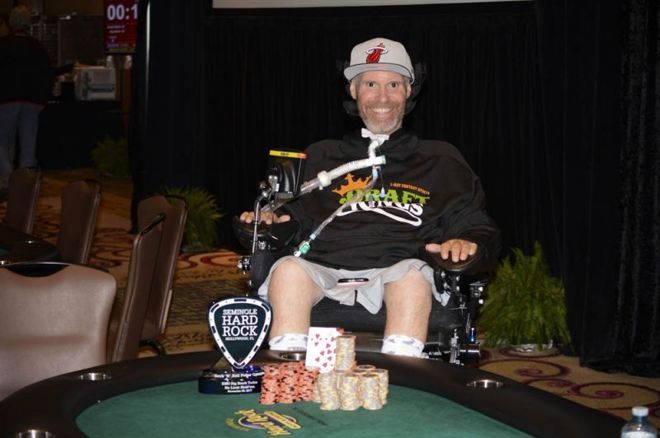 On January 25, Jeffrey Fogel passed away at the age of 51 after a 10-year battle with lateral amyotrophic sclerosisalso known as AS or Lou Gehrig's disease.
ALS affects the nervous system with the progressive degeneration of motor neurons, which in time painlessly shuts down the body. It's the same disease theoretical physicist Stephen Hawking has suffered from since 1963, which is when doctors gave him just two years to live. Fogel was initially given three to five, but proved those estimates wrong and used his time to advocate fighting against Lou Gehrig's disease.
"Sending my condolences to the family and friends of Jeffrey Fogel. His love for sports, sports cards, and poker was a recipe of common interest that led to so many conversations over the past 15 years," said former Director of Poker Marketing for Seminole Hard Rock Tony Burns.
"His short video 'Who is Lou Gehrig?' inspired so many during his over decade-long ALS fight. I'm sad that I will not be able to attend his funeral tomorrow, but will have him and his '1Luv' motto on my mind. Rest in peace, my friend!"
Here's a is the aforementioned film "Who Is Lou Gehrig?" that documented Fogel's journey:
Poker Accomplishments
During the summer of 2015, Fogel made a cross-country journey to participate in the World Series of Poker (WSOP). It was there that PokerNews first learned from Fogel and profiled him in the feature article Jeff Fogel's 2,513-Mile Journey: From 3-5 Years to Live with ALS to the 2015 WSOP.
Fogel had previously coached flag football and basketball, and during that time experienced trouble with his right arm.
"I thought maybe it'd go away, maybe I pulled something I wasn't sure," Fogel explained. "The muscle atrophy was increasing, and I started to go through some tests. The doctors diagnosed me with ALS. It started in my right arm."
Despite being confined to a motorized chair, Fogel was able to make the trip to the WSOP, thanks in no small part to his friends and a dedicated group of poker players from South Florida. It happened a few months before the WSOP when Fogel invited his friend, Mike Moed, and his wife over for a sneak peek at Who is Lou Gehrig?, a film that tells the story of Fogel's ALS diagnosis. While not yet released, the film, which successfully raised $66,710 on Kickstarter, has garnered quite a bit of praise from the film festival scene.
Friends help Fogel raise $2,000 so that he could rent a van and make the trip out to Las Vegas. Not only that, many of them made the trip with him so they could assist in handling his cards during tournament play. From there, Fogel took over by verbalizing his action.
Fogel wound up finishing in 158th place out of 22,374 entries in Event #5: $565 Colossus for $8,155, which marked his first and only WSOP cash.
"It was a good feeling and a lot of fun," Fogel said with a big smile. "I really didn't expect to go that far. It was my first WSOP cash. It's just exciting to go deep in such a prestigious tournament that I made history in. Very honored, and I'm blessed that I went that far. "
He continued: "I'm very blessed to have my friends, to have people like this in my life. It's really easy for them to say no, but we all flew out together, we all planned the trip, and I'm just Happy man, I couldn't be in a better place right now."
All told, Fogel had $81,920 in live tournament earnings according to the Hendon Mob. That included a career-high $30,019 for finishing fourth in the 2017 Rock 'n' Roll Poker Open Event #6: $570 NLH, and fittingly his last-ever tournament cash came a week later – a victory in Event #10: $360 NLH Big Stack Turbo for $3,939.
Fogel was well-known in the South Florida poker community, and it was no surprise to see many players share their condolences on social meda.
"God has taken another angel," said Steve "Cuz" Buckner.
Robyn Levine Marshman offered: "I was just thinking about him a few days ago. He was such a fun guy to play with. amazing person."
Seminole Hard Rock Hollywood eight-time trophy winner Michael Newman said, "My condolences Jeff was a nice guy. I remember playing against him. RIP."
Fogel's family suggests donations in Jeffrey's memory be made to ALS Recovery Fund. Chapel Service will be held at Noon on Sunday, January 29, 2023 at Levitt Weintein/Beth David Chapel in Hollywood, Florida.
read Jeff Fogel's 2,513-Mile Journey: From 3-5 Years to Live with ALS to the 2015 WSOP

Executive Editor US

Executive Editor US, PokerNews Podcast co-host & 2013 WSOP Bracelet Winner.