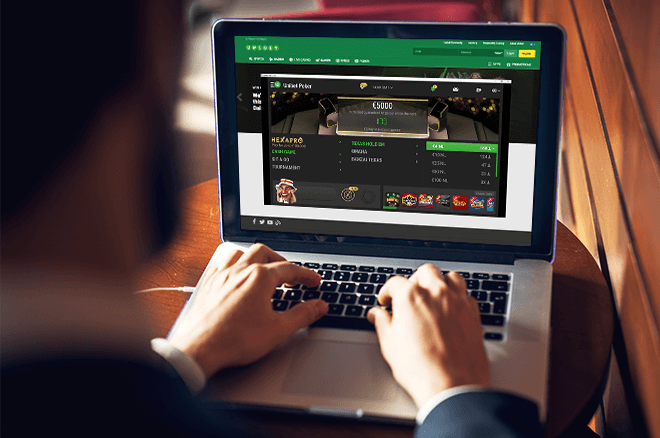 Unibet Poker has always been an online poker site that thinks outside the box when it comes to its poker offering. The recreational player friendly site continues to innovate with the launch of what it bills as Daily specials.
The Daily Specials, as the name alludes to, take place each day of the week, with each day featuring a different theme and promotion for players to get their teeth into. Not only does this add plenty of value for Unibet Poker players, but is great for the site because it introduces its customers to games and formats they may not usually consider playing.
Monday: Short Stack Master

The Unibet Poker Daily Specials kick off each week with the Short stack master on Monday. Players are invited to play in €0.25/€0.50 Pot-Limit Omaha cash games with a minimum buy-in of 10 big blinds (€5) and a maximum of 20 big blinds (€20).
Whoever manages to build the biggest stack of the day from their short-stack start receives a customer avatar to display at the tables in addition to a €50 cash game ticket. You can find the eligible tables in the Unibet lobby from 4:00 pm CET to 11:59 pm CET each Monday.
Tuesday: Bubble Burster

Fire up the Unibet Poker client on Tuesday from 7:00 pm CET and you will find a range of multi-table tournaments with buy-ins of €1, €5, and €10 where the blinds are fast and furious up until the bubble bursting The blinds then lengthen once everyone is in the money, allowing you to concentrate on going for the big win.
There are three Bubble Burster tournaments for each buy-in. Win two of the same buy-in on the same night to receive 100x the buy-in in bonus points plus an exclusive avatar. Should you manage to win all three of the same buy-in on the same night, Unibet Power rewards you with 1,000x the buy-in in bonus pointswhich is worth up to €10,000.
Wednesday: Wild Wednesday

Wild Wednesdays are for rebuy tournament lovers who are not afraid to click the rebuy button. The Wild Wednesday tournaments come with €1 and €2 buy-ins from 8:00 pm CET and have unlimited rebuys available. Those rebuys are a mere quarter of the tournament's buy-inso expect oodles of chips flying around in these events.
Take down two of the same stake on the same night and you get a cool custom avatar to show the Unibet Poker community that you are the rebuy king or queen.
Thursday: Deep Stack Legend

Where Monday is dedicated to short-stack poker, Thursday sees players attempt to become the Deep Stack Legend. Head to the eligible €0.05/€0.10 No-Limit Hold'em tables from 5:00 pm CET and buy-in for between 500 and 1,000 big blinds! Build the biggest stack before the table closes at 1:00 am CET and you become the Deep-Stack Legend.
The winner receives a €100 cash game ticket, a unique avatar, plus next week's Deep-Stack Legend table is named after you!
Friday: Banzai Bonanza

Banzai Bonanza runs every Friday from 4:00 pm CET through to 11:59 pm CET and is focused on Unibet Poker's exciting short-stack No-Limit Hold'em cash game format, banzai.
During the promotion's hours, you receive points for seeing a flop at the €1, €5, €20, and €50 buy-in level. Be one of the five biggest earner points to win cash prizes worth €10 to €100.
Saturday: HexaPro Extreme

Saturdays sees HexaPro Extreme run from 10:00 am CET through to 1:00 am CET. HexaPro tournaments are Unibet Poker's take on the jackpot sit & go games where the prize pool is randomly determined before the first hands are dealt; the biggest prize you can play for is 1,000x your buy-in.
During HexaPro Extreme, the 100x jackpot increases to 125x and is 40 times more likely to be hit than usual! This means you should see a 125x prize pool multiplier every couple of hundred games. This is your best shot at winning big in these three-handed hyper-turbo tournaments.
Sunday: Stellar Sunday
Stellar Sunday rounds off the week with five stellar tournaments with a sixth special edition added on the first Sunday of each month. The Stellar Sunday MTTs come with buy-ins from €10 to €250 and boast of guarantees worth from €2,000 to €40,000. Best of all, Unibet Poker has created satellites into these tournaments that start with buy-ins of a mere €0.05!
| tournament | Time (CET) | frequencies | buy in | Guarantee | format |
| --- | --- | --- | --- | --- | --- |
| supernova | 7:00 p.m | Weekly | €100 | €20,000 | NLHE, 1x re-entry |
| Supernova Lightning | 7:00 p.m | Weekly | €10 | €1,500 | NLHE, 1x re-entry |
| Boba Bounty PKO | 7:15pm | Weekly | €100 | €2,000 | NLHE, PKO, Freezeout |
| odyssey | 8:00 p.m | Weekly | €50 | €5,000 | NLHE, Rebuy |
| titanium | 9:00 p.m | Weekly | €25 | €6,000 | NLHE, Rebuy |
| The Super Moon | 9:00 p.m | 1st Sunday Monthly | €250 | €40,000 | NLHE, PKO 1x re-entry |
Help Yourself to €20 Extra and a €200 Bonus
Now is the time to join the fun and games at Unibet Poker because signing up for a free account via PokerNews' links gives you an awesome welcome package.
If you don't have an account already, download Unibet Poker via PokerNews. Create your account, and make a deposit of at least €10. Doing so entitles you to €20 worth of tickets, plus entry into up to four €500 weekly welcome freerolls.
Your new Unibet Poker account comes with a €200 playthrough bonus. Play real money cash games, tournaments and HexaPro games and your bonus money releases into your playable account balance at the frequencies shown below:
| levels | rake | Cash reward | reward % |
| --- | --- | --- | --- |
| 1 | €2 | €1 | 50% |
| 2 | €10 | €4 | 40% |
| 3 | €50 | €15 | 30% |
| 4 | €150 | €40 | 27% |
| 5 | €588 | €140 | 25% |