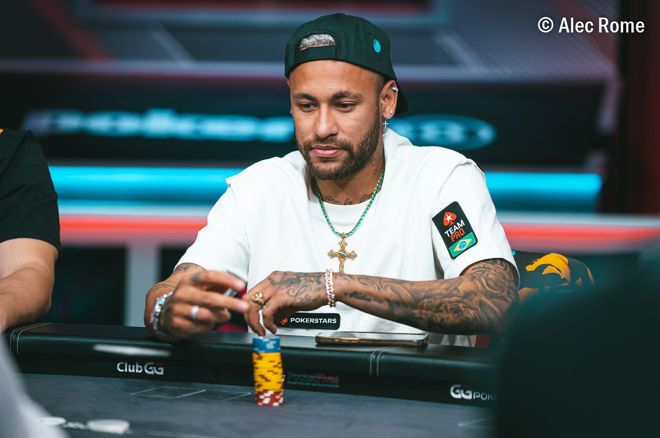 Soccer superstar Neymar Jr has long been known for his love of poker, and it seems that the Brazilian forward's passion for the game extends to his personal life as well.
Neymar, who has made it through to the quarter-finals of the 2022 FIFA World Cup with Brazil, owns three dogs all of which are named for his love of card games and poker in particular.
PokerStars Kick-Off is the Perfect Game to Play this World Cup
Who Let the Dogs Out?
The Paris Saint-Germain star's oldest dog is named poker. Yes, you read that correctly. But why?
"Because poker is one of the things I love to do the most," Neymar said in 2021. "And when I got my first dog I chose to call him that."
Not only that, but Neymar also owns two other dogs named Truco other flush. Truco is the name of a popular card game in Brazil, and check out our poker rules section if you don't know what a flush is.
---
Timothy Adams on the World Cup of Vegas: "Maybe Neymar Could Play!"
---
Neymar's Poker Journey
Neymar first discovered poker during the 2014 World Cup, learning to play while competing against other players, and he says that ended up falling in love with poker over the following years. In fact, he even went as far as to suggest he could turn to poker full-time once he hangs up his boots.
"It's true! [Pro poker] is one of the things I love doing the most," the Brazilian told a French website in 2021. "I feel very comfortable and I think that after playing football I will be able to travel and play tournaments that I have always wanted to participate in but have not been able to because of my schedule."
Did You Know? Neymar regularly plays against fellow Brazilian PokerStars Ambassadors Rafael Moraes other Andre Akariwith the pair even giving Neymar lessons in how to get better!
---
PokerStars Cultural Ambassador Neymar Jr. Competes in 2022 World Series of Poker
---
Over the years, Neymar's love for poker has only grown stronger, and he has become a regular at some of the biggest poker tournaments in the world. He has competed in the World Series of Poker (WSOP) — with security guards even mistakenly trying to kick him out of the tournament — and the European Poker Tour (EPT)and he has even finished in the money at a few of these events.
Similarities Between Football and Poker
Neymar has already scored once during the 2022 FIFA World Cup in Qatar, and will need to be at the top of his game to add another as the knockout stages progress. In that same 2021 interview, Neymar said that there are definitely similarities between football and poker, especially when it comes to concentration.
"You have to read the game, read your opponents and know the right time to attack your opponent"
"The way you read your opponent and the game is also very important. I think one of the most important things in football, and what I do on the pitch, is read the game, read your opponent, and see where you can attack, where you can move to create a chance for your team.
"And in poker it's the same thing, you have to read the game, read your opponents and know the right time to attack your opponent.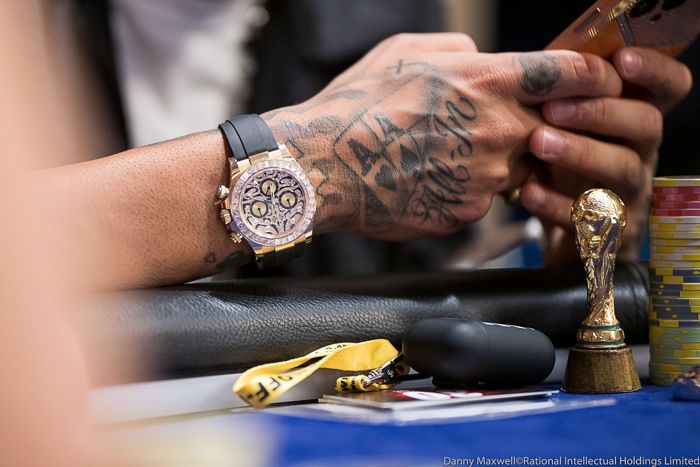 "For my opponents [at the poker table], I think it's hard to read the hand I have. I am someone who varies a lot and I try, depending on the position in which I find myself, to diversify my hands so as not to be read easily.
"One of my weaknesses is that I am very curious and play a lot of hands too. I have to learn to control myself more!"
Join PokerStars this World Cup for a $600 Welcome Bonus
Those of you who do not already have a PokerStars account can Download the excellent software via PokerNews. Make your first deposit safe in the knowledge that PokerStars matches your deposit 100% up to a maximum of $600. In fact, your first three deposits in the first 90 days after creating your account are matched 100% up to a combined maximum of $600.