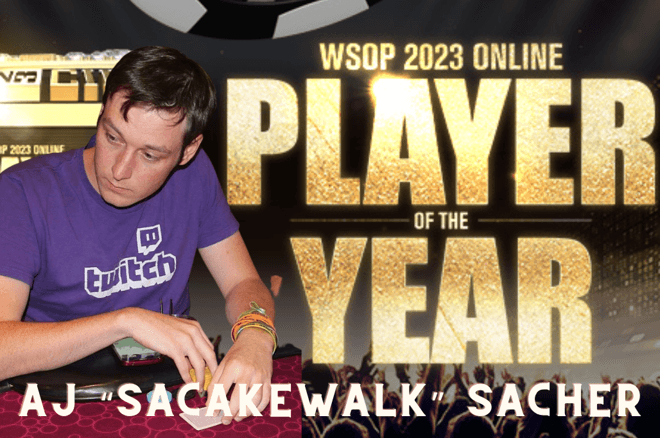 After a long, twelve-month battle against thousands of other players, AJ "sacakewalk" Sacher handily finished atop the 2023 WSOP.com Player of the Year Leaderboard for Nevada and New Jersey players to win $10,000 in cash, $1,500 in online tournament tickets, and an exclusive WSOP.com Player of the Year ring.
Sacher follows in the footsteps of both Mike "Brock Lesnar" Holtzwho won it last year, and YK "LuckySpewy1" Kwonwho won WSOP.com Player of the Year in 2020. Additionally, he joined fellow 2022 winner David "DrKool" Kuderwho was named the first-ever WSOP PA Player of the Year.
PokerNews recently caught up with Sacher to not only get his thoughts on the victory but also to learn more about the man behind the screen name.
Former Dealer David "DrKool" Kuder Named First-Ever WSOP PA Player of the Year
From Magic to Poker
Sacher, pronounced like soccer, lived in California and Chicago before moving to Vegas about 10 years ago. In his late teens and early 20s, he was a professional Magic: The Gathering player, content creator, and streamer. Now 32, Sacher grinds online poker.
"I come from a card-playing family, so I was always picking up various games," he told PokerNews. "We still play big card games at family reunions and the like. I ended up falling in love with Magic, and playing that competitively is like training at altitude for poker; there's a big overlap in the skill sets required for each like weighing odds and inductive reasoning, but magic is a lot more complicated and ever-changing. That's why there are a lot of very successful poker players–much more so than me–that come from competitive Magic."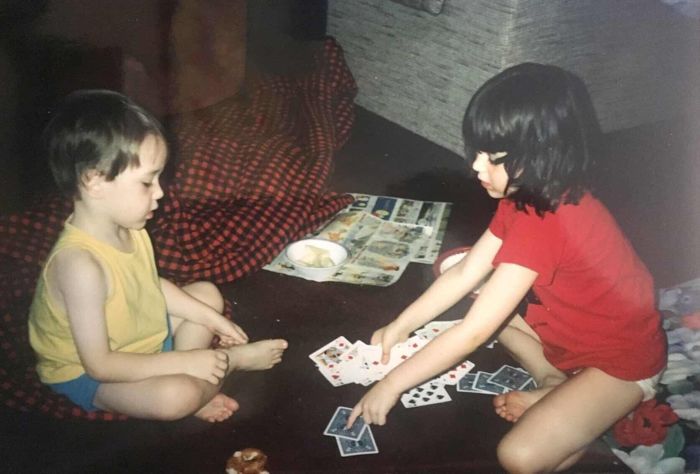 When he was around seven years old, Sacher played poker for the first time, but it wasn't until his late teens that he discovered online poker. He ground up a small bankroll on Full Tilt Poker, but two days before he turned 21, Black Friday hit.
"While traveling for the Magic Pro Tour, I became good friends with a Japanese pro, Shuhei Nakamura, who also played poker," Sacher continued. "Since most major Magic tournaments are in the US, he would come here a lot. Rather than take the approximately one-billion-hour flight home only to board another flight back a few days later, we would just come to Vegas together instead. We'd grind live cash during the week before flying to the next Magic tournament on the weekend."
He continued: "To put multiple very long stories irresponsibly short, I moved to Vegas to play full time, but, upon arriving, I immediately got burgled and my roll was stolen. I was robbed multiple times after that as well, so I had to start over from zero a few times. Over the next few years, I would play off and on, moving from live cash to online tournaments when WSOP.com became available. When the pandemic hit, I committed to playing full-time again."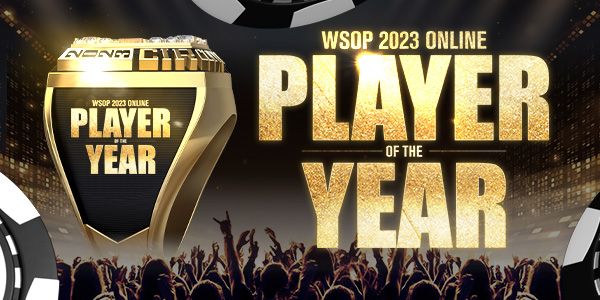 Unlike some players who set out to win POY from the start, Sacher's run came towards the end when he realized was near the top of the leaderboard.
"I definitely thought it would be cool to do and definitely checked the leaderboards from time to time, but I'm a big 'keep your goals actionable, and trust the process' guy, and I don't think POY is the type of thing you can really plan for; you just have to put in your volume and work, and at the end of the year, if the results are there, then they're there."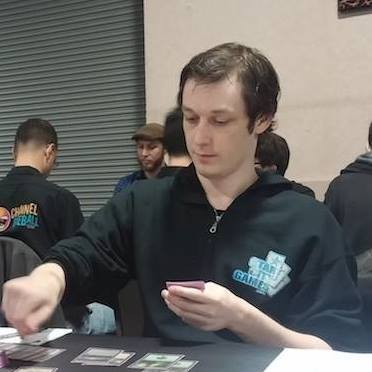 He continued: "It ended up being way too good of a sweat. The race was pretty insane as it really came down to the wire. I actually had a sizable lead by mid-March, but that's way too early to start watching the scoreboard, which was proven true when I unexpectedly had to take over two full months off. By the time I came back, it was already clear it was going to be a two-horse race between Qinghai "011POKERDR" Pan and myself, but I assumed the gap insurmountable. After a few good months to grind back to the front, I took a big weekend off in October for a family wedding and all he did was go and win a bracelet. I somehow managed to wrestle the lead back by the end of November, but it stayed extremely tight the rest of the way, flip-flopping multiple times."
Sacher was fortunate to finish the year with a good week and eke it out with a win of less than 300 points. For context, the difference between second place and third was 16,855 points.
"After thousands of hours over 365 days, I had a margin of victory of just one third of one percent," said Sacher. "It doesn't get any closer than that. I even got the poetic honor of locking it up by personally knocking him out of the last relevant tournament of the year."
| Place | player | Points |
| --- | --- | --- |
| 1 | AJ "sacakewalk" Sacher | 75.030.75 |
| 2 | Qinghai "011POKERDR" Pan | 74.768.35 |
| 3 | Angel "ChromeKing" Lopez | 57.913.04 |
| 4 | Krista "Pollux" Gifford | 57.542.61 |
| 5 | Tony "Panoramic" Haze | 52.243.85 |
| 6 | Ryan "WhosYourDodd" Dodd | 52.082.59 |
| 7 | Jonathan "Art.Vandelay" Dokler | 48,853.98 |
| 8th | Chris "Basile28" Basile | 47.681.14 |
| 9 | John "Relevancy" Ripnick | 43,883.57 |
| 10 | Thomas "Zebra_Debra" Sabatino | 42,584.62 |
So, what's next for Sacher?
"I'll be playing this year, at least for the foreseeable future," he said. "I don't have a ton of interest in live poker these days, but I'm not indignantly opposed to it by any means; if the right opportunity were to come along then it's definitely possible, but it's not in the plan as it stands. As cool as it would be to go back-to-back, realistically speaking it doesn't seem very likely. It's a question that's basically impossible to answer until like November, but if I can get in enough volume, then who's to say?"
*Images courtesy of AJ Sacher.

Executive Editor US

Executive Editor US, PokerNews Podcast co-host & 2013 WSOP Bracelet Winner.