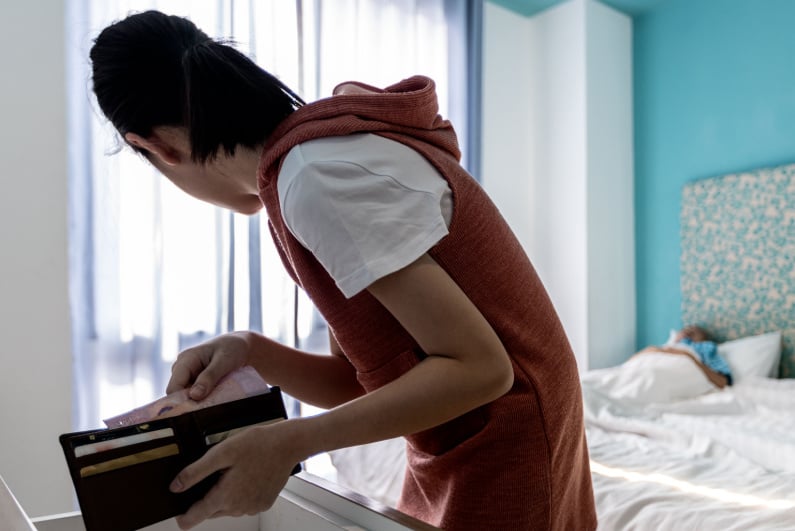 A British carer has been given a suspended sentence after stealing money from her client's gambling paycheck. [Image: Shutterstock.com]
Caught by anonymous letter
A nurse in the UK has avoided a prison sentence after stealing from her client to gamble. Chloe Campion, 33, from Trafford, Greater Manchester, pleaded guilty to fraud by abuse but is lucky the judge suspended her 12-month sentence for 18 months.
Campion's client, Joan Anderson, has Down syndrome and dementia and clearly requires compassionate care. However, Campion used Anderson's bank card to steal £28,523 ($34,807) from December 2021 to May 2022; The money was primarily used to finance Campion's gambling addiction.
After speaking to the police, I made a few more transactions
Campion readily admitted her crime after being questioned by police. However, her wrongdoings were only discovered when the head of the charity she worked for received an anonymous letter about what had happened. And although she said she wanted to pay everything back, she still made a few transactions after talking to the police. One big mistake she made was linking Anderson's bank card to her PayPal account and not deleting the evidence.
The judge felt sorry for the defendant
Campion's defense attorney, Hannah Forsyth, said she suffers from post-traumatic stress disorder, anxiety and gambling addiction. She told the court that her client had been going through difficult times for years; Her post-traumatic stress disorder emerged after giving birth in 2016, her partner was diagnosed with cancer and is still undergoing treatment, her grandfather passed away and a cafe where she worked supporting people with learning disabilities went out of business .
Forsyth assured the court that Campion had attended both therapy and Gamblers Anonymous meetings to deal with her problems and that she was taking medication for anxiety.
Campion had paid back £17,088 ($20,853) of what she stole
The judge offered leniency because Campion had paid back £17,088 ($20,853) of what she stole, she has taken care of her mental health and addictions and has children at home.
Not the first time, won't be the last time
Unfortunately, this is just another example of someone abusing their position of trust to further their gambling. Just last month, former Australian MP Russell Northe was sentenced to 21 months in prison for using over AU$170,000 (US$108,137) of Victorian Electoral Commission gambling funds on the apps Tabcorp and Ladbrokes. He falsified bank statements and receipts to conceal the embezzlement of funds.
In August, a British man was given a six-month suspended prison sentence for stealing his grandmother's funeral savings to gamble.
Last year another carer in England took advantage of the person in her care. Alana Squire stole over £45,000 ($55,004) from a disabled veteran to gamble online, angering the man so much he tried to take his own life.
And in the United States, an Indiana school district accountant embezzled nearly $1 million and used it for numerous personal expenses, including trips to casinos.