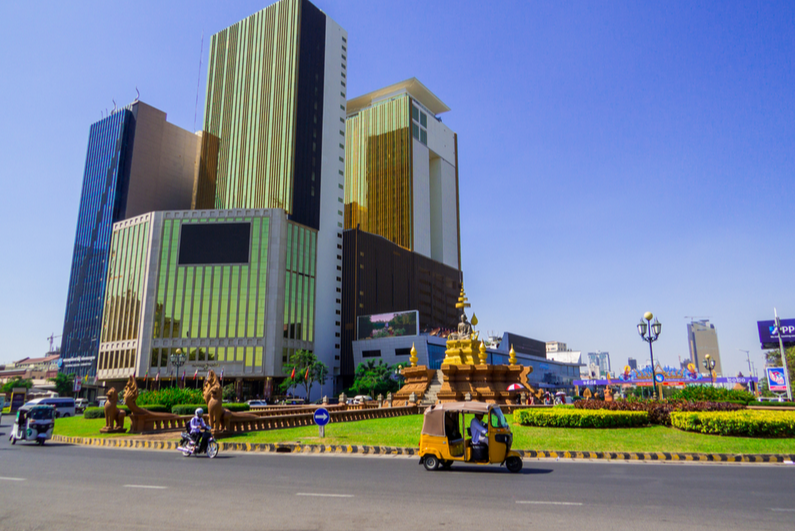 Days after 200 NagaWorld Casino workers were released from detention, Cambodian police used force to get 156 demonstrators onto buses bound for a quarantine center. [Image: Shutterstock.com]
Police threaten human rights officials
Just two days after Cambodian officials released 200 striking NagaWorld Casino workers following public criticism from the United States and United Nations, 156 strikers resuming their peaceful demonstration were met by police and taken to a quarantine center, reports the Cambodian Center for Human Rights (CCHR) .
The NGO took to Twitter to share the news of strikers getting "shoved into buses" and taken to Phnom Phen's quarantine center in Prek Pnov on Friday.
The CCHR added that officials "questioned, threatened and ordered [human rights monitors] to leave."
police carried out a "violent crackdown" on the demonstration outside NagaWorld
Radio Free Asia (RFA)'s Khmer service cited NagaWorld Casino staff as saying police carried out a "violent crackdown" on the demonstration outside NagaWorld's integrated resort (IR) in Phnom Penh on Tuesday. Officials then forcibly moved the strikers to quarantine facilities, allegedly to be tested for COVID-19.
Media reports said authorities released the casino workers Wednesday after they refused to get tested without an official order.
Since December, thousands of employees and their union representatives have conducted a peaceful strike outside the IR, demanding the reinstatement of 365 workers laid off by parent company NagaCorp Ltd.
Violence resumes
On Friday, however, Cambodian police resumed violent tactics against the demonstrators, forcibly dragging one protestor onto a bus, as RFA's Facebook video post reveals: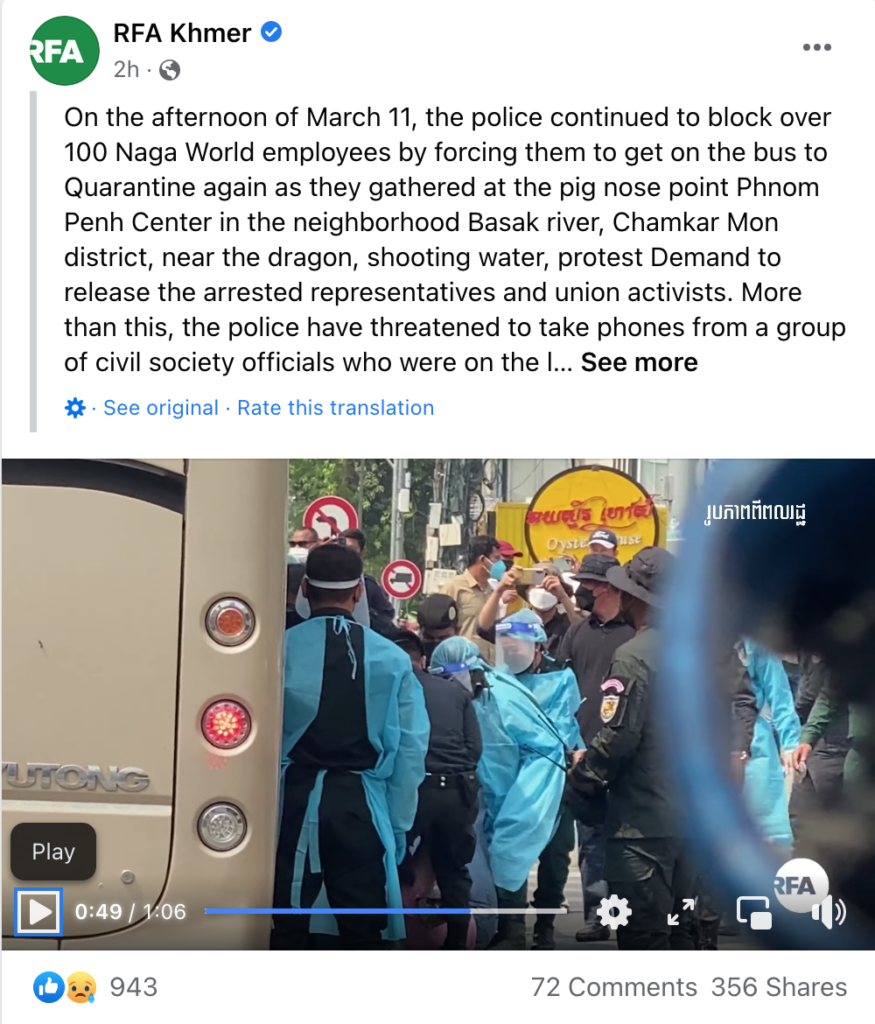 Both the US government and the UN have recently criticized Cambodian authorities' overall handling of the strike and escalation into violence.
In a statement on Monday, UN High Commissioner for Human Rights Michelle Bachelet said she was "troubled by the authorities' use of COVID-19 restrictions to further erode democratic and civic space, including as a pretext to break a lawful strike by casino workers. "
Bachelet said her office "witnessed recent violence by authorities, who forced women strikers onto buses and away from a strike site."
On Tuesday, Edward 'Ned' Price, a spokesperson for the United States Department of State, got onto Twitter to share an excerpt of his official statement expressing US concern over the treatment of the strikers.
"The United States has serious concerns about the use of criminal charges against those peacefully exercising their rights to freedom of association and peaceful assembly," Smith's statement continued.
Eight denied bail
In February, Cambodian authorities ordered the demonstrations to stop after 29 protesters tested positive for the Omicron strain of COVID-19.
Striking casino workers were ordered to stay home and immediately stop all protests outside the IR, lest they risk fines and imprisonment. The ban saw Cambodian activists accusing authorities of using Omicron as an excuse to end the near two-month strike. Executive director of the CCHR Sopheap Chak said at the time that the NagaWorld case "is continually framed as color revolution to now Covid-19 infection."
Via Twitter on Friday, Chak said an official denied her entry into an appeals court where a bail request hearing for the eight jailed NagaWorld Union members was taking place.
The union members were all denied bail, Chak affirmed.
One of those unionists behind bars, President of Labor Rights Supported Union of Khmer Employees of NagaWorld Chhim Sithar, was violently arrested early January. The brutal nature of her arrest drew worldwide condemnation and a response from the US Embassy in Cambodia, which said it was "following closely the troubling arrests."