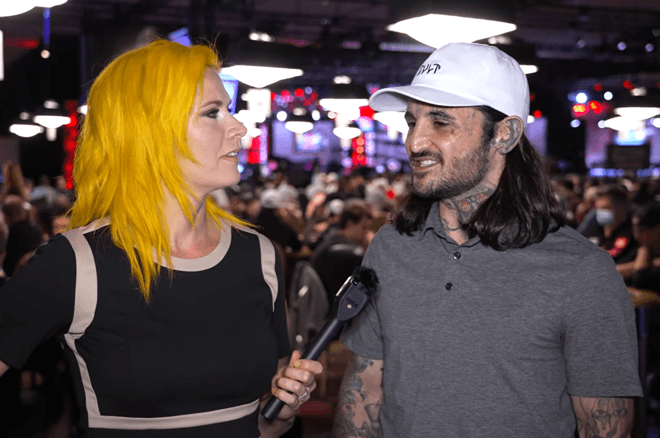 Mike Masewhom you may have watched on Hustler Casino Liveclaims he can beat an unbeatable game — baccarat. He certainly has many doubters, but he also has some receipts to back it up.
The poker player and Instagram sensation spoke with PokerNews during the recently-completed World Series of Poker (WSOP) to discuss a big bluff he pulled off against Los Angeles high-stakes legend Garrett Adelsteinand to give some insight into exactly how he could possibly have an edge in baccarat.
Turning a Doubter into a Believer
Mase, a self-proclaimed "degenerate gambler" from New York has a plethora of detractors, one previously being popular YouTuber Spencer Corneliawho dug into the hard-to-believe claims in a 17 minute video earlier this year.
Cornelia simply wasn't buying what Mase was selling, so the professional gambler invited the content creator over to his home where he had some receipts to back up his claims. Mase revealed some win/loss statements from various casinos that showed year-long gambling wins.
"That's fascinating man, that's legit," Cornelia told Mase.
Cornelia converted from a doubter to a believer, but the second video didn't seem to do much to change the minds of many viewers based on the YouTube comments section.
How could someone possibly win long-term at a so-called game of chance? Mase won't disclose the details of his strategy, but he gave PokerNews a brief explanation as to how he wins.
"I'll say that it's not impossible. I'm not the smartest man in the world, but I was able to pick up a few key note behaviors and characteristics in cards as well as the marketing and development of games in a casino. So if you can do a little reverse engineering to figure out how they've created their edge, then it's not impossible to say that you've worked that to your advantage," Mase claims.
Cornelia wasn't the only YouTube sensation to question the legitimacy of the poker player's claims. Adam "adam22" Grandmaisonalso an avid poker enthusiast, invited Mase on the No jumpers podcast to share his story. the video has just under 1 million views, and over 4,500 comments, most of which don't seem to buy his story.
Who is Mikki Mase?
Mikki Mase, as he explained to "adam22," is a sexaholic who spent much of his high school days in jail, but now lives a disciplined lifestyle, which includes no strip clubs, alcohol, or drugs.
He's a controversial figure but a fan favorite when he's appeared on Hustler Casino Liveand he's highly entertaining and quite the storyteller.
"I've been a sick degenerate gambler for 25-plus years," he told PokerNews. "My neighborhood was all mobsters and wealthy Jews, and so illegal gambling was something that was prevalent my entire life."
The lifelong gambler also has a prominent Instagram account (@dirtygothboi) in which he uses to show off his wild lifestyle.
Mase competes in private high-stakes poker games and occasionally appears on Hustler Casino Live. He took a shot at the WSOP Main Event earlier this month but failed to cash.
Cornelia, upon seeing the gambling profit proof, staked Mase in the $10,000 buy-in world championship event.
Poker's New Tony G? Wesley Fei Taunts Failed Bluffer on Hustler Casino Live