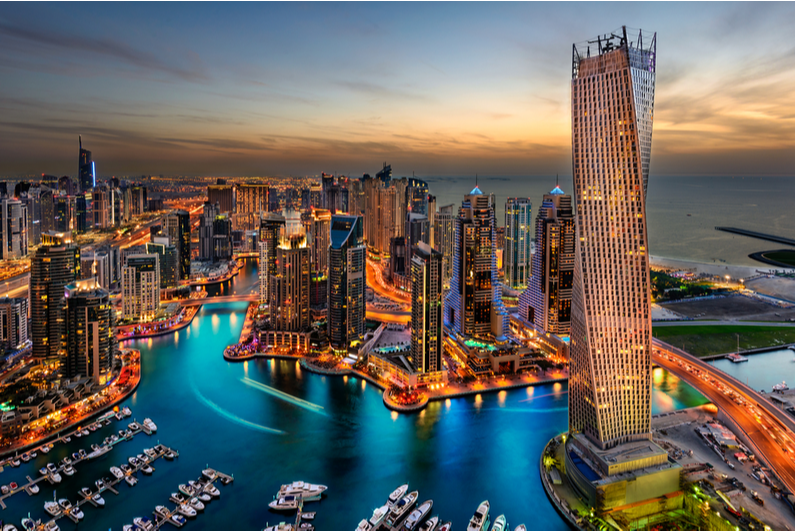 Casino companies are keeping an eye on the UAE as legal gambling becomes an increasing possibility. [Image: Shutterstock.com]
Gambling comes to the UAE
The once-improbable possibility of gambling in the United Arab Emirates (UAE) is nearing semi-reality as the region mulls gambling's future.
Ras Al Khaimah (RAK), one of the seven Emirates, announced earlier this year that it would begin regulating gambling in certain resorts. That same day, Wynn Resorts said it would build a gaming resort on a man-made island in RAK.
Possibilities of gambling in the UAE could redefine the entire area
The announcement came as a breakthrough for the entire Gulf region, which has been defined by traditional Islamic principles; among these, a restriction on gambling. The new possibilities of gambling in the UAE could redefine the entire area.
Is a global giant joining the party?
The UAE is best known for its crown jewel, the ultimate tourist destination that is Dubai.
Dubai, located along the Persian Gulf, is known for its exotic nightlife, high-fashion shopping, and luxurious resorts. It is a hotspot for millionaires and billionaires and one of the most high-profile cities in the world.
Casinos and gambling brands that have and will move into the UAE because of RAK are hoping that Dubai will eventually be one of the dominos to fall in the equation.
Caesars Palace in Dubai, the only one of the entertainment giant's resorts without gambling, told Reuters that it would look into the feasibility of gambling in Dubai.
I think it's wonderful."
"That acceptance now that there is going to be the potential of gaming in the UAE, in whatever form it's going to be, allows people like Caesars and MGM as well to look at that closely," said Anthony Costa, regional president at Caesars Palace . "I think it's wonderful."
Digging is ongoing roughly 10 kilometers away from Caesars Palace for a new MGM-branded resort. As the growth of Dubai's infrastructure continues, higher-ups are already contemplating how to get involved in the potential gambling scene.
"Like anybody, if a license is able to be bid for, any global gaming company is going to want to be actively involved in the conversation," said Costa.
The UAE government media office and the media offices of the emirates of Dubai, Abu Dhabi, and Sharjah, remained silent about RAK's intent to regulate gambling and whether or not the rest of the country would follow suit.
Transforming the region
The UAE and Dubai have dominated tourism and prestige in the Gulf. The city of Dubai is often synonymous with the entire region and has gone unchallenged in its authority.
However, swift and sweeping changes happening in the area could soon cause this to change. Saudi Arabia has prioritized increasing its business and tourist platforms in a litany of initiatives designed to Westernize the country. This is being done in an effort to make it, and the region less dependent on oil.
The UAE, predominantly composed of foreigners, has already made important changes to keep Saudi Arabia at bay. This includes transitioning to a Saturday-Sunday weekend schedule and away from the typical Friday-Saturday weekend found in many Muslim regions. The UAE has also decriminalized alcohol consumption and premarital cohabitation in the past year and a half.
On top of all that, the desert nation found a way to bend laws and create a lottery. Players purchase "collectible" pictures of important areas such as the Burj Khalifa and are then entered into a draw. Eventually, a winner is chosen and given a grand prize. The national "Loto" has participants purchase a bottle of water for charity for a chance at 10 million dirhams ($2.72m).
Sharia – Islamic law that governs the region – allowed for the lottery because it involved an "exchange of value."
It remains unclear how RAK will regulate gambling until a ban is removed from the federal penal code.
It remains unclear how RAK will regulate gambling until a ban is removed from the federal penal code. Illegal activities include creating, managing, or supervising gambling-related content and are punishable by fines of 250,000-500,000 dirhams ($68,064-$136,129).
Rumors of the distribution of gambling licenses in Dubai were denied last year.
RAK promised that its regulations, under development by the Department of Entertainment and Gaming Regulation, will be created and handled responsibly.
"Gaming is a responsible form of entertainment and leisure tourism that takes into consideration community, cultural and social norms," ​​the Ras Al Khaimah Tourism Development Authority said.
It did not provide any insight as to how its regulations would exist with current legislation.