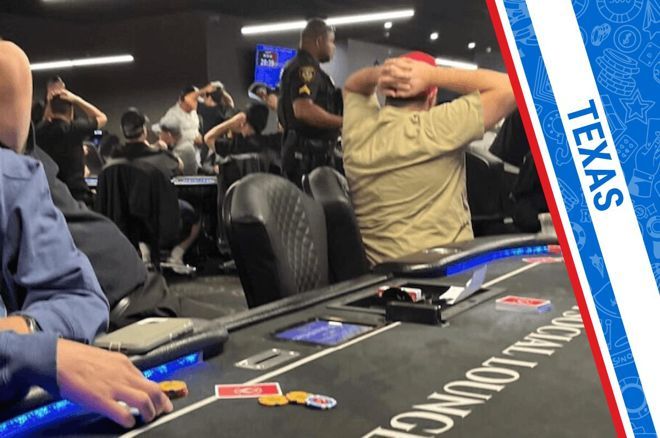 Last October, the Watauga Social Lounge Poker Club in Watauga, Texas – which is situated between Fort Worth and Dallas – was raided by police during Day 2 of one of their bigger tournaments. Dozens of staff members were arrested, approximately $150K-$200K in equipment, $205,000 in cash was seized, and 49 players were fined $360 each.
Three of those players took a plea deal back in December, but since then the other players have been awaiting their day in court. However, before they got it, they received some good news that their charges and fines were being dismissed.
one of the players Daryl Greshamshared an image of the official dismissal, which read:
"On this 18th day of April 2023, Daryl J. Gresham is the defendant in the above styled and numbered cause having been charged with the offense of Gambling – Cards, Dice, Balls, is hereby dismissed for the following reason: "Motion to Dismissed by DA—Interest of Justice."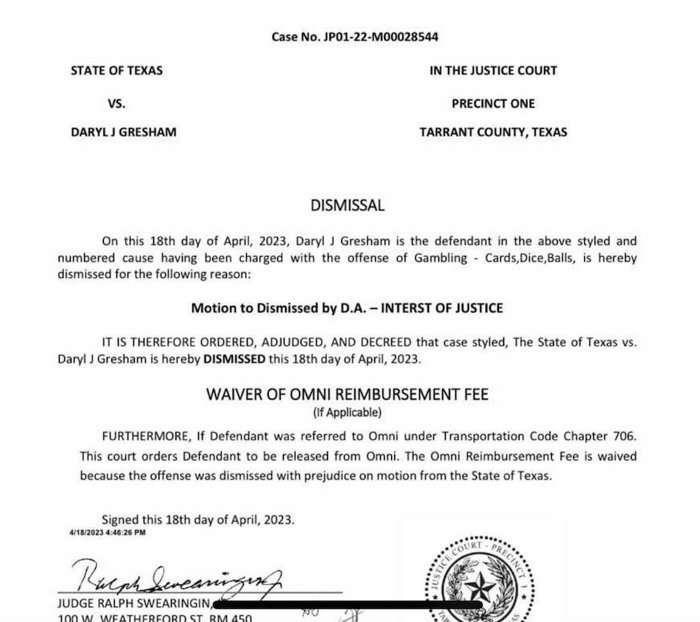 PokerNews was able to confirm that other players were receiving similar dismissals. Unfortunately for the three players who accepted the plea deal late last year, their cases stood.
Arrests Made as Texas Poker Club Raided in Middle of $100K Tournament; Player's Found
Players Still Upset
While it was good news for Gresham, he also shared his discontent with the entire situation.
"First part of the injustice has now been dropped for all 46 of 49 who wanted their/our day in court," Gresham wrote. "Now let's go get our 205k the TCSO robbed from us at gunpoint, cameras cut, etc… Each and every one of the 19 raiders that day knew why they were there and what was at stake and knew they were doing wrong! Some thought that they were being set up and year you were right by your own dept and DA… This isn't over til you return our money and justice is served!!!! I'm still disgusted at the authorities that this was ok in your offices!!!! Remember to serve and protect, not to rob the people at gunpoint!"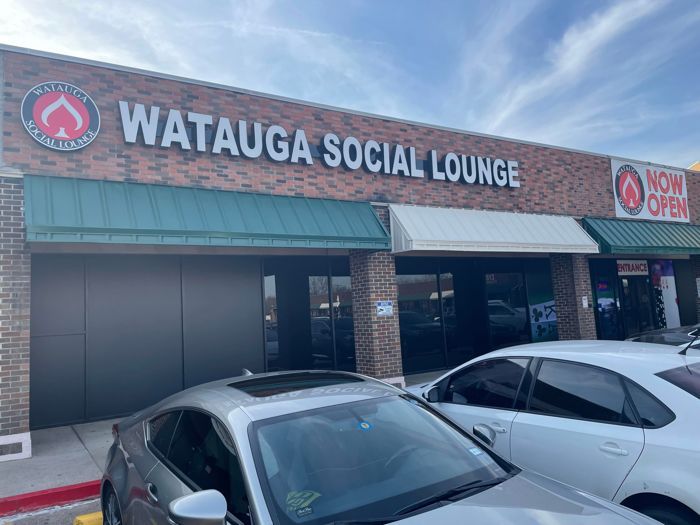 Steve Nichols so posted an update on Facebook:
"A little bittersweet as I really wanted to take it to trial but it's vindicating to see the Tarrant County District Attorney's office cower in the face of folks willing to stand up to them. We'll count this one as a win for the good guys."
"I think the DA's office did not like that myself and the other attorneys present that day all walked in and demanded jury trials."
He continued: "I don't have any additional information about the criminal cases against the employees … Let's hope Tarrant County makes the right decision there as well. I know we aren't getting our money back (which is the most unfortunate part of this whole thing) but hopefully, this pushes the needle forward with lawmakers to make a stand and finally fully legalize poker in the state of Texas so that no other establishments or patrons fall victim to overzealous prosecution."
A lawyer associated with the case wrote: "I think solidarity won out over here. I think the DA's office did not like that myself and the other attorneys present that day all walked in and demanded jury trials."
Texas Poker Room Refuses to Pay Out $100K Bad Beat Jackpot Over Technicality
How It All Went Down
The Watauga Social Lounge Poker Club opened in January 2022 and even hosted a ribbon-cutting ceremony attended Watauga Mayor Arthur L. Miner. The room was even a stop on PokerNews Texas Road Trip back in March.
The original Tarrant County warrant stated that authorities were authorized to seize "currency, gambling proceeds, financial instruments, and or other items of value … relating to obtaining, transferring, secreting or spending large sums of money made from engaging in specified unlawful activities."
As well as "Tickets, papers, bank bags, receipts, money, gift certificates, coupons, credit card receipts showing documentation of entries, add-on plays, dealer/staff appreciation, administrative fees, payoffs, and checks cashed by player."
The warrant, which was signed by Judge George Gallagheralso indicated that authorities were looking for non-poker related gambling apparatuses such as dice, roulette wheels, video gambling devices, etc. in violation of Texas Penal Code, Chapter 47.
Today the Watauga Poker Club just outside Dallas, Texas was raided. Here's a look at the search warrant that was ex… https://t.co/ge7uU4ArSB
The raid occurred during Day 2 of the venue's Fall Classic Poker $420 buy-in, $100K GTD Main Event. That tournament featured a "$20 optional dealer add-on", offered six starting flights, and had planned to live-stream the final table.
The tournament attracted 369 entries who generated a $132,840 prize pool. Day 2 saw 53 players return to action with Randy Lister (942,000), Ethan Wilson (676,000), and Johnny Marlow (626,000) as the big stacks. The raid apparently took place in Level 16 (3,000/6,000/6,000) with 49 players remaining.
PokerNews will continue to monitor the situation as staff at Watauga Social Lounge Poker Club await their fate in the case.
What Are the Best Poker Rooms in Texas?

Executive Editor US

Executive Editor US, PokerNews Podcast co-host & 2013 WSOP Bracelet Winner.