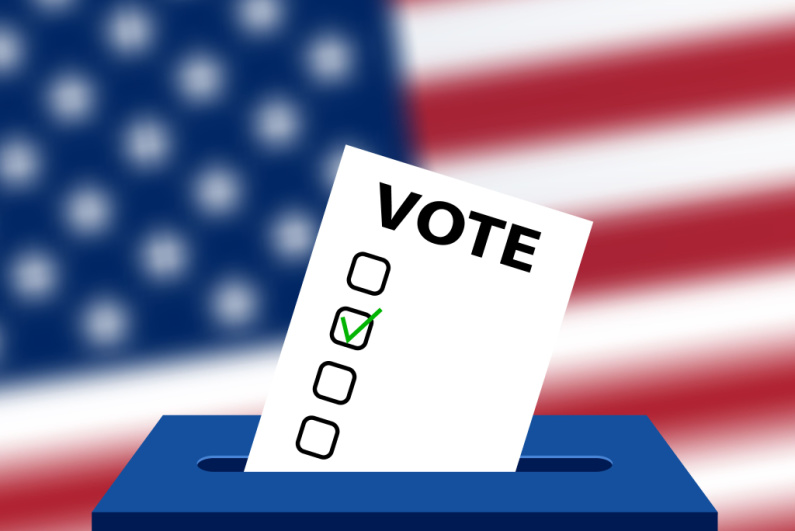 The sports betting landscape in America is clearer now that Election Tuesday has settled policy debates and political races. [Image: Shutterstock.com]
The votes are in
Millions of Americans showed up at polling centers around the country on Election Tuesday to cast their votes for Governors, Senators, Representatives, and issues such as sports betting policies.
Midterm elections have substantial implications on the trajectory of gambling in each state, not just by allowing the public to vote on critical issues, but by assembling the team that will handle legislative debates for at least the next couple of years.
the landscape for US betting legislation is clearer than it was 24 hours ago
For this reason, the gaming industry had its eyes fixed on voting results in several key areas, such as California, and a number of midwestern states yet to legalize wagering. With most of the votes counted on Wednesday, the landscape for US betting legislation is clearer than it was 24 hours ago.
Vegas Slots Online News has taken a look at the headlines.
California hopes fade
The biggest domino for the gambling community in Tuesday's elections involved two measures, Proposition 26 and Proposition 27. The latter would have opened the doors to sports wagering on a broad scale in California, while its counterpart would have set up betting under the authority of local native tribes.
In bad news for California tribes and commercial operators eyeing up the highly-sought-after-prize, both Proposition 27 and Proposition 26 failed to get the necessary support. the Associated Press called the decision in both instances early on Wednesday morning despite votes not being fully counted yet. With almost half of the expected vote now in, 70% voted no on Prop 26 and 83.1% said no to Prop 27.
The interested parties pumped almost $500m into advertising in the lead-up to election day and it is clear to see why. Industry insiders have predicted that a California betting market could generate as much as $3bn in annual revenue.
After the vote, any hope of California sports betting is shelved until 2024 at the very earliest, particularly given voter reaction to the intense ad campaigns that led up to election day. "Should both of these measures (Proposition 26 and Proposition 27) be voted down, it would take potentially a significant amount of time for voter sentiment to recover following the extremely negative tone of political advertisements during this campaign," Truist Securities analyst Barry Jonas said prior to the vote.
Texas still has Abbott
Another massive state yet to join the sports betting market is Texas. Tuesday's vote revealed that incumbent Governor Greg Abbott has led a successful reelection bid over challenger Beto O'Rourke, who was open to legalizing sports gambling. However, Abbott has recently offered some semblance of hope to Texan wagering fans by showing a willingness to listen to pro-betting lobbyists.
lawmakers will have to agree on betting legislation next year
The Texas legislature only meets during odd years, meaning that lawmakers will have to agree on betting legislation next year. Otherwise, it won't be a topic at least until after the next presidential election.
Texan sports teams have already decided to get in on the betting action. Earlier this year, the World Series-winning Houston Astros signed a deal with sportsbook company BetMGM. Texan furniture store owner Mattress Mack also recently secured the biggest bet payout in history ($75m) by backing the Astros for the MLB title.
Hoskins wants to fight in Missouri
Several midwestern states, namely Missouri, Oklahoma, and Minnesota, were also put under the spotlight during Tuesday's polling.
formed a union to heap pressure on lawmakers
Missouri has been at the center of sports betting debates for the past year and has discussed legalization since the door was opened by the repeal of the Professional and Amateur Sports Protection Act in 2018. Local professional sports teams and their owners even formed a union to heap pressure on lawmakers, though their efforts have been in vain thus far.
Senator Denny Hoskins has spearheaded recent pushes for sports betting legalization in Missouri and, in good news for betting backers, his seat is confirmed for the upcoming calendar. His commitment to expanding video game terminals has presented a point of contention for opponents, however, leading to opposition for any of his pro-gambling policies. It is unlikely that Missouri sports betting coalesces unless the issues are separated.
Mixed results for others
In Oklahoma, incumbent Governor Kevin Stitt successfully won reelection, much to the disappointment of the pro-gambling community. Despite being a tribal member, Stitt has levied lawsuits against tribes for gaming compacts. With him back in the office, legal sports betting seems like nothing more than a thought exercise.
supportive of betting as long as the legislation gets the backing of Minnesota tribes
Minnesota, meanwhile, also has to deal with the confines of creating legal sports betting without stripping local tribes of their autonomy in the industry. There, Governor Tim Walz secured reelection after defeating Scott Jensen. Walz is supportive of betting as long as the legislation gets the backing of Minnesota tribes too.
While all of this was going on, Georgia was busy reelecting incumbent Governor Brian Kemp ahead of the challenging Stacey Abrams. Kemp has been opposed to legalized gambling in the past, but recent polls suggested that a majority of voters support casinos and a near-majority support sports betting.