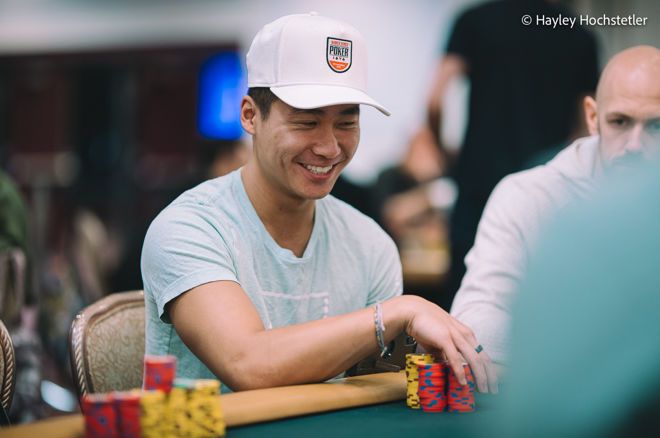 Ethan "Rampage" Yau has quickly risen to the highest stakes and regularly finds himself competing against some of the best players in the world.
In this hand from a World Series of Poker (WSOP) $10,000 buy-in bounty event, Yau battles against one of the top high-stakes tournament players: Sean Winters.
Yau finds himself in a tricky spot facing a rather large bet on the flop in a multiway pot. He was undecided as to whether he should call or raise as he has a blocker to draw the nut flush with the king of clubs.
When your opponent can potentially have all of the nuts in their range you should be more inclined to call rather than raise. It is important to think of many variables in a poker hand to ensure that you can crush live tournaments!
In bounty tournaments when you generally cover your opponents you should be looking to make the pot bigger so that you have the opportunity to stack them.
In the early levels of the WSOP event with blinds of 300/500, the hand kicked off with the under-the-gun player opening and Winter calling in the hijack. Yau also called on the button holding K♣Q♦ with a stack of 59,000 before the big blind also called.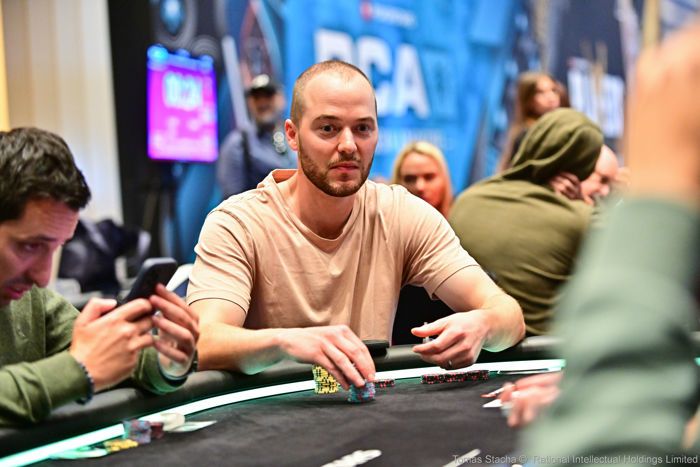 I think it is fine for Yau to call with king-queen when playing so deep-stacked, but there may also be some merit in three-betting, especially when there are bounties to be collected.
The flop landed A♣J♣3♠ and the big blind and under-the-gun player both checked before Winter bet a sizable 3,200. Yau called with his gutshot and backdoor flush draw and the under-the-gun player also called.
Calling is the right move here because Winter has all of the nut hands in his range. He could easily have ace-jack, pocket jacks, pocket threes or ace-three. He may three-bet some of those, but all of those are well within his range. Additionally, Yau's king-high is actually ahead of Winter's drawing hands.
If Yau was shallow-stacked he would be more inclined to fold, but with the implied odds he can comfortably call here.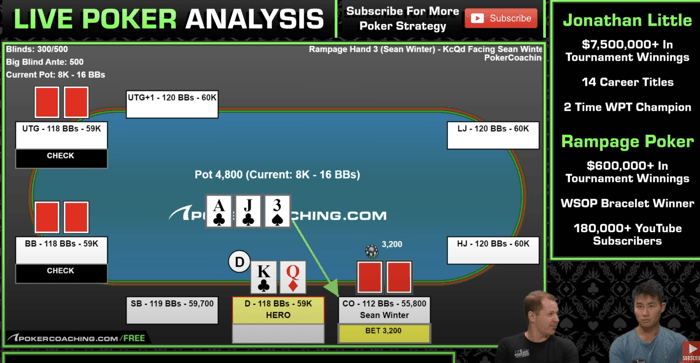 the 10♣ turn was a gin card for Yau as it gave him the Broadway straight and also the nut flush draw. Action checked to Winter and he bet 4,300 as the under-the-gun player got out of the way. Yau told me that he thought raising might be the better play, but I think calling is a fine play.
the 10♠ river completed the board and Winter fired a small bet of 5,500.
This is an annoying spot for Yau because any two pairs or sets that Winter may have had improved to a full house. Because of that, I think Yau's best option is to call here. If he raises, I don't think he will get action from worse hands.
What would you do in Yau's situation?
fold
calls
Raise Small (11,000)
Raise Big (All in)
Yau did call and Winter turned over 3♦3♥ for a full house. Yau lost the pot but he could have lost a lot more if he raised.
I like Yau's play in this hand across the board, even though it didn't work out for him in this instance.
For more on this hand check out my breakdown in the following video:
Jonathan Little is a professional poker player and author with over $7,000,000 in live tournament earnings. He writes a weekly educational blog and hosts a podcast at JonathanLittlePoker.com. Sign up to learn poker from Jonathan for free at PokerCoaching.com. You can follow him on Twitter @JonathanLittle.