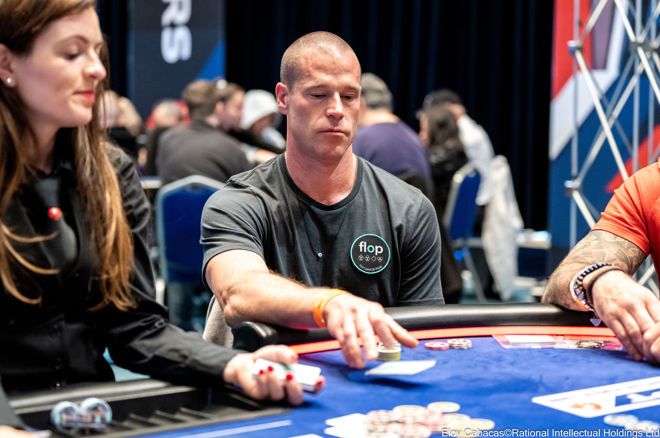 While many of the biggest stars from poker's golden era of the mid-2000s are only mentioned in "Where Are They Now?" pieces, Patrick Antonius is not one of them. In fact, the Finland all-time money leader is as relevant as ever.
Not only is Antonius still regularly competing in the televised cash games that boosted his career early on, he is also a force to be reckoned with in on the current high roller tournament scene and even won his first Triton title last year. Additionally, Antonius recently signed on as an ambassador for the World Series of Poker (WSOP) Thrill Teamsomething he said he got involved in "accidentally" before adding that he was "happy to get invited to join the Thrill Team."
"It's nice," Antonius said. "WSOP is a big brand and they have a lot of influence in the industry. And it's nice that they have this app so a lot of new players can have an experience playing poker on an app like this for free. And if they like it they can start playing for real money and so on. So it's nice, it's nice that they have an app like this."
Anthony appeared as a guest on the most recent episode of the PokerNews podcast and spoke about winning his first triton title, how High Stakes Poker impacted his career and representing the WSOP Thrill Team in the upcoming Main Event. The full conversation with the Finnish poker legend can be heard here.
Listen to Patrik Antonius on the PokerNews Podcast!
Big Bluff-Catch Leads to First Triton Title
Though he's primarily a cash game player — as he put it, "cash games have always been my main thing and it will always remain to be my big thing" — Antonius has still managed to rack up $14.4 million across his poker career that has spanned more than two decades.
That includes a first-place finish in the 2005 European Poker Tour Baden Main Event for $343,365 to bring him an EPT title, as well as a runner-up finish to one Phil Ivey in the 2012 Aussie Millions Poker Championship $250,000 challenge for $1.3 million.
More recently, Antonius picked up a Triton title as he took down a $25,000 high rollers at the Triton Poker Super High Roller Series in Cyprus in August 2022 for $825,000.
"It felt good," said Antonius. "It's always good to get a monkey off from your back when you don't have a title. The first one is always nice to get. And I'm looking to get more, obviously. It always feels good to win a tournament. Everyone who has won one, they know the feeling that you cannot do any better and you just let things go your way."
Not only did Antonius book the win, he did so in a rather spectacular fashion. During three-handed play at the final table, Antonius made an incredible hero call for his tournament life holding just bottom pair against Fahredin Mustafov in what commentator Henry Kilbane called the "sickest hand of the tournament."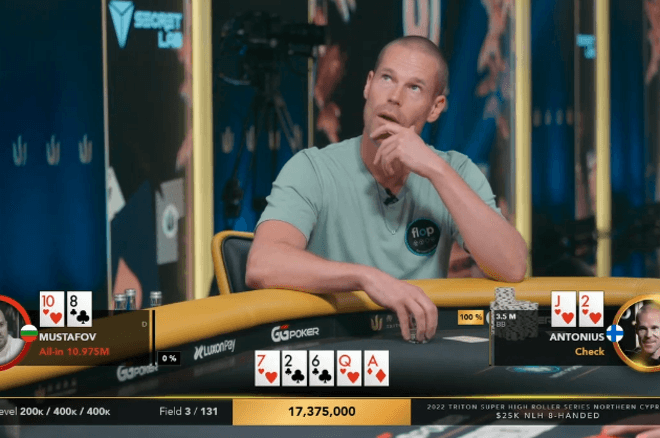 Antonius said making the right call in that "crucial moment" made the Triton win all the more special. "That kind of felt extra good that it came in this way instead of just winning all the flips and so on."
He explained what his thought process was at the moment: "I mean, the hand played pretty standard until the river. I cannot fold on the turn (when I pick up a flush draw), obviously. I just, simple as that, went with my read on the river. If I have a read that my opponent is not bluffing, then I'm folding. And I had a pretty good read. But also … I had to be right a lot there with the ICM ( implications) and, you know, I was right this time. It's not so much crazy special things. It's just one hand. It feels good to be right, that's all I can say."
Patrick the Star
Many poker fans know Antonius from his appearances on the iconic High Stakes Poker show back in the mid-2000s, where a younger Antonius — in a half-unbuttoned pastel dress shirt with several bricks of cash in front of him — battled against the likes of Sammy Farha, jamie gold other Barry Greenstein.
"I guess it's been pretty big for me, like that's where people know me from more than from tournament poker," Antonius said when asked about the impact the show has had on his poker career. "That show made me quite popular, because of TV. And yeah, I managed to play a lot of interesting big pot there."
Antonius added, "I've always felt very comfortable (on camera) and enjoyed playing streams (and) televised poker, especially cash games. Those are really fun things to play, what can I say."
More than a decade later, Antonius is still a regular in the televised cash game streets. In 2022, he appeared on Season 9 of the rebooted High Stakes Poker with Jean Robert Bellande, tom dwan, Daniel Negreanu and others.
"It feels like I'm getting invited all the time," he said. "It all depends what kind of lineup and when. Like I just got invited now to play something (in the PokerGO Studio) … but I'm not able to make it in April. I'm here in Monaco and am going to play this Monaco EPT. But yeah, I'm always looking to play some high-stakes poker. That's what I do, that's what I prefer over tournaments."
"I Let My Play Talk"
Most poker pros would love nothing more than an invite to the juicy televised and streamed games, which are typically filled with a mix of recreational players, celebrities and, more recently, content creators. What makes Antonius so popular on TV that he keeps getting these invites?
"I mean, I don't really know," said Antonius. "I cannot tell (you) what people enjoy, if people say that they enjoy watching me play. I cannot tell you that. You'd have to ask other people. I'm just myself and I like to play. And you know , I think I'm a pretty fun guy to play (with) if I'm in a good mood, which I have been lately."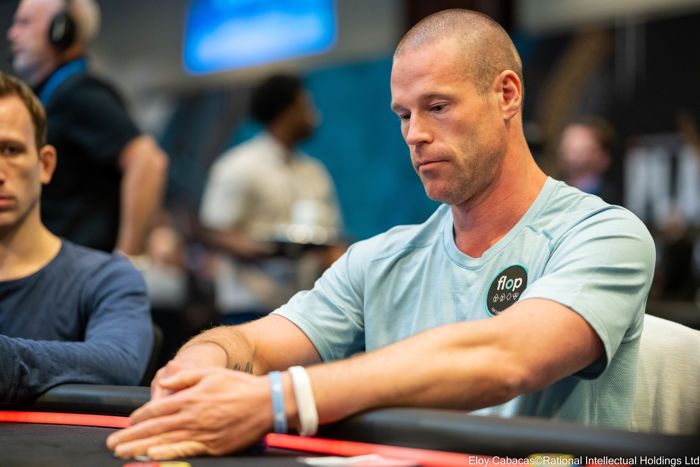 As for his presence at the table, Antonius noted that he "like(s) to have all kind of conversations" but added that "I don't like to talk too much when I play. When you're not in a hand, you can have conversations and so on, but I like to focus on the hand when I'm playing."
"I kind of let my play talk," Antonius said. "I think I give a lot of action, and like I said, I've played a lot of big pots, made a lot of interesting plays. And I like to keep it like that. The poker is the main thing, that you want to watch players play and not them to have a show with talking, and so on. Let's focus on the poker, I think it's the right way to keep it. And the commentators are really good nowadays, and they're just getting better .But Gabe Kaplan was pretty damn entertaining."
While they were made beforehand, Antonius' comments seem particularly relevant after the recent live-stream offering of High Stakes Poker that featured a lineup including Nikhil "Nik Airball" Arcot, Doug Polk other Matt Berkey and was widely criticized for what many saw as prioritizing feuds and antics over poker play. Of course, there are plenty out there who have also criticized today's televised games for not being entertaining enough.
I've been trying to focus on how we can put out the best poker stream we can. Here are the notes based on feedback.… https://t.co/1PanHaS4Fz
What's Next for Antony?
What's next on the busy schedule of Finland's all-time money leader? Anthony is currently in Day 1a of the EPT Monte Carlo Main Event and said he also plans on playing the Triton Poker Cyprus series in May before "fly(ing) straight to Vegas from Cyprus" to play the WSOP Main Event as a Thrill Team representative.
And if there was any doubt, Antoninus also confirmed he will be playing plenty of high-stakes cash games during the Vegas trip.
"(I'm) looking forward for (the) Vegas trip," he said. "Some cash games and good times and some Main Event tournament also."