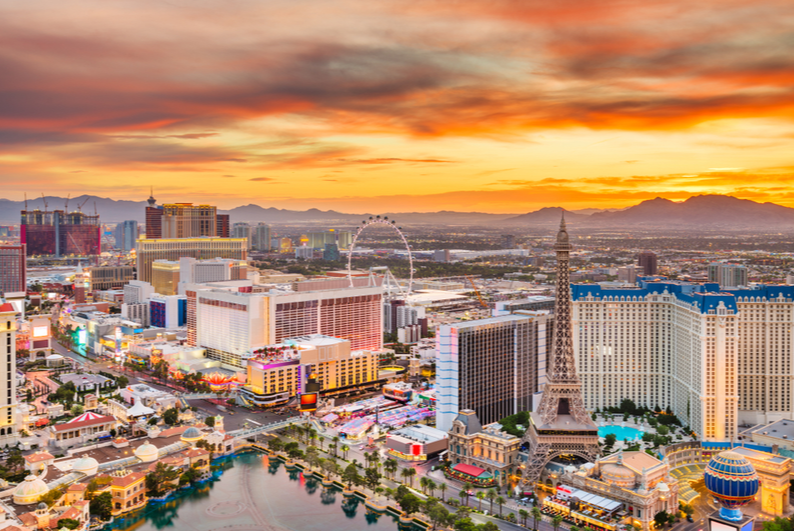 A new Las Vegas travel survey shows visitor demographics changed significantly last year and fewer visitors are going to the city specifically to gamble. [Image: Shutterstock.com]
Shopping, drinking instead of slots
The Las Vegas Convention and Visitors Authority and GLS Research recently provided insight into a 2021 Visitor Profile Survey conducted in Las Vegas. The COVID-19 pandemic changed the visitor profile in Sin City, with a higher percentage of visitors being younger and less likely to gamble.
more travelers bring underground children along the trip
Instead of focusing on slots and table games, the younger demographic visits the area for vacation. Most enjoyed the sights, dining, shopping, and drinking, and more travelers bringing underage children along the trip.
Las Vegas survey details
In 2021, the type of visitor to the area was vastly different than in previous years. For starters, only 75% of visitors gambled during their trip, down from 81% in 2019. The percentage is similar, though, when compared to previous years.
Just over 50% of visitors said the trip was a vacation, much higher than the 45% and 36% from 2018 and 2019, respectively. Only 8% of that number said they visited solely to gamble, a big drop from 14% in 2019.
Last year's average budget for gambling among those who played was $717.51, a surprising increase when compared to 2016-2019. Players had larger bankrolls, helping push the revenue totals up for Nevada, despite the visitor totals decreasing amidst the pandemic.
spent less on entertainment and shows than in previous years
The report indicated that visitors traveled to the region for attractions, bars, and lounges. People paid more for food, drinks, shopping, and sightseeing, and spent less on entertainment and shows than in previous years.
Show and convention attendance decreases
The report indicated that attendance at shows and conventions was down, but of course, this is primarily because of COVID-19 issues. Shows and concerts were not fully back in action until the end of the year. Visitors were also less likely to attend a convention due to the pandemic, but this is expected to change in 2022.
This year, conventions should return in full force, as companies are more willing to travel to Las Vegas and take part in events. As COVID-19 restrictions are non-existent this year, it is expected that both events and conventions will see higher visitor numbers than last year.
The survey also showed that visitors preferred downtown in 2021. Around 53% said they visited downtown last year, compared to 42% in 2019.
The majority of visitors to the area were single, but the survey indicated that overall, visitors were more likely to bring their kids to Las Vegas than ever before. Just over 20% indicated they brought a child younger than 21 with them on the trip, a jump from the 5% in 2019.