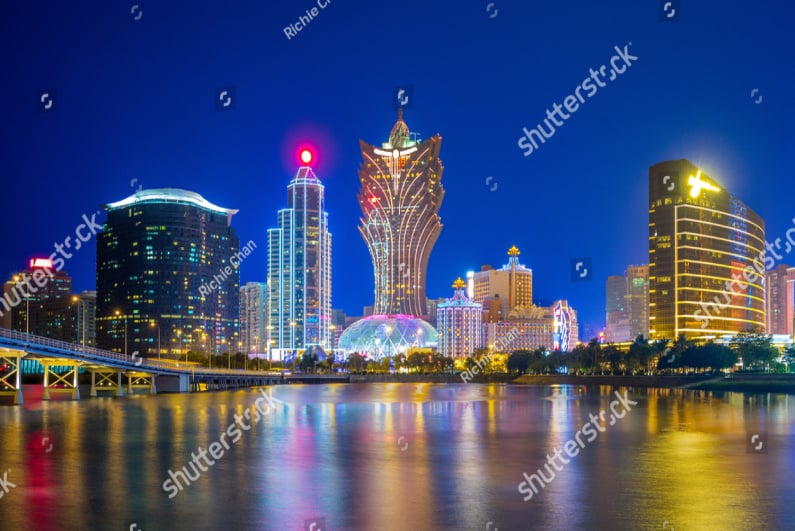 The application process for new casino licenses in Macau is beginning on Friday and will last until September 14. [Image: Shutterstock.com]
Six licenses up for grabs
The Macau government has revealed that it will be opening up the bidding process for new casino licenses starting Friday. According to the announcement on Thursday, casino operators will be able to submit applications up until September 14.
Licenses for Macau's six casino operators will expire at the close of 2022
The current licenses for Macau's six casino operators will expire at the close of 2022. The operators that currently hold licenses are Melco Resorts, SJM Holdings, Galaxy Entertainment, MGM China, Wynn Macau, and Sands China. If they wish to continue to operate in the world's largest gambling hub, they will have to apply for a new license alongside any other operators that are looking to get in on the action.
The application process
As part of the selection process, each applicant will need to submit a MOP$10m (US$1.24m) guarantee, as well as provide various types of documentation that showcase their qualifications. There will be extra consideration given to those applicants that have plans to help develop foreign tourism markets, have experience in the gambling space, are committed to preventing any illegal activities, and will help boost investment in both gambling and non-gambling-related projects in Macao.
Members of the casino licensing committee include Macau's gambling regulator chief, the region's finance and economy chief, and the head of the Macau tourism board.
A decision will likely be made on the recipients of the six licenses before the end of the year. If the current license holders do not manage to obtain approval to keep operating, they will no longer be able to operate casinos in Macau. The expectation is that most, if not all, of the current operators will get new licenses.
Dealing with uncertainty
The issuance of new casino licenses in Macau has been long-awaited. There have been numerous extensions given to the current operators for a variety of reasons, including the COVID-19 pandemic. As per newly adopted regulations, the casino licenses will now have an initial term length of ten years rather than the previous 20-year term. Operators must also now keep cash reserves of MOP$5bn (US$618m).
The opening up of the licensing application process comes at a time when Macau is dealing with a significant COVID-19 virus outbreak. As a result of the high number of cases, casinos had to close for 12 days in July. While staff have been able to return to the properties, most aspects of these businesses are running on a very restricted basis.
last year, revenue dropped 70%
Casinos have been struggling to deal with the significant drop in income throughout the pandemic. Last year, revenue dropped 70% from US$36bn in 2019 to US$10.8bn in 2021. To deal with short-term liquidity issues, some operators have gotten help from their parent companies. Analysts believe that it could take a few years for the region to fully recover from pandemic-related issues.