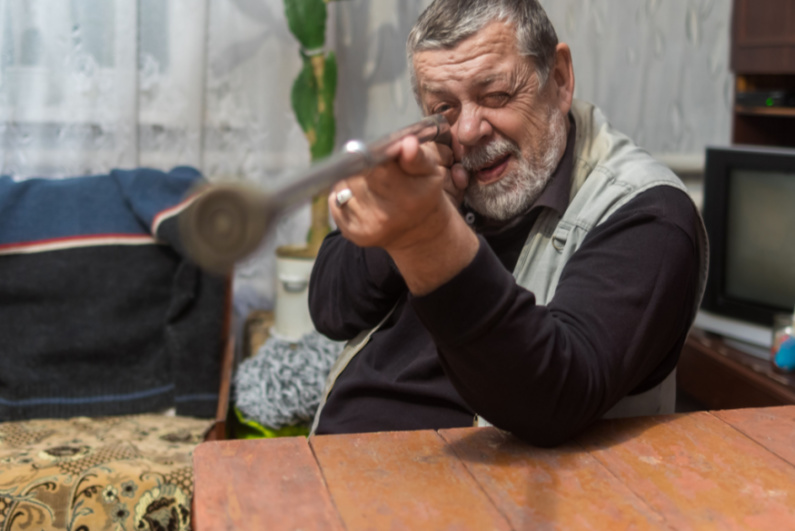 A man who used a fake shotgun to rob five London sportsbooks was sentenced to ten years in prison. [Image: Shutterstock.com]
Sports books worry no more
A man who used a walking stick as a fake shotgun to rob multiple retail sportsbooks in London, England will spend ten years in prison.
Brett Mullan, 50, stowed a collapsible walking stick in a plastic bag he used to fool sportsbook employees.
The ploy was enough to help him steal a total of £2,780 ($3,398) during his thieving run.
Putting the pieces together
The Gravesend resident was caught after giving his real name to a railway inspector en route to his second robbery on Burnt Ash Road in London on April 13. CCTV footage allowed investigators to track his every step.
Mullan had traveled to all of the robberies by railway
Police soon discovered that Mullan had traveled to all of the robberies by railway; they then used the security cameras to document footage of the crimes and of him going to and from his home in north Kent.
Police were also able to find the walking stick used during the robberies at Mullan's place of residence.
The Flying Squad, a branch of London's Metropolitan Police Service dedicated to investigating robberies, helped put the pieces together. The special detectives ultimately tracked similar robberies at Lee, Norwood, Sutton, and Crayford between April 4-24.
Mullan was arrested on April 25 as he was leaving his home. He pleaded guilty to five counts of robbery and five counts of possession of an imitation firearm the next day.
A simple mistake
Detective Constable Carl Stallabras, part of the Flying Squad, spoke out against Mullan's crimes.
Those people feared for their lives."
"Mullan terrified members of the public and staff at the bookmakers who were going about their normal lives when he demanded cash and made threats of serious violence," said Stallabras. "Those people feared for their lives."
"But a simple mistake on his way to the second offense was all we needed to track him down, and from there the wealth of evidence we obtained left him no choice but to plead guilty."
Mullan was sentenced to ten years in prison at Snaresbrook Crown Court Monday.