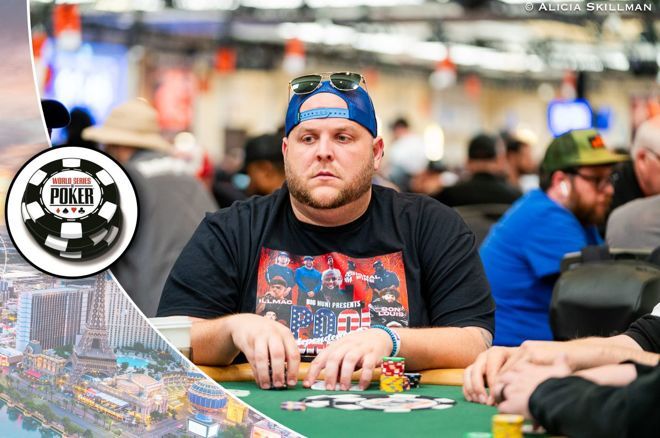 It was a record-setting day at the 2023 World Series of Poker as Day 1d, the final starting flight, amassed over 4,100 entries in Event #76: $10,000 WSOP Main Event World Championship. The old mark of 8,773 entries in 2006 was shattered in the early stages today, with the current number of entries sitting at around 9,350 and counting.
It was nothing short of a frenzy throughout the day, with tables open in all parts of the Horseshoe and Paris Las Vegas ballrooms, and the energy was certainly felt today more than any other. Chris Moneymaker, widely regarded for starting the initial poker boom back in 2003, kicked things off by welcoming all players to the WSOP Main Event. He was joined by Gene Caldenthe oldest player to ever play the Main Event at the ripe age of 100 years young.
End of Day 1d Top 10 Chip Counts
| rank | players | Country | Chip Count | Big blinds |
| --- | --- | --- | --- | --- |
| 1 | Nicholas Rigby | United States | 408,800 | 511 |
| 2 | Brittney Stout | United States | 375,500 | 469 |
| 3 | Neel Murthy | United States | 323,100 | 404 |
| 4 | Chris Hunichen | United States | 321,200 | 402 |
| 5 | Carlos Leiva | Argentina | 318,700 | 398 |
| 6 | Brandon Mincher | United States | 317,000 | 396 |
| 7 | Jeffrey Weil | United States | 308,100 | 385 |
| 8th | Matthew Adams | United States | 307,200 | 384 |
| 9 | Vincent Pistorino | United States | 306,000 | 383 |
| 10 | Harish Ananthapadmanabha | United States | 305,400 | 382 |
As is often the case, the bigger the starting flight, the bigger the chip stacks. Today was no different than Nicholas Rigby Finished Day 1d with a whopping stack of 408,000 chips. Rigby, who became known for the 'dirty diaper' a couple of years ago, will enter Day 2 as the overall chip leader as the only player to accumulate over 400,000 chips. The Pennsylvania native doesn't have many tournament results on his resume, but this is one tournament that he excels in. Back in 2019, Rigby went on to finish in 52nd place in the Main Event for $136,100 and gained plenty of recognition for playing his favorite hand, deuce-three offsuit.
Chasing down the leader on Day 1d was Brittney Stout, who had a very entertaining day at the felt. Stout was full of laughter and jokes throughout the day, and who wouldn't be after bagging a stack of 375,500 chips. Neel Murthy (323,100), high roller Chris Hunichen (321,000), and Brandon Mincher (317,000) were among the others that topped the leaderboard.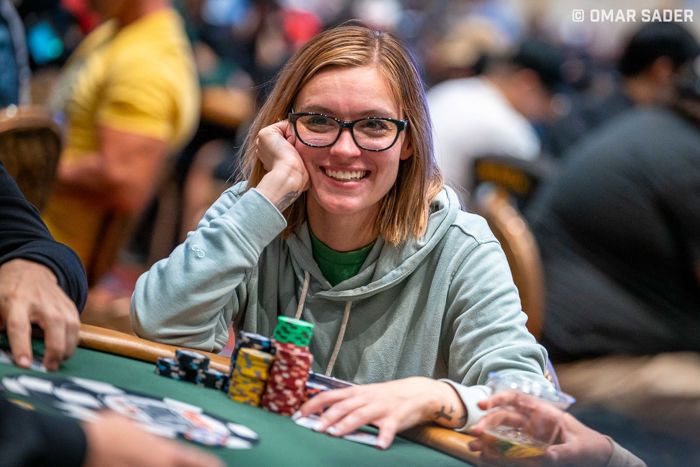 A Three Ring Circus Broke Out on Day 1d
Some people often describe chaos and lots of extracurricular activities as a circus. On Day 1d, there was not only that, but an actual circus made an appearance as well. Phil Hellmut made his grand appearance at the Main Event as a Stage Master dragging Daniel "Jungleman" Cates dressed as a lion in a cage behind him. Hellmuth was also joined by 17 models, representing the 17 WSOP gold bracelets he has won in his career.
Hellmuth was met with mixed emotions upon his entrance – cheers and applause from his fans who couldn't wait to snap a picture and murmurs and complaints from those who were just trying to play some poker. Every year it's a spectacle when Hellmuth enters the Main Event, and this year was nothing different. Hellmuth was moved to the feature table, where he finished the night with 108,500, whereas Cates was eliminated just after the dinner break.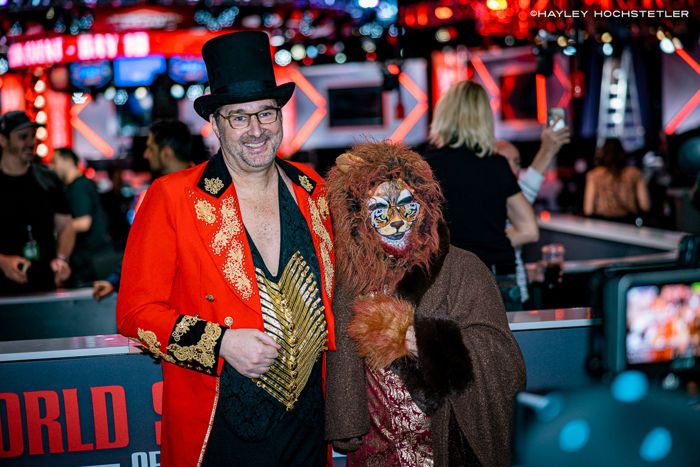 Another thing that never changes is the cold deck that often finds its way into one of the first hands of the day. This year, it happened to be the very first hand. JamieSmith flopped top set with pocket queens while Mikolaj Zawadzki flopped middle set with pocket eights. All of the chips went into the middle by the river, and Zawadzki was eliminated after not improving. That's a $10,000 hand!
As for Calden, who made his own history at the WSOP today, his run at the poker table didn't last very long. The World War II veteran flopped two pair, but his opponent turned a straight when all of the chips went in the middle. Calden was unable to improve, and his Main Event ended in the second level. Calden not only got applause for his service but also for making history on the felt.
Another fan favorite always is the 2005 Main Event champion Joe Hachem (125,300). The Aussie was once again back at the WSOP and was joined by his son Daniel Hachem (22,400), who, as his dad says, is the best poker player in the family. Both players earned healthy stacks in the early going and will be returning for Day 2d.
Hossein Ensan, Qui Nguyen (121,800), Moneymaker (143,100), and Scotty Nguyen (8,400) were the other previous Main Event champions in the field today and Ensan was the only one that failed to advance to Day 2.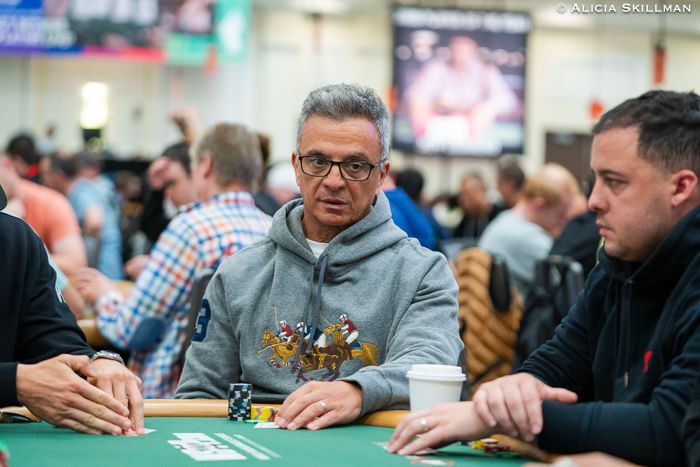 And a circus is not a circus without some shenanigans as well. midway through the day, Gaston Miculitzki was the beneficiary of a floor ruling that ultimately resulted in a double-up. Miclitzki was facing a bet and put in the wrong amount and then attempted to fold. After the floor ruled that he must call, Miclitzki then went on to turn a set of kings and double up through his opponent.
On the next level Stephanie Wang was all in on the flop with pocket eights and called by Brian Wilson with just queen high, no draw. Wilson rivered a pair and started celebrating, which grabbed the attention of the entire ballroom. However, that was soon followed by the celebration of Wang when she realized that she had rivered a flush. Both players laughed it off, and Wang collected the 250 big blind pot.
Everyone that advanced from Day 1d today will have a day off to collect themselves and will be returning to the felt on Saturday, July 8th at 12 pm noon local time. July 7 sees Day 2abc take place, where the players from Day 1a, Day 1b, and Day 1c will all join for the next five levels of poker. The action is slated to begin at 12:00 pm local time, with tables being set up in the Horseshoe and Paris Las Vegas ballrooms. the PokerNews live reporting team will be on the floor in full force to bring you all of the updates and highlights from around the tournament room.