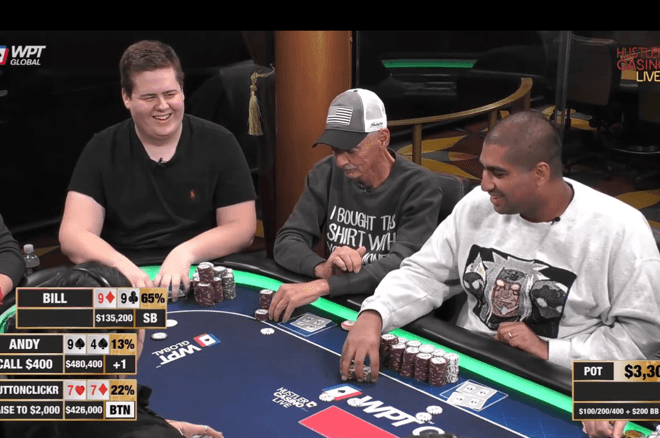 making his Hustler Casino Live debut, 22-year-old online poker grinder Henri "buttonclicker" Puustinen lost the largest pot in the show's history — $870,000 — thanks to a tough cooler during the Friday night session.
The young pro from Finland tangled with "Nick Airball," a regular on HCL, in the memorable hand. It would have taken an incredible soul-read to fold the hand given the board texture and how the hand played out, as you're about to see.
Cruel Flop for Finnish Poker Pro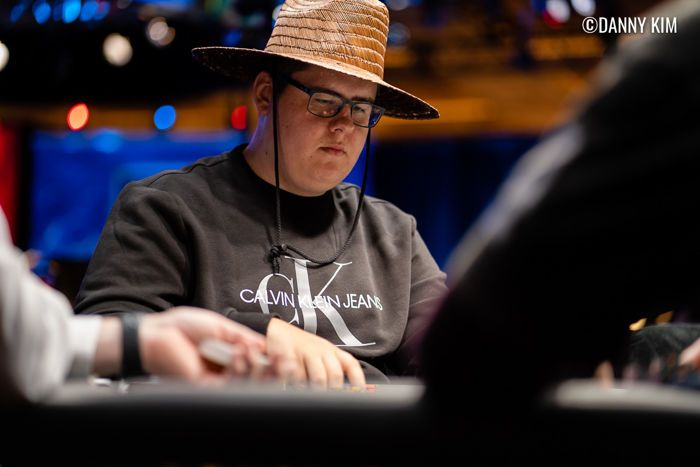 The hand in question, in a $100/$200/$400 game, began with buttonclicker raising to $2,000 with
and Bill Klein called in the small blind with
before Airball three-bet to $13,000 with
.
Off to the flop they all went, which came out
, the absolute dream flop for Airball, and not only because he flopped the nuts. Puustinen had top set and appeared to be headed for a world of hurt.
Klein, who recently pulled off one of the greatest bluffs in Hustler Casino Live history, checked, and then Nik Airball bet $20,000. He received a call only from buttonclickr, who was fittingly on the button.
The turn was the
, which changed nothing, but Airball checked this time. Puustinen, with the smallest stack at $395,000, wagered $50,000 before his opponent jammed all in. With such a monster hand on a dry board, buttonclickr snap-called and saw the bad news.
Both players agreed to run the river twice, but both outcomes were favorable for Nik Airball, who shipped an $870,000 pot, the largest in Hustler Casino Live history. Puustinen, who was new to the live-streamed show, didn't rebuy and left Hustler Casino in Los Angeles with a $367,700 loss. Nik Airball, on the other hand, bagged a $300,000 win during the stream.
The largest pot prior to Friday night on HCL took place in August with Alan Keating taking down a $749,000 hand.
Puustinen had a rough exit from the high stakes game, but that won't be the last time we'll hear from him. The Finnish poker pro has been considered one of the top heads up online crushers in the world the past couple of years. hey even told PokerNews at the 2021 World Series of Poker that he ranks himself in the top three. On Friday, however, he was the game's biggest loser by a wide margin.