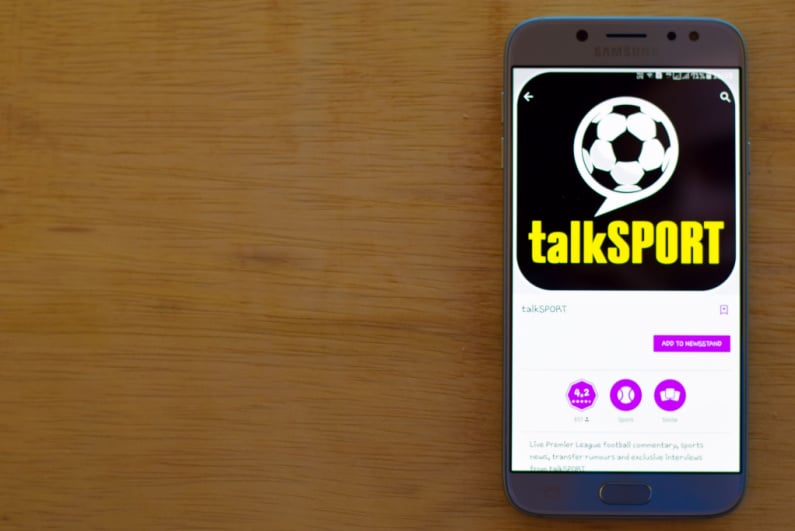 UK sports broadcaster Talksport has gone live with its own sports betting offering, Talksport Bet, with the help of BetVictor's technology. [Image: Shutterstock.com]
Wide ranging offering
Popular UK sports broadcaster Talksport has gone live with its own sports betting brand. It is working alongside UK betting operator BetVictor Group, which is supplying its proprietary technology and lending other types of expertise it has gained from its many years in the UK betting sector.
now up and running, accessible to people in the UK
The platform is now up and running, accessible to people in the UK. It is a full-service sportsbook, offering pre-event and in-play betting, as well as an online casino.
Further engaging with listeners
speaking about the launch of the new betting offeringTalksport betting and gaming director Gareth Williams said that the partnership with BetVictor "adds to TalkSport's growing digital footprint, and Talksport Bet will access our digital audiences through creative online activations."
Talksport is a part of the NewsCorp-owned Wireless Group and was originally started as Talk Radio UK back in 1995. It now is completely dedicated to providing around-the-clock sports coverage.
Williams hyped Talksport as the biggest sports radio network in the world, with a loyal listener community. He also noted the importance of launching the sportsbook in time for the start of the FIFA World Cup in Qatar, which kicks off on November 20.
BetVictor Group chief operating officer Brent Almeida also welcomed the new relationship with Talksport, emphasizing that TalkSport fans will now have access to a new exciting entertainment experience through the sportsbook.
Media companies embracing betting
Talksport is one of the most popular radio broadcasters of live sport in the UK, having licenses to broadcast live English Premier League games, in addition to other types of popular games and events. It has some well-known sports personalities on board, such as former soccer players Jamie O'Hara and Darren Bent.
It is not the first time that a sports broadcaster or media company has gotten involved in the online gambling space. British media and telecommunications firm Sky had its own sports betting offering for many years under the Sky Bet brand. It is now under the ownership of Flutter Entertainment.
There are also numerous instances in the US sports betting market of media companies either launching their own sportsbooks or closely aligning themselves with an established operator.