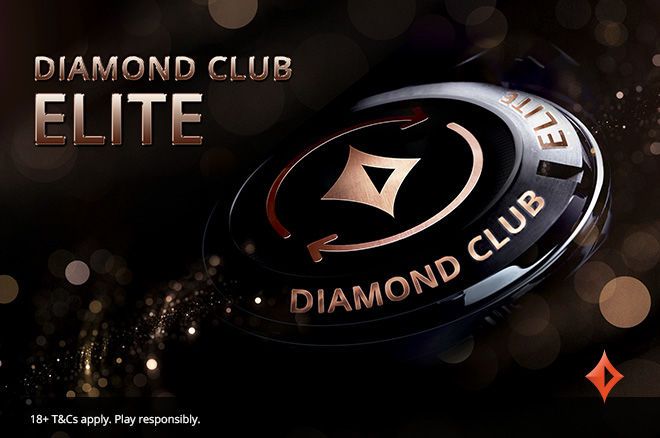 party poker's SPINS and SPINS Ultra are immensely popular thanks to the jackpot nature of these tournaments which makes it possible to win up to $1 million for only a $5 buy-in. SPINS are perfect for players that only have limited time to play poker because they are done and dusted in a matter of minutes. They're also potentially very lucrative if you're a high-volume grinder because PartyPoker has revamped the top tier of its loyalty scheme.
All PartyPoker players have a chance to earn up to 55% cashback on their real money play. As a PartyPoker player, you receive cashback points each time you play cash games, fastforward, sit & go tournaments, multi-table tournaments, and SPINS, and those points are automatically exchanges for cash every Monday. SPINS and SPINS Ultra grinders can help themselves to 60% cashback thanks to the Spins Diamond Clubthe online poker site's top loyalty level.
Get Your Grind On and Reap the Rewards
SPINS Diamond Club is not for the faint-hearted because only players that generate $1,000 worth of rake in a calendar week playing exclusively SPINS and SPINS Ultra are eligible. If you meet this target, send an email to [email protected] and request to join the SPINS Diamond Club.
There are three rake-related milestones to aim for once you are accepted into the exclusive Diamond Club. The first is $50,000 in rake. Reach this, and you'll receive a $5,000 cash reward and will earn 40% weekly cash back moving forward. Once you hit $100,000 in rake, PartyPoker gives you $10,000 cashand tops up your weekly cashback to 50%. Keep the pedal to the metal and generate $200,000 in rake during a 12-month period and become Elite level to bank $20,000 cash, taking your cashback to 60%!
Learn How to Win $1 Million for Just $5 in SPINS at partypoker
It's Easier Than Ever to Earn PartyPoker Cashback
Even if you can't reach those challenging rake milestones, you still earn cashback when you play SPINS and the faster-paced SPINS Ultras. PartyPoker gives you 2.5 cashback points for every $1 you pay in SPINS and SPINS Ultra fees, in addition to personalized player value boosts worth up to 50%. You receive a cashback payment on Monday if you earn at least 10 cashback points during a calendar week.
The various variants and formats available at PartyPoker award different cashback points, in a system known as variable points. Playing fast forward is the Fastest way to earn cashback because you receive four cashback points for every $1 you contribute to the rake. According to the cashback calculator on the PartyPoker website, paying just $1.7 in fastforward rake with a 50% player value boost on your account is enough to kick off cashback payments for the week!
| GameType | Points earned per $1 in rake |
| --- | --- |
| Fastforward | 4 |
| Cash games (regular) | 3 |
| SPINS | 2.5 |
| Sit & Go | 2.5 |
| Cash games (high stakes) | 2 |
| Multi table tournaments | 2 |
Do You Know The Fastest Way to Earn PartyPoker Cashback?
Start Your Quest For PartyPoker Cashback With This Incredible Welcome Package
New PartyPoker customers can get their hands on a 100% match up to $600 welcome bonus plus up to $30 worth of free play in the form of SPINS tickets. Download Party Poker via PokerNewscreate your account, and decide how much you want to deposit.
Deposit $10 and you receive $10 worth of tickets over six days:
Day 1: 1x $5 SPINS and 5x $0.25 SPINS tickets
Day 2: 5x $0.25 SPINS tickets
Day 4: 5x $0.25 SPINS tickets
Day 6: 5x $0.25 SPINS tickets
Make your first deposit $20 or greater to receive the following package worth $30:
Day 1: 1x $5 SPINS and 5x $1 SPINS tickets
Day 2: 1x $5 SPINS and 5x $1 SPINS tickets
Day 4: 4x $1 SPINS tickets
Day 6: 2x $3 ​​SPINS tickets
Your initial deposit is matched 100% up to a maximum of $600. The bonus releases into your playable account balance in 10% increments of the deposit amount, and you need to earn four times the bonus amount in loyalty payments within 90 days to release the full amount.
The bonus is slightly different for residents of the United Kingdom. Your deposit bonus is 100% up to £400, which comes with the same release rates. Your deposit of at least £10 comes with £40 of free play, consisting of:
Day 1: 5x $1 SPINS and 1x $5.50 MTT tickets
Day 2: 1x $3 SPINS and 1x $3.30 MTT tickets
Day 3: 1x $3 SPINS and 1x $5.50 MTT tickets
Day 4: 4x $0.25 SPINS and 4x $2.20 MTT tickets
Day 5: 1x $5 SPINS and 1x $3.30 MTT tickets
Day 6: 5x $1 SPINS and 2x $2.20 MTT tickets