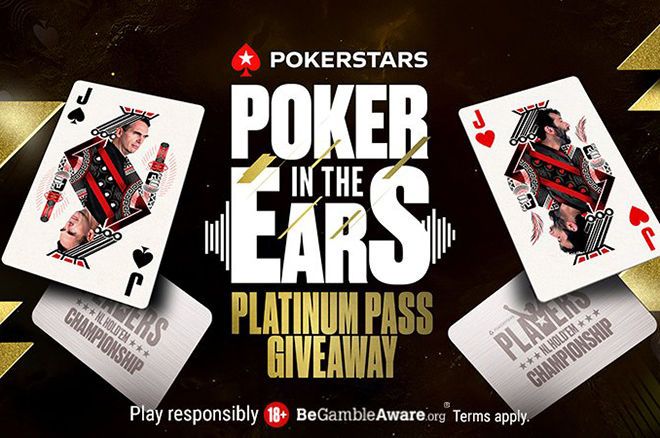 Imagine how amazing it would be to jet off to The Bahamas to play in the PokerStars Players Championship, a $25,000 buy-in tournament awarding life-changing prizes. Now think how awesome it would be to get your hands on a $30,000 PSPC Platinum Pass, which included accommodation, travel expenses, and more, and do so for free. Seems like the thing of dreams, right?
The award-winning Poker In The Ears podcast is giving away a $30,000 PSPC Platinum Pass for free. That's correct, you could be heading to The Bahamas to rub shoulders with some of poker's greats just for following a few simple steps. Before we show you how to throw your hat into the ring for this incredible prize, PokerNews must inform you that this promotion is only open to residents of Canada, United Kingdomand the United States (excluding Florida, new Yorkand Washington). Sorry to people outside of these countries, but PokerNews does not make the rules.
In addition, you must be aged at least 18 years old if you are a resident of Canada or the United Kingdom, and at least 21 years old if you are entering from the United States. Please do not enter the contest if you are unable to make your own way to The Bahamas in a little over two weeks' time because there is no cash alternative, plus you could take this life-changing prize away from someone else.
Familiarize yourself with the promotion's terms and conditions here.
First things first, you must have a validated PokerStars account to be in with a chance of winning a $30,000 PSPC Platinum Pass. This means you have made at least one deposit into your account and are not currently self-excluded or have opted out of PokerStars communication.
Next, you need to be on PokerStars' Discord server. Setting up a Discord account is free and easy, and requires no downloads because you can access Discord via your internet browser. Once in the PokerStars Discord server, find the "podcast discussion" channel and type "I'm in." You must do this before 12:01 am GMT on Monday 16 Januaryso you must act fast, or you will miss out.
Within the next 24 hours, James Hartigan himself will send you a direct message on discord containing a link to a simple questionairre. This is so that PokerStars has your name and contact details. You will also need to confirm you are eligible to enter the contest and can travel to The Bahamas. The first 50 people to complete the survey progress to the next stage; PokerNews is told that the message from Hartigan will likely be sent on the morning, UK time, on January 16.
Team PokerStars' Nick Walsh Shares His 5 Tips for Tournament Package Winners
On January 17, PokerStars will contact the 50 lucky people who progressed from the previous stage. PokerStars will ask you to confirm you are happy to potentially appear on the Poker In The Ears podcast that is filmed on January 18. You will also be asked for your Zoom details, so make sure you have a free Zoom account.
Them between the hours of 4:00pm and 6:00pm GMT on January 18, that is a Tuesday, one lucky entrant will appear on the Poker In The Ears podcast! All that is required then is to pick one of the following three categories to answer a trivia question about:
The PokerStrs Caribbean Adventure (PCA)
The PokerStars Players Championship (PSPC)
The Bahamas
2023 PokerStars Caribbean Adventure & PSPC Schedule Released; PokerNews Reporting More Events Than Ever
Get it right, and you will be heading to The Bahamas armed with a PSPC Platinum Pass worth $30,000, meaning you'll get your excited little hands on:
$25,000 buy-in to the 2023 PSPC Bahamas
Six nights' accommodation at a 5-star hotel between January 30 and February 4. Your room is either one double room or twin room for you and a companion to share.
$1,900 for travel and expenses
Transfers for you and a companion between the arrival airport in The Bahamas and the hotel
Exclusive Platinum pass winner experiences during the 2023 PSPC Bahamas
If you answer the question incorrectly, it is game over for you, and another eligible entrant will be contacted.
PokerStars will officially announce the winner on January 19, and PokerNews will see that winner in The Bahamas as our live reporting team is on the ground throughout the 2023 PokerStars Caribbean Adventure and the 2023 PSPC Bahamas. Good luck!