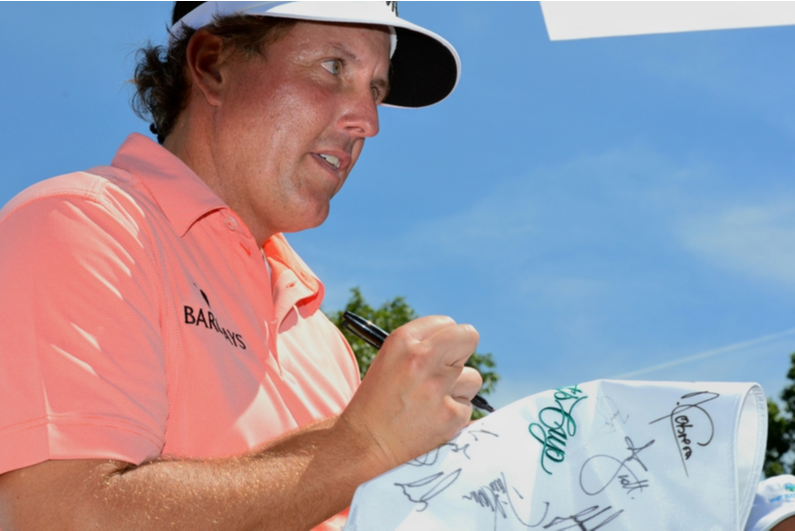 An excerpt from a biography on golfer Phil Mickelson alleges federal auditors uncovered a four-year gambling spree that lost him over $40m. [Image: Shutterstock.com]
Fed's uncovered losses
An excerpt from Alan Shipnuck's upcoming biography on Phil Mickelson alleges that federal auditors probing the pro golfer's role in an insider trading scheme uncovered gambling losses of more than $40m.
A snippet from the new book emerged Thursday via Shipnuck's website. On Twitter the same day, the golf writer Mickelson pronounced "a complicated person," while sharing excerpts of his book due out in May:
Shipnuck has confirmed that he based the gambling allegations on a source that supposedly had direct access to documents from federal auditors who looked at Mickelson's finances over a four-year period.
his income supposedly reached more than $40m annually
The losses came between 2010 to 2014, a period the author has described as Mickelson's prime earning years, when his income supposedly reached more than $40m annually. The book excerpt states: "Per the government audit, [$10m]'s roughly how much Mickelson averaged in annual gambling losses' over the four years.
show off bettor?
Shipnuck's upcoming book is called 'Phil: The Rip-Roaring (and Unauthorized!) Biography of Golf's Most Colorful Superstar.' If the excerpt is anything to go bythe book will paint a Jekyll and Hyde picture of the six-time major championship winner.
In one instance, the author also brings up a Mickelson moment involving one of the top-profile golf reporters of the 2000s, John Hawkins. According to Shipnuck, the pair were alone in a PGA Tour locker room when Mickelson began wagering on college basketball games. Shipnuck cites Hawkins as saying:
Over 20 minutes he must've made 50 bets."
"It was like he was showing off," Hawkins added, while never making the incident public knowledge.
In his excerpt, the author also blames money issues for Mickelson's 2017 break with long-time caddy Jim Mackay. While the split seemed amicable on the surface, the biography alleges Mackay: "fired Phil at the '17 Memorial, over a series of simmering grievances […] including hundreds of thousands of dollars in overdue back pay."
Despite new revelations from Shipnuck, Mickelson's involvement in gambling over the years is common knowledge. In 2016, he was a relief defendant in the civil litigation that sent renowned Las Vegas sports gambler William "Billy" Walters to prison in 2017 along with a $10m fine.
Twitter reacts
The excerpt has drawn contrasting reactions on Twitter.
A user by the name of Brett suggested things were getting personal between author and golfer. While Mickelson has had a love-hate relationship with the media over the years, Shipnuck replied via Twitter to refute a personal beef, saying he celebrates the golfer's virtues in his book, without leaving out his "messiness":
The author also shared a Tweet by gambling industry writer Brad Allen, who himself had shared an excerpt from the book, in which former NBA star Charles Barkley compared Mickelson favorably with Tiger Woods: