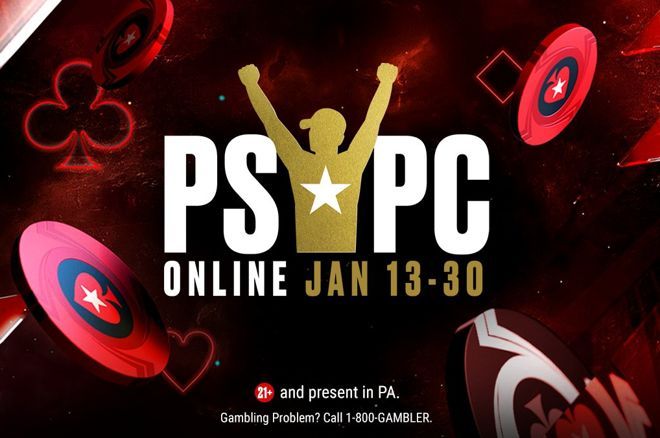 the PokerStars Pennsylvania PSPC Online festival with more than $1.5 million in guaranteed prize money has awarded dozens of winners since the festival got underground on Jan. 13 and has seen plenty of massive fields and guarantee-smashing prize pools.
The PSPC Online festival, taking place alongside the combined PokerStars Michigan other PokerStars New Jersey festival with $2.5 million up for grabs, consists of 72 events and will wrap up on Jan. 30.
Some of the winners so far include Event #5: $100 NLH [Big Kickoff] champion "TallTalent1" ($8,521) and "Marc Zumoff," who took down Event #21: $250 NLH [Storm, Players Championship Edition] for $7,730, as well as Event #10: $500 NLH [High Roller Players Special] winner Zachary "Kenny the Ripper" Gruneberg ($11,513).
Gruneberg is looking for another strong year of online poker after finishing thid in the first-ever WSOP PA Player of the Year race.
Read how David "DrKool" Kuder won the WSOP PA POY race
"Thicc Rick" and "superdonkeydave" Running Hot
Nearly halfway through the series, which takes inspiration from the upcoming $25,000 PokerStars Players Championship (PSPC)there have already been some big guarantees passed.
The $40,000 guaranteed Event #5 drew 525 runners for a prize pool of $48,195, while Event #8: $100 NLH [Players Championship Sunday Special] surpassed the $75,000 guarantee with $80,509. The winner of that event was "Thick Rick," who took home the top prize of $10,905.
The High Roller Players Special squeaked past the $50,000 guarantee with a $51,700 prize pool as Gruneberg defeated heads-up opponent "DickyJohnson31," who in turn took home $9,303.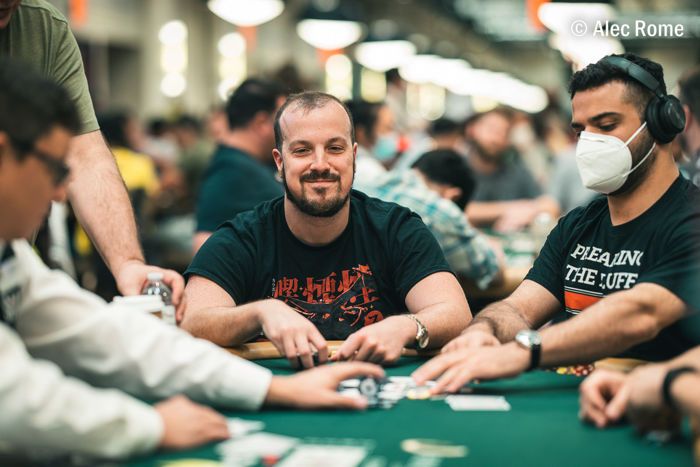 There have been plenty of low-stakes winners as well. "greg717pa" got through a field of 591 runners in Event #14: $10 NLH [Turbo Battle] to turn a $10 investment into $848 with all the bounties they picked up along his way. later, "dyska21" took down Event #18: $10 NLH [Turbo, Zoom] for $922.
Other highlights of the PokerStars PA PSPC Online festival so far include "superdonkeydave" winning Event #17: $200 NLHE [Freezeout] for $4,974 and "TJ112298" winning Event #19: $100 NLH [Super Tuesday] for $6,604.
Learn more about online poker in Pennsylvania
Plenty of action to come
There's still plenty of action to come with dozens of events remaining in the PokerStars PA PSPC Online festival.
Some events to look out for are the $40,000 guaranteed Event #46: $250 NLHE [Super Tuesday, Players Championship] on Jan. 24 and the $100,000 guaranteed Event #67: $2,500 NLHE [Super High Roller Main Event] on Jan 29.
The same day as the Super High Roller, the two-day Event #65: $250 NLHE [Main Event] will get underway with a $250,000 guaranteed prize pool up for grabs. Day 2 of the Main Event will play to a winner on Jan 30.
A full list of winners so far in the PokerStars PA PSPC Online festival is available in the table below.
2023 PokerStars PA PSPC Online Winners So Far
| | | | | | | |
| --- | --- | --- | --- | --- | --- | --- |
| dates | tournament | GTD | entries | prize pool | winners | Prize |
| Jan 13 | Event #1: $50 NLHE Turbo [Series Warm Up] | $15,000 | 452 | $20,566 | "Horsedick187" | $3,693 |
| Jan 13 | Event #2: $10 NLH Turbo [Mini Warm Up] | $5,000 | 802 | $7,298 | "Hunt Son 1" | $906 |
| Jan 13 | Event #3: $30 HORSE [Mixed Game Warm Up] | $2,500 | 145 | $3,959 | "BadMove69" | $570 |
| Jan 14 | Event #4: $20 NLH [Afternoon Warm Up] | $5,000 | 388 | $7,061 | "st4v" | $1,286 |
| Jan 14 | Event #5: $100 NLH [Big Kickoff] | $40,000 | 525 | $48,195 | "TallTalent1" | $8,521 |
| Jan 14 | Event #6: $20 NLH [Mini Kickoff] | $10,000 | 757 | $13,777 | "zj1393" | $2,102 |
| Jan 15 | Event #7: $50 NLH [Marathon] | $15,000 | 445 | $20,248 | "wcg1016" | $3,636 |
| Jan 15 | Event #8: $100 NLH [Players Championship Sunday Special] | $75,000 | 877 | $80,509 | "Thick Rick" | $10,905 |
| Jan 15 | Event #9: $10 NLH [Players Championship Sunday Special] | $10,000 | 1279 | $11,639 | "$urplusV4lue" | $1,643 |
| Jan 15 | Event #10: $500 NLH [High Roller Players Special] | $50,000 | 110 | $51,700 | Zach "Kenny the Ripper" Gruneberg | $11,513 |
| Jan 15 | Event #11: $50 NLH [Sunday Second Chance, Progressive KO] | $12,500 | 322 | $14,651 | "Schwibbs1" | $2,782 |
| Jan 15 | Event #12: $30 NLH [Bounty Builder Adrenaine] | $7,500 | 256 | $7,500 | Jeff "TheSwagWagoon" Stellwagon | $1,046 |
| Jan 16 | Event #13: $250 NLH [Battle Royale, Players Championship Edition] | $35,000 | 200 | $46,600 | "dead to solve" | $8,668 |
| Jan 16 | Event #14: $10 NLH [Turbo Battle] | $4,000 | 591 | $5,378 | "greg717pa" | $848 |
| Jan 16 | Event #15: #50 PLO8 [PLO8] | $7,500 | 166 | $7,553 | "garbanzoprince" | $1,528 |
| Jan 16 | Event #16: $30 NLH [Heads-Up Zoom, Progressive Total KO] | $7,500 | 322 | $8,791 | "tonecapone3434" | $1,757 |
| Jan 17 | Event #17: $200 NLHE [Freezeout] | $20,000 | 122 | $22,692 | "superdonkeydave" | $4,974 |
| Jan 17 | Event #18: $10 NLH [Turbo, Zoom] | $4,000 | 574 | $5,223 | "dyska21" | $922 |
| Jan 17 | Event #19: $100 NLH [Super Tuesday] | $30,000 | 395 | $36,261 | "TJ112298" | $6,604 |
| Jan 17 | Event #20: $30 NL 5-Card Draw | $2,000 | 92 | $2,512 | "hsbbpo" | $613 |
| Jan 18 | Event #21: $250 NLH [Storm, Players Championship Edition] | $30,000 | 164 | $38,212 | "Marc Zumoff" | $7,730 |
| Jan 18 | Event #22: $10 NLH [$10 Storm Turbo] | $4,000 | 577 | $5,251 | "TheBigSlick74" | $927 |
| Jan 18 | Event #23: $100 NLH [9-Max] | $20,000 | 304 | $27,907 | "mlf5135" | $4,467 |
| Jan 18 | Event #24: $30 PLO [Progressive KO, PLO] | $5,000 | 285 | $7,781 | "TegridyFarm$" | $1,682 |
| Jan 19 | Event #25: $10 NLH [Turbo Stacks, Progressive KO] | $4,000 | 604 | 5496 | "mufftetus" | $1,023 |
| Jan 19 | Event #26: $50 NLH [4-Max Stacks] | $10,000 | 307 | $13,969 | "HodorHodorHodor" | $2,144* |
| Jan 19 | Event #27: $100 NLH [Thursday Thrill] | $30,000 | 411 | $37,730 | "MDD POW" | $7,433 |
| Jan 19 | Event #28: $30 Razz [Razz] | $2,500 | 107 | $2,921 | "UcheckEYEbet" | $620* |
*Denotes final table deal