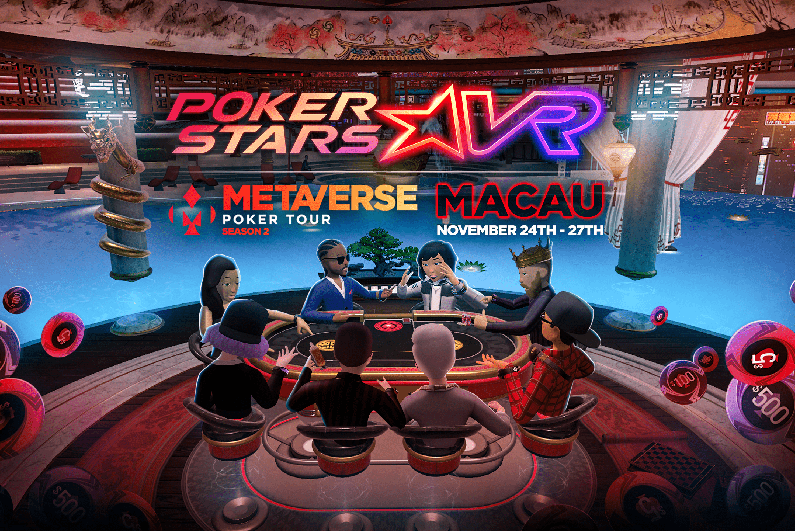 Poker players who don't want to leave their house can play in Season 2 of the PokerStars VR Metaverse Poker Tour this weekend. [Image: PokerStars VR via Steam forums]
A poker tour that requires no travel
If you are itching to get into a poker tournament this weekend, but don't live near a casino, you could logon to an online poker room, but even with that, not everybody lives in a jurisdiction where the online game is legal. Plus, while online poker is fun, it's not like the real thing. Enter the PokerStars VR Metaverse Poker Tour, whose second season has just begun.
yes, a poker tour in virtual reality
Yes, poker in virtual reality. And yes, a poker tour in virtual reality. If that sounds weird, well, it sort of is, but it's free and it's poker and, as someone who has played PokerStars VR, it can be fun.
Season 2 kicked off on Thursday, but the current stop, Macau (or "Macau"), runs through the weekend. There are nine events on Friday, starting mid-afternoon ET. They all cost virtual chips; PokerStars VR starts all new players with 10,000 and, of course, more can be won by playing other poker games. Players also have the option to buy more chips, as is usually the case with free online or mobile poker apps.
Saturday and Sunday offer over a dozen events each, including Saturday's 5 million "dollar" Main Event and Sunday's high roller event.
Not exactly like the real thing, but still fun
PokerStars VR has been around for several years and is available on the Oculus Rift, Meta Quest 2, Meta Quest Pro, and HTC Vive (I also think original Meta Quest users can play it, but don't quote me on that). As my son has a Meta Quest 2, I have spent a few hours in the PokerStars VR poker room and can honestly say that it offers some solid entertainment.
While I would suspect that the Metaverse Poker Tour games are a little different, don't play PokerStars VR if you demand a serious poker experience. Most people in the cash games, and to a lesser extent the tournaments, are just there to goof around and most don't really seem like they know what they are doing. If you like games where most of the players see the flop, though, this is for you.
you can peek at your cards, toss your cards into the muck, and manipulate your chips
Regardless of the game quality, it is pretty neat to feel like you are sitting at a real table, looking at and talking with (if you opt to have your voice chat on) all of your tablemates. Using the controllers, you can peek at your cards, toss your cards into the muck, and manipulate your chips. There are also loads of "throwables" and silly trinkets you can play with at the table – I've had someone pass a virtual beer to me on multiple occasions.
As mentioned, the current Metaverse Poker Tour stop is in Macau, which is specifically the futuristic "Macau 2050" environment. PokerStars VR also has the Macau Suite, Saloon, The Void, Monte Carlo, Arena, Space, Spies, and Cyber ​​environments. As you would expect with a VR poker game, you can also outfit your avatar in all sorts of "skins" and outfits.
New headset promises even more
I haven't had the chance to try it, as the headset costs a whopping $1,500, but the new Meta Quest Pro has PokerStars VR as one of its launch titles. And it looks like one of the new features of the device would make the Metaverse Poker Tour feel even that much cooler.
It naturally has more power and better graphics capabilities than its more affordable predecessor, but it also adds the ability to do mixed reality in addition to virtual reality. With mixed reality, the real world can be incorporated into the apps, instead of keeping you confined to the virtual world inside the headset.
Much of the time, you want to stay completely immersed in VR, but for something like PokerStars VR, mixed reality could be really fun. As Flutter Entertainment, the parent company of PokerStars, said, options include: "partial immersion that brings objects or spaces from their physical world into the game through editable 'passthrough windows', and full mixed reality that enables players to bring core virtual game elements into their own world."
From that, it sounds like you could actually sit at your kitchen table (or a poker table if you have one) and see the players, cards, and chips sitting around the table with you. When you rest your hands on your real-life table, your virtual hands will be on the PokerStars VR table. That perk costs $1,500, but if you are already planning to buy the Meta Quest Pro, the PokerStars VR experience will likely feel more real.