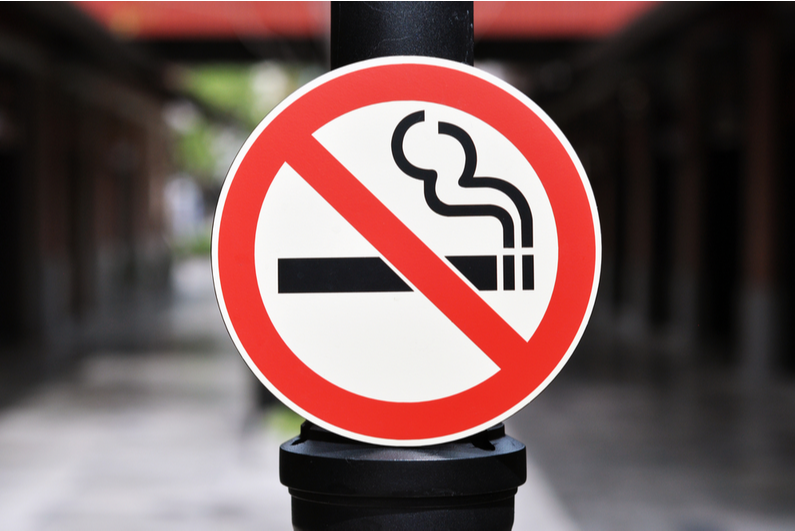 Rhode Island casino workers are calling for a smoking ban in the state's casinos. [Image: Shutterstock.com]
Getting rid of the exception
A group of casino workers in Rhode Island is calling on lawmakers to introduce a smoking ban at casinos. The workers held a rally this week at the State House in an attempt to get the attention of the General Assembly. While a ban on smoking in most types of indoor spaces and workplaces went into effect in 2004, casinos were excluded.
Smoking is still allowed in certain areas
Smoking is still allowed in certain areas of the Bally's Tiverton Casino and the Bally's Twin River Lincoln Casino. Casino workers claim that their health is being negatively impacted by second-hand smoke. Vanessa Baker, who has been working at casinos for three decades, suffers from chronic obstructive pulmonary disease (COPD).
Despite filing an incident report about the second-hand smoke, she is unable to file a worker's compensation claim. Speaking on Thursday, Baker said: "They told me I don't have an injury."
Battle lines drawn
Representative Teresa Tanzi has sponsored a bill that would get rid of the smoking ban exception that casinos have in Rhode Island. She believes that it is fundamentally wrong that casino workers are forced to deal with exposure to second-hand smoke on a daily basis.
There was no smoking permitted inside Rhode Island casinos for a period of about two years during the pandemic. That restriction was lifted on March 1.
Bally's Twin River Lincoln general manager and vice president Craig Sculos has previously spoken out against Representative Tanzi's bill, saying that smoking is only allowed in certain areas of the casino and the second floor is totally smoke-free. He noted how an area on the casino's first floor that hosts video lottery terminals and table games will become smoke-free. Sculos also claimed that casino revenues would drop significantly as a result of a smoking ban.
Up in the air
Advocates of the expanded smoking ban point toward casinos in nearby Massachusetts being successful despite having total smoking bans in place. The Rhode Island Laborer's District Council represents approximately 800 casino workers and has called on the House Finance Committee to pass Tanzi's bill to ensure that its members can work in a safe environment. The House Finance Committee has recommended that the bill be held while further studies are conducted.
The Public Health and Workplace Safety Act prohibits smoking in most enclosed public spaces in Rhode Island, such as bars, restaurants, retail stores, sports arenas, schools, and shopping malls.
Casino workers in New Jersey are also pushing for a smoking ban in Atlantic City casinos. The state is in a similar situation to Rhode Island, as casinos are also the main exception to the state's smoking ban. Legislation is currently pending on the matter, with New Jersey Governor Phil Murphy having already committed to signing the bill into law if it reaches his desk.