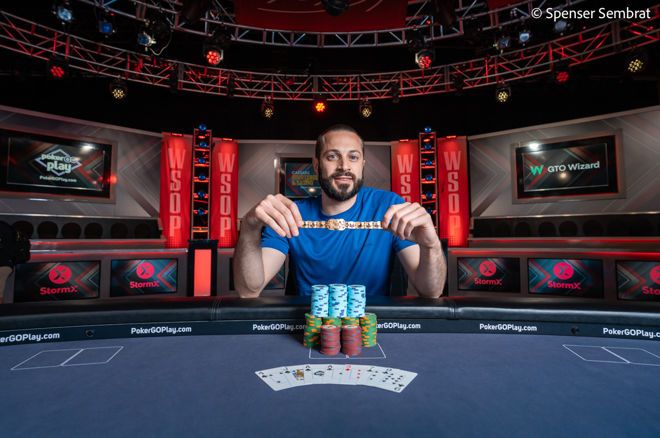 After Day 3 of Event #63: $10,000 Seven Card Stud Hi-Lo 8 or Better Championship was playing late into the night with six still remaining, an originally unscheduled fourth day was played out today. And on that day, it was Ryan Miller who was crowned the Stud Eight or Better Champion at the 2023 World Series Of Pokerheld at Horseshoe and Paris Las Vegas. winning $344,677the lion's share of the $1,311,300 prize pool, and his first WSOP bracelet, he defeated Super High Roller regular Bryn Kenneywho took home $213,027 for his valiant efforts, after a heads-up battle lasting over five hours.
Miller, who came into the day as chip leader but had a rocky start to his day noted, "I was always slightly confident, not really expecting that I could win just of the chip disadvantage. But once I reached heads up, I said, 'You know what, anything could happen.' And right when I got back from dinner, I won a big pot pretty quickly, and at that point I thought I could do it."
"I've waited a long time and I wasn't sure if it would ever come," said Miller, whose first WSOP cash stems from 2007, after all was said and done, "but I'm super excited to get one. I feel like I put a lot of time in poker and was deserving of one, and now it finally came and it's great to get it in a Championship event."
Event #63: $10,000 Seven Card Stud Hi-Lo 8 or Better Championship Final Table Results
| Place | players | Country | Prize |
| --- | --- | --- | --- |
| 1 | Ryan Miller | United States | $344,677 |
| 2 | Bryn Kenney | United States | $213,027 |
| 3 | Maximilian Schindler | United States | $149,981 |
| 4 | Andrew Korn | Argentina | $107,824 |
| 5 | Chino Rheem | United States | $79,189 |
| 6 | Eddie Blumenthal | United States | $59,441 |
| 7 | Yongwang | China | $45,624 |
| 8th | Joao Viera | Portugal | $35,826 |
2023 World Series of Poker Hub
Bookmark this page! All you need to know about the 2023 WSOP is here.
Final day action
When the first hand was dealt, six players had taken their seats at the Horseshoe Convention Center. However, during that very first hand it was Eddie Blumenthal who was the first to get scooped, resulting in his elimination in sixth place. Chino Rheem was also felted in the first level of the day when he and Bryn Kenney both hit a pair on seventh street, with Kenney hitting the superior one.
With that, the two shortest stacks at the start of the day had fallen. However, it would take less than an hour for the next person to bust. Argentina's Andrew Korn would exit in fourth place when he lost two consecutive big pots. He chopped one pot when he got his last ante in, but on the second forced all-in, he couldn't make a low against Ryan Miller's flush and left to pick up his six-figure score.
The pace of play would not slow down three-handed, as it took only 30 minutes for Maximilian Schindler to get ousted in third place. The relatively unknown player made an admirable deep run in a field full of poker's greats and even held the chip lead at the final table for a short while. Ultimately, however, he too would be eliminated by the hands of Kenney, when Schindler's aces up could not beat the trip deuces of Kenney.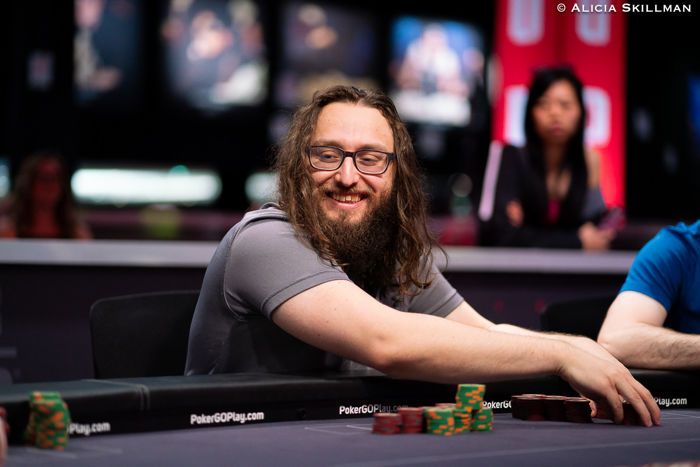 Heads Up Play
After a small break, heads-up play then began between Kenney and Miller. Miller started Day 4 as chip leader, but failed to win a lot of significant pots during the first two levels, while Kenney scored knockouts left and right. The result was that Kenney started the duel with roughly double the chips of Miller. However, Miller would win a few small pots and the players headed into their first break of the battle virtually tied.
Kenney would regain a firm lead thereafter, however, and the first all-in of the heads-up match was had soon after the players returned from a dinner break. With both players having trips by fifth street, it was Miller with the higher trips that held for a full double-up. Shortly after, Miller would even gain the chip lead over Kenney, when he made a straight to scoop a large pot.
The two then clashed for a while longer, trading the chip lead back and forth in a close affair. Eventually, though, it was Miller who reduced Kenney's stack to crumbs when he made two pair that Kenney could not beat. Kenney was left with just over a big bet which went in not much later. When the chips went in on fourth street, both players had ace-high, and both players would make a pair on the next street. It was Miller who caught his second ace, however, for the superior pair. Neither player made two pair on sixth nor seventh street, and the lows remained absent as well.
Thus, Ryan Miller was the victor in Event #63: $10,000 Seven Card Stud Hi-Lo 8 or Better Championship. With a bracelet now under his belt, and a boost to his bankroll, it will be exciting to see if the newest stud eight champion will enter more events this summer. If he does, it will be most likely in the split-pot games, as he stated, "I have played them the last 15 to 20 years, but I don't play many tournaments anymore, mostly cash games. But I try to play at a few tournaments at the WSOP every year, mostly the split-pot games."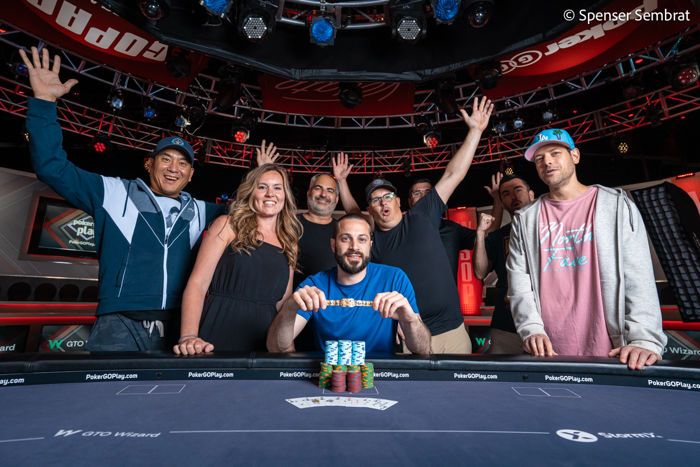 That wraps up the PokerNews live report of the $10,000 Seven Card Stud Hi-Lo 8 or Better Championship at the 2023 WSOP. However, the series is far from over, and with the iconic Main Event just around the corner, be sure to keep checking back to not miss any of the action in the marquee bracelet events.