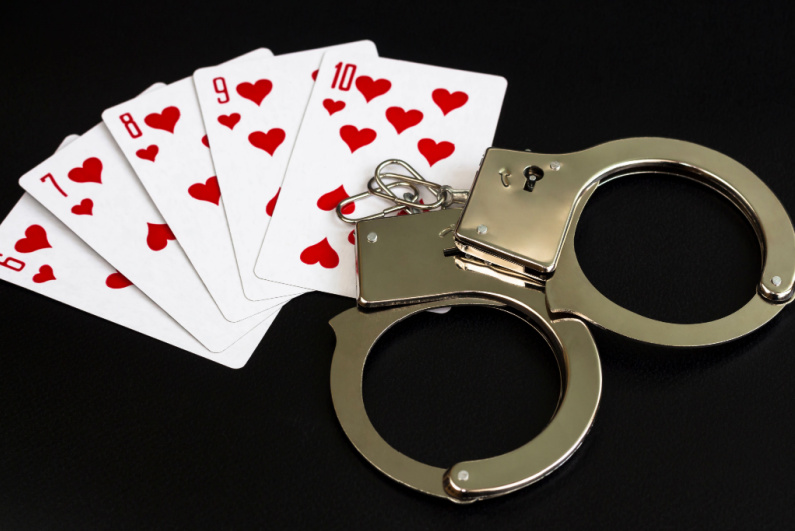 San Antonio investigators conducted two successful raids on illegal gambling operations, leading to two dozen arrests and the recovery of 70 gaming machines. [Image: Shutterstock.com]
Money, guns, and machines
Two raids in San Antonio led to the arrest of two dozen individuals and the recovery of 70 illegal gambling machines.
"We're happy to shut both of them down for now," Bexar County Sheriff Javier Salazar said during a press conference. "We'll see how many people end up going to jail as a result of both operations."
authorities also found substances suspected to be illegal drugs
Several of the Wednesday morning arrests were against armed guards, who were positioned at both locations. Authorities also found substances suspected to be illegal drugs and spent the ensuing hours searching for larger quantities of the substances.
Arrests at two San Antonio gambling sites
At least one of the locations, both on the west side of the city, was protected by an armored gate that required a battering ram to get through.
One of the busts occurred on Guadalupe Street, the other on Bandera Road, roughly 20 miles away.
All of the gaming machines that were recovered were eight-liners, which are facsimiles of traditional slot machines. The same machines had been found in previous raids in Texas and Bexar County.
Deputies also recovered a few thousand dollars from the Bandera bust.
Gambling is illegal in Texas in all forms, including sports betting, casino wagering, and slot machines (the government-run lottery is the exception). That has not stopped people from attempting to run illegal gambling operations, though.
The Lonestar State conducted one of its most successful raids just over a year ago when authorities recovered $350k and other illegal items in what was dubbed "the most extensive gambling operation" in years.
The city also recovered over $15,000 and roughly 100 eight-liners during a successful raid in May of this year. Three men were placed in custody as a result of that operation.
Connection to biker gangs
Local authorities suspect that the criminal stations worked in conjunction with one another. They also said they had "pretty obvious ties to outlaw motorcycle gangs."
One of the items recovered from one of the scenes was a "Malditos" motorcycle vest. Investigators also found a plaque commemorating the "Bandidos MC."
Malditos is a motorcycle club headquartered in Tijuana, Mexico. Bandidos is a worldwide chopper gang widely recognized as one of the more dangerous outfits in America.
Police received approval for their operation from a local judge after an initial investigation supported criminal activity at both sites. They hope that their continued efforts will help remove all illegal gambling activity from the area.