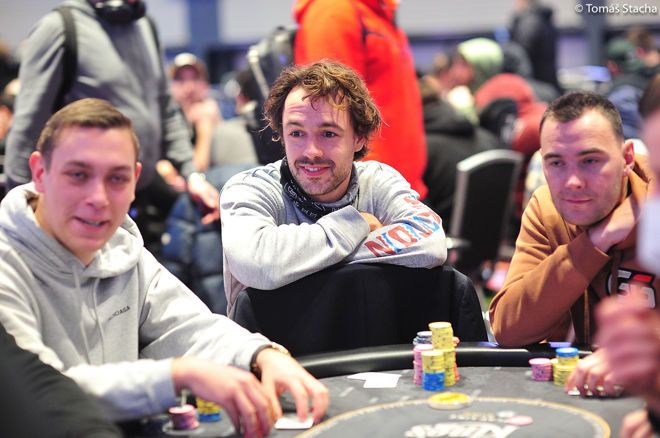 The inaugural World Championship event of the PokerStars World Championship Of Online Poker (WCOOP) is in the bag and it is the legendary Ole "wizowizo" Schemion who wriote his name into the history books by becoming the first-ever champion.
Schemion overcame a ridiculously stacked field of 217 entries in the $5,200 buy-in World Championship of Progressive KO NLHE, and captured $240,028 of the $1,085,000 prize pool. Team PokerStars duo Benjamin "Spraay" Spragg other Alejandro "PapoAR" Lococo were both present at the final table, but things did not exactly pan out as they planned, as you are about to find out.
WCOOP $5,200 World Championship of Progressive KO NLHE Final Table Results
| Place | player | Country | bounties | Prize | Total prize |
| --- | --- | --- | --- | --- | --- |
| 1 | Ole "wizowizo" Schemion | Austria | $146,874 | $93,154 | $240,028 |
| 2 | Daniil "NVoskob1986" Kiselev | Latvia | $28,750 | $93,154 | $121,904 |
| 3 | LoosControl | Austria | $30,234 | $61,115 | $91,439 |
| 4 | Klemens "klem90" Roiter | Austria | $22,343 | $46,434 | $68,777 |
| 5 | Mario "MB TREMENDO" Bonanata | Uruguay | $12,812 | $35,280 | $48,092 |
| 6 | David "MonkeyBausss" Laka | Ukraine | $7,812 | $26,805 | $34,617 |
| 7 | I Can Dewey It | United Kingdom | $4,375 | $20,366 | $24,741 |
| 8th | Ben "Spraggy" Spragg | United Kingdom | $25,703 | $15,473 | $41,176 |
| 9 | Alejanrdo "PapoAR" Lococo | Argentina | $6,250 | $13,138 | $19,388 |
Lococo was the first player out of the door after a battle with Daniil "NVoskob1986" Kiselev went completely wrong. Kiselev min-raised to 100,000 from late position, and Lococo defended his big blind with a call. Lococo check-called a 193,500-continuation bet on the king-high flop, leading to an offsuit jack on the turn. Again, Lococo check-called a bet, one worth 375,000 chips. The river saw another jack land, and Lococo checked once more. Kiselev bet enough to put Lococo all-in, and Lococo called off his 934,638 stack with king-eight, only for Kiselev to reveal pocket rockets.
Spragg was the next to fall by the wayside, his latest impressive run ending in an eighth-place finish. En route to the final table, Spragg was involved in a massive pot that saw him eliminate two opponents simultaneously and picked up more than $16,000 in bounties. Unfortunately for Spragg fans, it appeared that hand used up all of his luck.
Spragg busted when Schemion raised slightly more than the minimum to 126,000 with ace-ten before calling Spragg's 956,599 shove, which the popular Team Pro made with the dominating ace-king. Schemion remained behind up until the ten of hearts rear its head on the river, which sent Spragg to the rail and his own bounty haul soaring.
Seventh place went to "I Can Dewey It" of the United Kingdom who was also extremely unlucky not to progress deeper. "I Can Dewey It" made it 154,000 to go during the 35,000/70,000/8,750a level with pocket aces from the button. He small blind folded, but Kiselev three-bet 455,000 from the big blind with pocket jacks. "I Can Dewey It," playing in only his 74th PokerStars tournament, called. A three-eight-four flop with two hearts saw Kiselev bet 315,000, "I Can Dewey It" call, and the jack of hearts land on the turn. The turn gave Kiselev a set of jacks, but "I Can Dewey It" held the ace of hearts so had an overpair and a flush draw. Unsurprisingly, the rest of the "I Can Dewey It" chips went into the middle. A non-hard deuce on the river sent "I Can Dewey It" to the sidelines.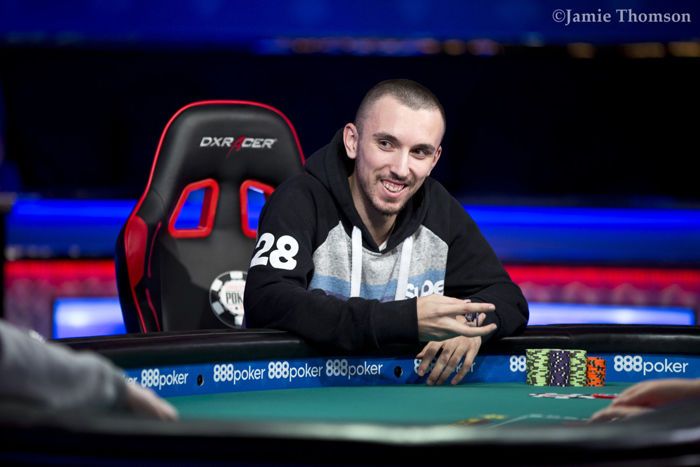 David "MonkeyBausss" Laka was the next superstar to find themselves void of chips. Laka came unstuck after attempting to take on the seemingly unstoppable Schemion during the 35,000/70,000/8,750a level. Schemion opened to 140,000 with pocket eights in the cutoff, and Laka called in the big blind with trey-deuce of hearts. A seven-four-three flop resulted in Laka check-calling a 385,000 bet. The turn brought a second heart into view, the jack of hearts. Laka checked, Schemion bet all-in, covering Laka's 1,102,692 stack. Laka pondered his options before calling all in. The river bricked, and Laka was gone.
The final five became four when Uruguay's Mario "MB TREMENDO" Bonanata dusted off his stack. Bonanata doubled through Kiselev with aces versus kings, but it was not enough to stop him crashing out of the tournament soon after. From the button, Schemion open-shoved for 28 big blinds effective, doing so with king-eight, and Bonanata called off his last 15 big blinds with a pair of sevens in the hole, creating a huge coinflip for his tournament life. As Team PokerStars; Parker "tonkaaaa" Talbot eluded to earlier in the stream, Schemion does not tend to lose all-ins during major festivals. He did not lose this one either, with the board running king-high; Schemion now had almost three times as many chips as anyone else.
Start of the day chip leader Klemens "klem90" Roiter was eliminated in fourth for $68,777, and it was "LoosControl" who sent him to the showers. Roiter opened to 209,000 with the big blind set at 100,000, before calling off his 2,370,087 stack when "LoosControl" three-bet all-in from the small blind. It was ace-jack versus king-queen, and the king-queen got there on the river thanks to a queen appearing.
"LoosControl" was the next player heading to the cashier's desk despite winning Roiter's chips. They opened to three times the big blind with ace-queen of hearts from the small blind, and Schemion called with the dominated ace-six. Schemion's hand only remained dominant until a six landed on the flop. "LoosControl" continued with a 191,250 bet, which Schemion raised to 600,000. "LoosControl" jammed all-in for a shade over 2,100,000, and Shcemion snapped him off.
Schemion started the heads-up battle with Kiselev holding a near nine-to-one chip lead yet he could not shake off his Latvian opponent. Something had to give eventually, and that something happened during the 70,000/140,000/17,500a level. Schemion limped in with nine-seven, and Kiselev checked with king-deuce. The flop fell eight-king-five, and Kiselev check-called a 140,000 bet. Schemion improved to a straight in the six of spade turn. And Kiselev check-called a larger 770,000 bet. A deuce on the river improved Kiselev to a very expensive second-best hand. He checked again, Schemion bet enough for Kiselev to be all-in, and Kiselv called off his 3,205,758 stack only to discover Schemion had him crushed.
Kiselev walked away with a combined prize worth $121,904, while Schemion secured a cool $240,028 and the title of NLHE Progressive KO World Champion.
Other Completed WCOOP Events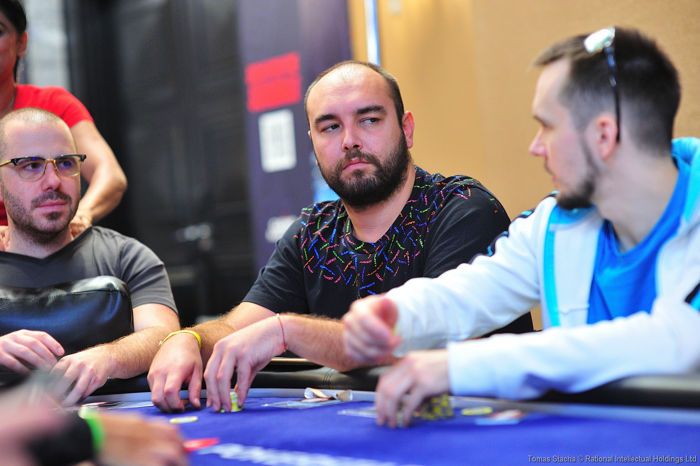 Schemion's prize was the largest of the recently completed events, but there have been some huge prizes awarded by PokerStars during the early stages of the 2022 WCOOP.
"jballa24" helped themselves to a $140,135 prize after winning the WCOOP edition of the Sunday Million, while "gettingpwned" collected $208,485 for their victory in the $1,050 NLHE event.
Then there was Ognyan "cocojamb0" Dimovwho triumphed in the $10,300 NLHE High Roller and reeled in a $229,423 score, setting themselves up nicely for the remainder of the $85 million guaranteed festival.
| events | buy in | Enrants | Prize pool | champion | Prize |
| --- | --- | --- | --- | --- | --- |
| 02-L WCOOP Kickoff | $5.50 | 13,734 | $67,296 | Tunisianking | $6,542 |
| 02-M WCOOP Kickoff | $55 | 5.163 | $258,150 | adjustable | $32,254 |
| 02-H WCOOP Kickoff | $530 | 771 | $65,412 | LuckPROF | $65,412 |
| 03-L NLHE PKO Freezeout | $22 | 9.411 | $188,220 | Tullio8 | $15,319* |
| 03-M NLHE PKO Freezeout | $215 | 2,548 | $509,600 | edyvpakistan | $50,846* |
| 03-H NHE PKO | $2,100 | 241 | $500,000 | Markku "markovitsus" Koplimaa | $95,662* |
| 04-L Sunday Million | $109 | 12,612 | $1,261,200 | jballa24 | $140,135 |
| 04-MNLHE | $1,050 | 1,343 | $1,343,000 | gettingpwned | $208,485 |
| 04-H NLHE High Roller | $10,300 | 75 | $850,000 | Ognyan "cocojamb0" Dimov | $229,423 |
| 05-L PLO | $22 | 3,228 | $64,560 | anonymous rake | $9,298 |
| 05-M PLO | $215 | 766 | $153,200 | Tobias "Senkel92" Leknes | $26,021 |
| 05-H PLO | $2,100 | 124 | $250,000 | fkiw | $56,202 |
| 06-LNLHE | $11 | 11.206 | $109,818 | elpsycongr0 | $14,366 |
| 06-MNLHE | $109 | 3,355 | $335,500 | Oh vulgo | $48,251 |
| 06-HNLHE | $1,050 | 395 | $400,000 | fearfighter | $73,424 |
| 07-L NLHE Turbo PKO Freezeout | $5.50 | 8,245 | $40,400 | jason873 | $3,715* |
| 07-M NLHE Turbo PKO Freezeout | $55 | 4,676 | $233,800 | dash4fun | $21,716* |
| 07-H NLHE Turbo PKO Freezeout | $530 | 614 | $325,000 | Simon "C. Darwin2" Mattsson | $51,819* |
*includes bounty payments