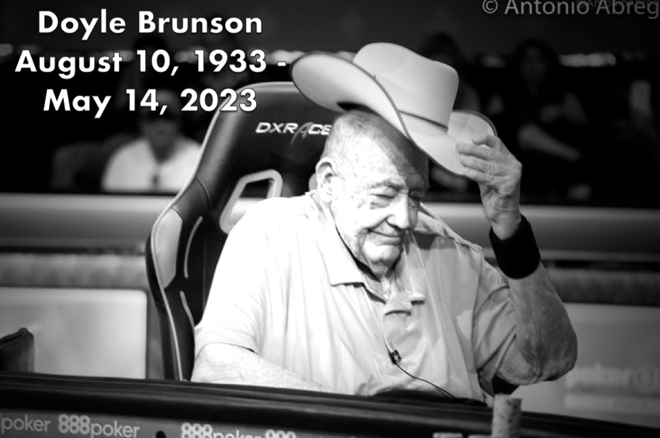 The poker world is mourning the loss of one of its most iconic superstars, Doyle Brunsonwho passed away this weekend at the age of 89. Details of his passing and the cause of death weren't available at the time of publishing.
"It is with a heavy heart we announce the passing of our father, Doyle Brunson," Brian Balsbaugh shared on behalf of the Brunson family. "He was a beloved Christian man, husband, father and grandfather. We'll have more to say over the coming days as we honor his legacy. Please keep Doyle and our family in your prayers. May he rest in peace."
"Texas Dolly," as he was often referred to, rose to poker fame in the 1970s and was a staple in the high-stakes world right up until his death. He even appeared on in some televised poker games over the past year, including the 2022 World Series of Poker (WSOP) main event
Brunson leaves behind quite a legacy in poker, including 10 WSOP bracelets, tied for second behind Phil Hellmut (16), and competed in the highest stakes cash games for more than 50 years.
Prior to becoming a poker pro, Doyle was a talented basketball player in the 1950s at Hardin-Simmons where he starred on the hardwood in college. The future poker legend had a shot at making the NBA but a knee injury derailed those aspirations. Instead, he took on a career path in poker that worked out quite well.
---
Related: Doyle Brunson Proves He Still Has It Despite WSOP Main Event Exit
---
Doyle Brunson Left Behind at Unmatched Legacy in Poker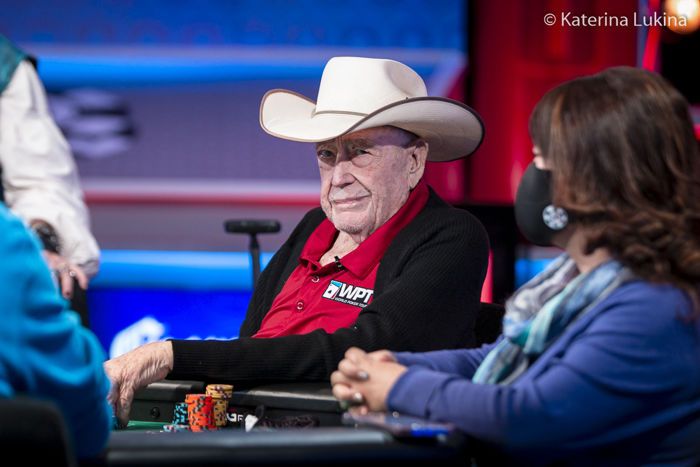 Brunson's impact on the poker community spans far beyond his incredible accomplishments on the felt. Hey wrote great system other Great system 2, still to this day two of the most iconic poker strategy books ever. He was also an ambassador for the game for decades, and recently served as an ambassador for the World Poker Tour (WPT).
Daniel Negreanu, who faced Brunson countless times at the poker table, broke the devastating news on Twitter. He wrote that "there will never be another Doyle Brunson."
On the felt, Doyle was pretty much unstoppable from the 1970s all the way up until he passed away. He was the 1976 and 1977 world champion, won 10 WSOP titles, was a WPT champion, made millions playing against some of the best players in the world for decades in cash games in Las Vegas, and was inducted into the Poker Hall of Fame in 1988
Rest in Peace to the Biggest Legend of Them All. Thank you for being the consummate player and gentleman. No one w… https://t.co/2dhWMLBzqs
Brunson's son, Todd Brunson, is also a Poker Hall of Famer (2016). The elder Brunson was born in 1933 in Longworth, Texas, a small town PokerNews visited on its Texas Week road trip last year, but spent most of his adulthood in Las Vegas. He's been married to his wife, Louise, since 1962, and just a few months after the nuptials, Doyle woke up with a sore throat. Before he knew it, the sore throat and pea-size lump on his neck had swelled to the size of a hen's egg.
After two surgeries, Doyle managed to pull through, even though he wasn't expected to live. Since money was tight, Louise and Sailor nursed him 24 hours a day for two weeks. Eventually he was strong enough to recuperate at his sister's home, and soon enough he was back playing poker.
Doyle grew up with his brother and sister in a small home his father was able to provide them by working at the Planters Gin Co. He recalled his father as "The calmest, most even-tempered individual I've ever been exposed to," and from Doyle's later accomplishments in poker, he must have inherited his calm demeanor from his father.
As a seventeen-year old senior he was the best high school one-mile runner in the state, and later at Hardin-Simmons College he was chosen as one of the top ten college basketball players in the country by Dell's Basketball Magazine. But instead of earning a living with his jump-shot, Doyle did so with an uncanny ability to pull off a massive bluff with no fear.
Doyle Brunson's WSOP bracelet
| Year | events | Place | Prize |
| --- | --- | --- | --- |
| 1976 | $10,000 World Championship | 1st | $220,000 |
| 1976 | $5,000 No Limit Deuce to Seven Draw | 1st | $80,250 |
| 1977 | $10,000 World Championship | 1st | $340,000 |
| 1977 | $1,000 Seven Card Stud Split | 1st | $62,500 |
| 1978 | $5,000 Seven Card Stud | 1st | $68,000 |
| 1979 | $600 mixed doubles | 1st | $4,500 |
| 1991 | $2,500 No Limit Hold'em | 1st | $208,000 |
| 1998 | $1,500 seven-card razz | 1st | $93,000 |
| 2003 | $2,000 HORSE | 1st | $84,080 |
| 2005 | $5,000 Short Handed No Limit Hold'em | 1st | $367,800 |
Tributes from poker's biggest and most important names quickly made their way to social media after news of Brunson's passing.
"Sad day," tweeted Poker Hall of Famers Eric Seidel. "We've lost @TexDolly the most iconic player in poker's history, his legacy will live on forever. I've been so inspired by his passion & his ability to play at such a high level well into his 80's. It's the end of before."
can't believe this day has come – you will always be held high in our hearts, the man, the myth, the legend & THE G… https://t.co/4lBfT4Kygw
"I'm forever grateful for Doyle's contribution to the poker world," said Josh Arieh. "I definitely wouldn't be where I'm at today, if not for him growing the game. He will always be one of my idols! Poker world will never be the same!"
Jennifer Harmanwho played with Brunson in the fabled Bobby's Room, agreed that Brunson was a "Legend of Poker" but added that "to me, he was more of a father."
"I will miss him dearly," Harman tweeted.
Phil Hellmut credited Brunson with inspiring "3 generations of poker players w his play, his award winning book "Super System," and his fabulous style and grit."
"Doyle always played hard: the man absolutely hated losing!!" wrote Hellmuth. "Doyle ruled the high stakes cash games in Las Vegas for 50 years!!"
Other players and industry professionals who paid tribute to Brunson include Phil Galfond, Darren Elias, brad owen, Scott Seiver, Lex Veldhuis, Sean McCormack other Chance Kornuth.
Leaving his Mark on the Poker World
Brunson played an integral role in poker becoming mainstream in the 2000s. He was one of the most recognizable and popular players on TV shows such as High Stakes Poker other Poker After Dark. It was always must-watch TV when the "Godfather of Poker" was in the game.
ace Phil Hellmut eloquently wrote about the late great Texas Dolly, Brunson inspired multiple generations of poker players with his play.
Doyle was so legendary that he not only had multiple iconic nicks (Godfather of Poker, Texas Dolly), he had a poker hand named after him. Ten-deuce was often referred to as "The Doyle" or "The Dolly" because Brunson finished off consecutive WSOP Main Event titles with that hand.
The proud Texan with the distinct Texas accent certainly left his mark on the game of poker like no one ever. His great system strategy book, originally titled How I Made Over $1,000,000 Playing Poker, was first published in 1979. Decades later and the book still has relevance. Doyle was always ahead of his time when it came to poker strategy. Hence why he was one of the few players ever who was able to compete at such a high level for decades.
Doyle is survived by his wife Louise, son Todd, and daughter Pamela. PokerNews would like to extend our condolences to the friends and family of Doyle Brunson, one of the greatest and most beloved poker players of all-time.