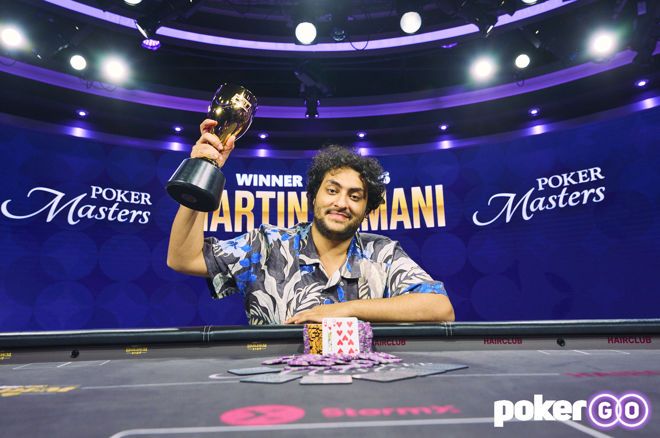 The 2022 Poker Masters at PokerGO Studio at ARIA Resort & Casino in Las Vegas has awarded seven winners so far, and among them is Martin Zamaniwho took down Event #6: $10,000 No Limit Hold'em to win $223,100.
Zamani, who now has $3.2 million in Hendon Mob Earnings, has been in the poker spotlight since earlier this year when he accused Bryn Kenney of running a cult-like online poker cheating operation.
Zamani picked up his first Poker Masters title and joined other recent winners including Adam Hendrix other Andrew "Lucky Chewy" Lichtenberger.
Read how Ethan "Rampage" Yau won his first Poker Masters Title!
First Poker Masters Title
Though he was already a known high-stakes player, Zamani became a household name in April when he alleged that Kenney had, among other things, hired "horses" to work together as a group and collude in online poker games.
Zamani admitted to being a part of the alleged group of cheaters but said he wants to make it right by coming clean. Kenney has repeatedly denied Zamani's allegations.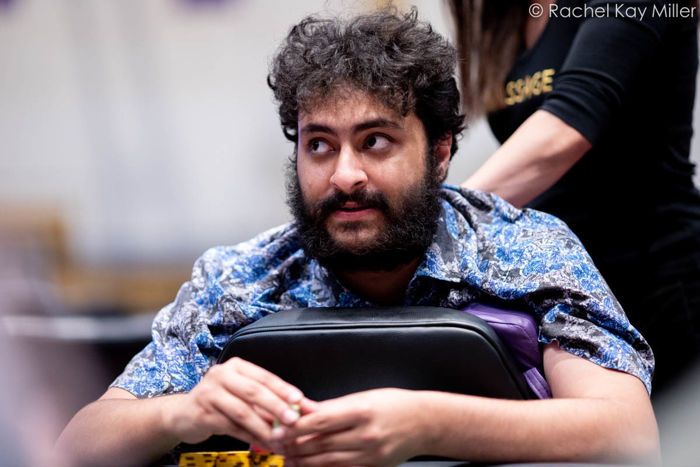 Five months later and Zamani now holds Poker Masters title after taking down the event, which drew 97 runners including Dan Shak (9th – $38,800), Jesse Lonis (8th – $38,800) and Justin Saliba (3rd – $116,400).
Jared Jaffee finished runner-up for $155,200 after failing to overcome Zamani during heads-up play.
Event #6: $10,000 No-Limit Hold'em Final Table Results
| | PLACE | PLAYER | COUNTRY | PRICE (IN USD) |
| --- | --- | --- | --- | --- |
| | 1 | Martin Zamani | United States | $223,100 |
| | 2 | Jared Jaffee | United States | $155,200 |
| | 3 | Justin Saliba | United States | $116,400 |
| | 4 | Matthew Wantman | United States | $97,000 |
| | 5 | Anthony Hu | United States | $77,600 |
| | 6 | Masashi Oya | Japan | $58,200 |
| | 7 | Ken Aldridge | United States | $48,500 |
| | 8th | Jesse Lonis | United States | $38,800 |
| | 9 | Dan Shak | United States | $38,800 |
Hendrix & Lichtenberger Also Win
Earlier in the series, Alaska's all-time money leader Adam Hendrix took down Event #4: $10,000 No Limit Hold'em after defeat FiveThirtyEight founder NateSilver during heads-up play.
The victory brought Hendrix his second cash of the series and he is no stranger to success in the PokerGO studio. In March, Hendrix took down a $10,000 US Poker Open event for $211,200.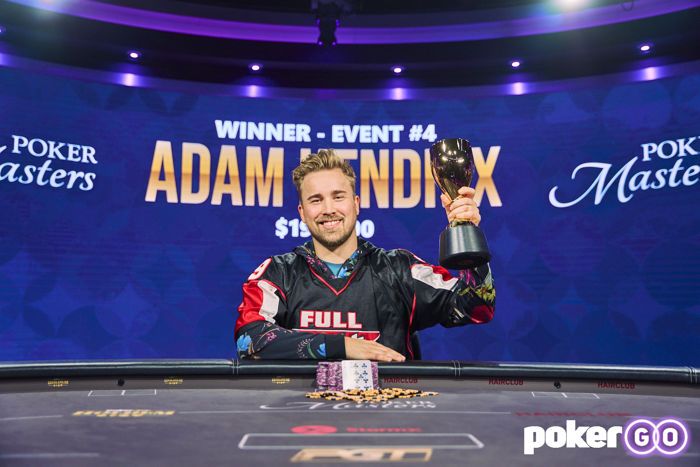 Nick Guagenti later took down Event #5: $10,000 8-Game for $186,000 before Andrew "LuckyChewy" Lichtenberger emerged the winner in Event #7: $25,000 No Limit Hold'em for $465,750, the biggest win of the series so far and giving him a lead on the Poker Masters Leaderboard.
Lichtenberger, a ClubWPT coach, defeated fellow high-stakes regular Sean Winters during heads-up play, who in turn took home $345,000.
McCormack Leaving ARIA Poker
There was other big news at ARIA as the Las Vegas Strip card room's poker director of operations Sean McCormack announced his departure after seven years.
McCormack also announced that he will be taking on a new position as the Director of Poker Strategy for MGM Resortsa role that will see him "work with all MGM poker rooms and our Corp strategy team for continued growth of the game I love most."
It is with mixed emotions I announce my departure from @ARIAPoker. The last 7 years have felt like a dream with the… https://t.co/auQFKXauM5
In the new role, McCormack will continue to work with ARIA Poker as well as all other MGM Resorts-operated poker rooms including MGM Grand Las Vegas, Bellagio, Borgata other MGM Springfield.
Two more events remain in the Poker Masters, which will wrap up with Event #10: $50,000 No Limit Hold'em on Oct. 1. A full list of winners so far at Poker Masters is available in the table below.
Poker Masters Winners So Far
| | DATE | EVENTS | ENTRANTS | PRIZE POOL | WINNERS | PRICE (IN USD) |
| --- | --- | --- | --- | --- | --- | --- |
| | Sept 22, 2022 | Event #1: $10,000 No Limit Hold'em | 85 | $850,000 | Jeremy Ausmus | $204,000 |
| | Sept 23, 2022 | Event #2: $10,000 No Limit Hold'em | 76 | $760,000 | Ethan "Rampage" Yau | $197,600 |
| | Sept 24, 2022 | Event #3: $10,000 Pot Limit Omaha | 81 | $810,000 | Ronald Keijzer | $202,500 |
| | Sept 26, 2022 | Event #4: $10,000 No-Limit Hold'em winner | 74 | $740,000 | Adam Hendrix | $192,400 |
| | Sept 27, 2022 | Event #5: $10,000 8-Game | 62 | $620,000 | Nick Guagenti | $186,000 |
| | Sept 28, 2022 | Event #6: $10,000 No Limit Hold'em | 97 | $970,000 | Martin Zamani | $223,100 |
| | Sept 29, 2022 | Event #7: $25,000 No Limit Hold'em | 69 | $1,725,000 | Andrew Lichtenberg | $465,750 |
Poker Masters Leaderboard Top 10
| | | | | |
| --- | --- | --- | --- | --- |
| | PLACE | PLAYER | COUNTRY | POINTS |
| | 1 | Andrew Lichtenberg | United States | 279 |
| | 2 | Cary Katz | United States | 271 |
| | 3 | Jeremy Ausmus | United States | 242 |
| | 4 | Martin Zamani | United States | 223 |
| | 5 | Adam Hendrix | United States | 216 |
| | 6 | Sean Winters | United States | 207 |
| | 7 | Ronald Keijzer | Netherlands | 203 |
| | 8th | Ethan Yau | United States | 198 |
| | 9 | Nick Schulman | United States | 191 |
| | 10 | Eric Seidel | United States | 187 |
Photos courtesy of PokerGO