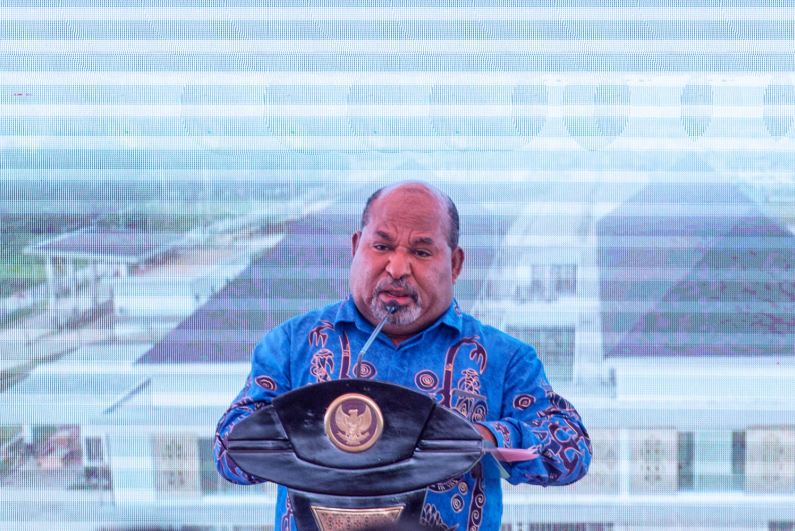 Indonesian governor Lukas Enembe (pictured) stands accused of misappropriating millions of dollars to gamble with at casinos, including Crown Perth. [Image: Shutterstock.com]
Gaps in the numbers
An Indonesian governor is the subject of an embezzlement investigation based on allegations he gambled with government funds at a Crown Resorts casino in Australia.
Lukas Enembe, governor of Papua, first entered the headlines in 2021 after an anonymous tipster warned Indonesia's Corruption Eradication Commission that he was misappropriating the government's money. The details of his lavish gambling life were then slowly revealed as more accusations became public.
embezzled "hundreds of millions of dollars"
Despite Enembe earning an annual salary of $7,764, Indonesian authorities claim to have tracked $36.2m back to the governor since 2017. In total, it is believed that Papua's governor embezzled "hundreds of millions of dollars."
Source of wealth
Enembe has had the opportunity to face the noise regarding his possible crimes but has declined to do so. The anti-corruption commission called him to appear twice, but he refused both times. The 55-year-old said in each instance that he was in bad health and could not leave his residence.
able to afford the high-roller lifestyle by the way of a gold mine
Despite failing to appear publicly, Enembe has stated that he was able to afford the high-roller lifestyle by way of a gold mine that he owns in Papua. Notably, the Grasberg mine in central Papua is one of the largest gold and copper reserves in the entire world.
However, Enembe has not provided paperwork relating to his ownership of any mine in Indonesia. Furthermore, the chairman of Papua's mining community, Dolpinus Weya, said that Enembe's claim was false and only made in the hope of "cover[ing] up the corruption case."
Investigators instead accuse Enembe of making his millions by taking money from an official account for provincial autonomy. They believe that he routed the money to multiple accounts, including those of his children, to hide the deceit.
Enembe's gambling habit
Investigators have a compelling case against Enembe, and the smoking gun is footage from Crown's Perth Casino. Enembe can be seen on tape gambling and flaunting his wealth by paying for various amenities.
Gambling is illegal in Indonesia under Article 303 of the nation's Criminal Code—although Enembe was caught on video in Australia, where it is legal, it still brings into question why a governmental figure would partake in such outlawed activities.
Reports suggest that the Papua governor has been caught gambling elsewhere in addition to Perth. Tempo Magazine claims that a bank manager spent $50,000 renting a private jet for Enembe, who then flew to and from Brisbane across four days.
Despite the accusations made against him, Enembe still has a strong core support. According to local media reports, his followers have barricaded the doors to his home and are standing guard to protect him from his opponents.
On Monday, a lawyer representing Enembe denied claims that he had used taxpayers' money to fuel his gambling habit. He also said that his client only began gambling after falling ill to bring a "relaxing and refreshing change."