Kara Scott has been around the poker industry for a while now, but she still remembers the first time she sat down at the live poker table. Having played poker at the micro stakes, online at 888poker and all the way up to the biggest poker tournaments in the world, Scott is now sharing her advice on how to make yourself comfortable while playing live.
So whether you're in a home game with friends or at one of the many exciting stops on the 888poker LIVE tourlisten up and you'll be sure to learn a thing or two.
Practice
Many players first got into poker through home games — playing for pennies with friends or family members around the kitchen table, and Scott's first piece of advice leans on this.
Home games are the perfect setting to get used to the mechanics of poker. It can be overwhelming to sit down at a poker table for the first time and not know exactly how it works. Everyone has checked out of turn or acted when they weren't supposed to, and be practicing first you'll know exactly how the game functions: from when to put out your blinds, when to ante and who acts first.
Plus, home games are super fun, especially online at 888poker!
Find Some Poker Friends
Poker is a social game, so why not have the social atmosphere to go with it? Getting a group of friends together can make your first time at a live poker table more enjoyable.
And you never know who else in your social circle might be interested in the game like you!
7 (Incredible) 888poker Client Features You Should Check Out NOW!
Check the situation
So you've finally decided to head down to play some poker. Brilliant! One of the best ways to ease any first-time nerves is to get to the venue early in order to prepare.
Scott says she always recommends that those playing in the WSOP Main Event get to the venue early. It's easy to feel overwhelmed when met with a big tournament field like that, so getting there well in advance of cards going in the air can make you feel much more comfortable.
---
$300,000 Gtd Mystery Bounty Festival Main Event Starts Mar. 1 at 888poker
---
Don't Talk Too Much
"Loose lips sink ships" was a popular phrase during World War II, and the same can be applied to poker — especially when it comes to beginners. Even in normal situations, people tend to get chatty when their nervous. But it's important at the poker table that you don't give anything away about your hand or your playing experience.
Plus, talking distracts you from watching the action and picking up on key information that might benefit you further down the line!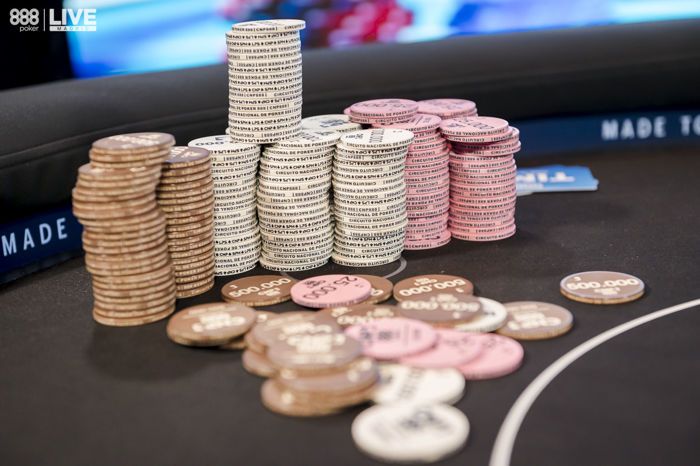 Don't Be Embarrassed
Scott's last tip is perhaps the most important. Don't be embarrassed. Even the best poker players in the world had to play in their first tournament once!
"When I played live for the first time I was so nervous that I would make a big mistake, act out of turn or not know some basic rules about live poker," says Scott. "And you know what? I did all of those things! But I didn't let it stop me from enjoying the whole experience and I learned quickly how to behave at a live poker table."
It's important to remember, says Scott, that other people don't notice your mistakes the way you notice them. So get out there and enjoy yourself