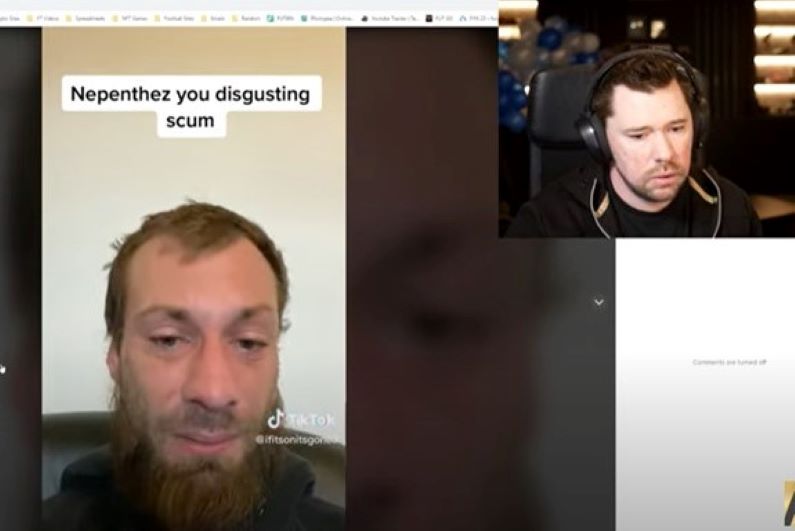 FIFA YouTuber Nepenthez has had to defend himself in response to a string of allegations made by his brother on TikTok. [Image: Nepenthez YouTube]
Accusations made
Popular English YouTube streamer Nepenthez, real name Craig Douglas, has had to refute a string of allegations made by his brother on TikTok. Among the claims, John Douglas alleged that his estranged sibling generated his considerable wealth by "scamming kids through YouTube."
got his estate agent uncle to forge a mortgage application
In the recent TikTok video, John claimed that Nepenthez was "broke" in 2017 at a time when he had 120,000 subscribers on YouTube. According to the allegations, the FIFA streamer even got his estate agent uncle to forge a mortgage application so him and his girlfriend could get their first house.
When Nepenthez had to go to court in 2017 for facilitating and promoting gambling without a license, John claims that the YouTuber "lied through his a*se."
Finally, the brother goes on to suggest that Nepenthez scammed children between the ages of eight and 15 by convincing them to steal their parents' credit card details. "A lot of families fell victim to this," John said. "And I can tell you right now that Craig Douglas made millions out of that scam."
Nepenthez fights back
Nepenthez took to YouTube on Tuesday night to set the record straight regarding the "outrageous" claims. He said that he and his brother have a "broken relationship," even revealing that he took John to court just over a year ago for harassment and manipulation.
Craig proceeded to go through the TikTok step by step to address his brother's claims. Regarding the scamming allegations, Nepenthez said:
I didn't scam anybody in the first place, no less kids."
The claims relate to Fut Galaxy, which is a social gaming website that the YouTuber used to promote on his channel. He explained: "The site at the time didn't require age verification because you bought points from FIFA and then used them on the site. Eventually, there was age verification because the Gambling Commission asked for it."
In his defense, he highlighted that less than 5% of his audience are under 18, asserting that his content "is not targeted toward children." The 38-year-old YouTuber added that he is a father of three children himself and is not "out to get people."
Refusing more claims
Addressing the other claims, Nepenthez said that he wasn't broke in 2017, noting that at that point he had had a YouTube career lasting seven years and worked in bars for his father. He also rejected the fraudulent mortgage allegations and claimed that he actually got a mortgage 17 years ago.
the worst possible outcome"
In regard to the court case in 2017, Nepenthez explained that he in fact didn't say anything in court because he had a solicitor. He admits that his lawyer was "actually terrible in court" and he got "the worst possible outcome." He had to pay total fines of £16,000 ($19,323) plus court fees of £80,000+ ($96,616+).
In the latter half of the video, Nepenthez revealed some greater detail about his relationship with his brother. He claimed that John made the allegations because he is "in a dark point in his life" and is trying to ruin his career. He went on to label his brother an "unhealthy and mentally unwell person" who "needs help."