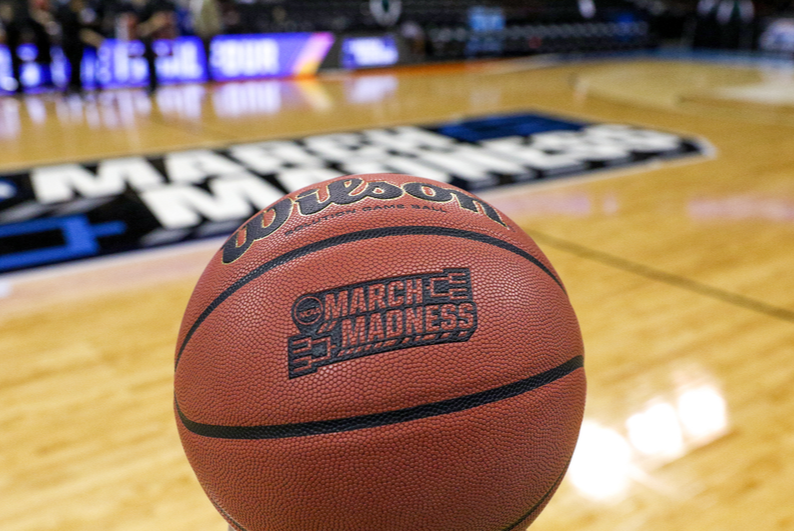 An American Gaming Association survey reveals estimates that American bettors will wager $3.1bn on March Madness this year. [Image: Shutterstock.com]
More non-bracket wagering
A new survey from the American Gaming Association (AGA) reveals that over 17% of American adults plan to bet on the 2022 March Madness events. The NCAA Men's Division I Basketball Tournament is always a big hit among bettors, and this year, there is more opportunity than ever for sports fans to bet in the US
The AGA provided insight into the survey results via Twitter:
The survey showed that in 2022, more bettors plan to wager via non-bracket avenues. Americans plan to place more than 75% of wagers outside of brackets, up from 55% in 2021.
March Madness survey details
Morning Consult conducted the March Madness survey for the AGA on February 26 and 27. A total of 2,210 adults took part. The results revealed that bettors would wager $3.1bn on the NCAA tournament this year.
A total of 45 million adults in America plan to wager on March Madness. The AGA expects over 20 million to bet outside bracket contests via a retail sportsbook, online, with a bookie, or with friends.
There's no doubt this year will generate the highest legal handle in March Madness history."
AGA President and CEO Bill Miller stated that Americans clearly want to wager within a legal and regulated market, saying: "There's no doubt this year will generate the highest legal handle in March Madness history."
This year, American sports fans have more opportunities to place bets on the tournament thanks to the additional legalization of sports betting. Since last year's event, 29 million more people now have access to legal wagering options.
A total of 17% of those surveyed chose Gonzaga as the favorite to win the tournament. Duke pulled in 12%, while Kentucky received 11% of the votes.
States such as Arizona, Louisiana, North Dakota, Washington, Wisconsin, and Wyoming legalized sports betting over the past year. It's a mix of retail sportsbooks and online options that are sure to boost the 2022 handle to new heights.
In total, 30 states plus Washington, DC offer legalized and regulated sports betting in the United States. Three additional markets are waiting to launch soon. An additional 11 states have active legislation on the table or pre-filed bills waiting for review.
As more states get in on the action, wagers should increase on significant events such as March Madness.
2021 AGA March Madness survey findings
Last year, the AGA conducted the same survey via Morning Consult, estimating 47 million Americans would wager on March Madness. At the time, legal sports betting had expanded to 13 additional jurisdictions since the last tournament took place in 2019.
The AGA survey estimated that traditional sports betting would increase from 2019 at a 72% rate to just over 30m. The results showed an expected decrease in bracket betting by 8%.
Last year, the survey revealed an expected increase in physical sportsbook betting. Since the 2020 tournament did not take place because of COVID-19, sports fans were expected to turn out in higher numbers.
As sports betting picks up this month due to March Madness, the AGA and its partners are promoting the Have A Game Plan initiative. Have a game plan aimed to provide sports fans with responsible betting information.
The program encourages bettors to have a budget and stick to it when wagering, keeping all bets social as a form of entertainment. Have a Game Plan recommends that players know the odds and post bets with licensed and trusted operators.