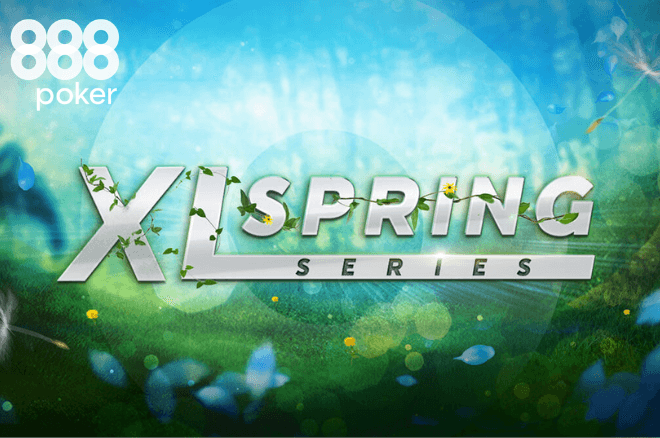 the 888poker XL Spring Series is nearing its conclusion, with the $500,000 guaranteed Main Event right around the corner. 888poker players are hitting the tables in huge numbers as they attempt to hit form in time for that Main Event, giving them the best chance of becoming the series' biggest winner.
Germany's "BTC23" will fancy their chances of experiencing glory in the Main Event after taking down the $35,000 XL Spring #14 – Mystery Bounty 8-Max events over the weekend. A field of 744 exchanged $55 for the chance to become an XL Spring Series champion, ensuring the $35,000 guarantee was surpassed by $2,200.
The two largest mystery bounty prizes were won by players that fell short of the final table. Romania's "PopicuSTAR" crashed out in 13th, but not before capturing a $1,750 bounty payment.
Brazilian "kelsen.lab" fell in 16th yet walked away with the most money of any other player, thanks to pulling out $4,121 worth of mystery bounties before they dusted off their stack.
All but two of the eight finalists saw four-figure sums land in their 888poker accounts; "julianopk10" and "M.Baranov" being that duo.
One by one, the field thinned, with the eliminations of "TtAaKeE," "Zer0013," "guizones27," other "EduAraujo" bowing out in success. Those exits left "BTC23" heads up against "WalnutPix" of the United Kingdom.
It was "BTC23" that came out on top, and they padded their 888poker bankroll with $4,297, leaving "WalnutPix" to clinch a $3,445 runner-up prize.
$35,000 XL Spring #14 – Mystery Bounty 8-Max Final Table Results
| Place | players | Country | bounties | Prize | Total prize |
| --- | --- | --- | --- | --- | --- |
| 1 | BTC23 | Germany | $574 | $3,723 | $4,297 |
| 2 | WalnutPix | United Kingdom | $717 | $2,728 | $3,445 |
| 3 | EduAraujo | Brazil | $685 | $2,009 | $2,694 |
| 4 | guizones27 | Brazil | $128 | $1,477 | $1,605 |
| 5 | Zer0013 | Lithuania | $160 | $985 | $1,145 |
| 6 | TtAaKeE | Brazil | $335 | $689 | $1,024 |
| 7 | M.Baranov | Ukraine | $207 | $492 | $699 |
| 8th | julianopk10 | Brazil | $96 | $344 | $440 |
Never Miss an 888poker Tournament Again
888poker has an incredible schedule of poker tournaments for players of all skill and bankroll levels. the PokerNews Online Tournament Calendar allows you to see all of the upcoming tournaments for 888poker, so you will never miss out ever again!
"Scholomance" Leads the $200,000 Mystery Bounty With Nine Remaining
Only nine players remain in contention to become the 888poker XL Spring Series $200,000 Mystery Bounty champion, and it is Montenegro's "Scholomance" who is in pole position to become the tournament's champion.
888poker ambassador Ian "Simpioni" Simpson was one of the 848 unique entrants in the field, but the popular streamer came unstuck in 104th place, and logged off empty-handed.
The eight stars that have navigated their way to the final table have each locked in at least $2,030 from the main prize pool, and at least $755 worth of mystery bounties.
"tehnats," the player currently occupying third place in the chip counts, pulled out a $6,000 mystery bounty on their way to the final table. They already have $6,955 guaranteed plus whatever they bank from their finishing position.
Win up to $10K Free With 888poker's Card Strike Feature
The biggest bounty, one weighing in at an eye-popping $20,000, has been won. Thirteenth place finisher "NoGanoUnFlip" of Argentina reeled in $21,540 worth of bounties before bowing out.
The eventual champion will secure $17,299 for their efforts, and it is "Scholomance" who looks on course for that sum as they sit down with the chip lead. However, there are only 13 big blinds separating the leader from fourth place, so the title is far from won.
Cards are back in the air from 7:00pm BST, with the 888poker Twitch channel streaming all of the action from the first pitched cards to the elated champion being announced. Of course, PokerNews will have a full recap of the final table action for you on May 31.
$200,000 XL Spring #19 – Mystery Bounty Final Table Chip Counts
| Place | players | Country | bounties | crisps | Big blinds |
| --- | --- | --- | --- | --- | --- |
| 1 | Scholomance | Montenegro | $755 | 2,676,602 | 45 |
| 2 | Fishermanl95 | Romania | $940 | 2,211,290 | 37 |
| 3 | tehnats | | $6,955 | 1,991,053 | 33 |
| 4 | nuncanemvi | Brazil | $1,340 | 1,892,948 | 32 |
| 5 | SimOnK | Lithuania | $2,266 | 1,684,552 | 28 |
| 6 | jpgomides123 | Brazil | $970 | 1,642,328 | 27 |
| 7 | Weezyspecs91 | United Kingdom | $940 | 1,121,111 | 19 |
| 8th | Diguiry | Brazil | $755 | 870.116 | 15 |