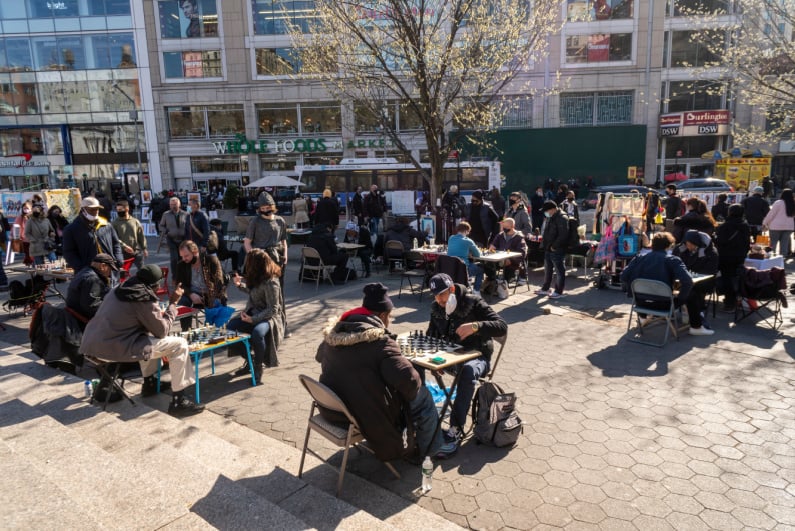 Chess streamer Nemo Zhou couldn't get anyone to play against her in a New York City park. [Image: Shutterstock.com]
Nemo struggles to hustle in NYC
FIDE Master, Woman Grandmaster, and WPT Global ambassador Nemo Zhou tried to put together a video hustling some New York chess players, but things did not quite go as planned. Players who were hoping to see Nemo return to high stakes action after her poker controversy last year will be disappointed as she appeared unable to find an opponent for the video.
Nemo's most recent reel, posted to her Instagram chess account on Tuesday, shows her trying to drum up some action. In one instance, she walks around a park and approaches a game asking, "Hi. Would you be down to play?… No… Oh, okay."
Streamer vs. hustler is a popular sub-genre of chess video, and one that Nemo dabbled in previously. Unfortunately for Nemo, this time she had already blown her cover.
Two more players turn her down for a game in the Instagram video. Eventually, Nemo realizes that the word is out on her. "I shouldn't have played Paul first," she says with regret.
To rob Peter, don't play Paul first
In November 2022, Nemo released a streamer vs. hustler video on her Youtube channel in which she took on a player known as "Russian Paul."
known in the New York chess scene as one of the "end bosses" of New York City chess hustling
Paul won the match, but it was fought hard and came down to time in the end. Unfortunately for Nemo's future hustling prospects, Russian Paul has a reputation. He is known in the New York chess scene as one of the "end bosses" of New York City chess hustling.
Nemo's streaming success and FIDE rating have given her fame, but among New York woodpushers, giving Russian Paul a run for his money gets you notoriety.
A poker scandal
Nemo's notoriety isn't limited to the world of chess gambling.
Plenty of chess players, including world champion Magnus Carlsen, have transitioned to poker. Nemo's move to poker was derailed recently when she was subject to criticism over a giveaway competition.
Zhou awarded the prize to her poker coach, Alex "Thallo" Epstein
Zhou, a newcomer to the game, won a $12,400 WPT package prize package in an online tournament in November 2022 and decided to give it away to one of her YouTube subscribers. In the end, Zhou awarded the prize to her poker coach, Alex "Thallo" Epstein.
She was allegedly dating Epstein at the time and leaked messages from Thallo appeared to show him attempting to sell the package before the draw. These circumstances led to accusations that the the giveaway was rigged.
Zhou initially responded that she would "not feel bad about giving [the package] to the person I think deserved it most."
She eventually deleted her initial response and apologized, writing that she had "messed up." She added that she had just "wanted to share [her poker success] with Thallo, who has invested hours and hours helping me improve my game" and got "carried away."
Zhou eventually re-ran the giveaway with Epstein excluded from the competition, somewhat mollifying her critics.
Since then, she has largely gone back to producing the kind of chess content on which she initially built her career. However, viewers can probably expect there to be a lot fewer streamer vs. hustler videos going forward.