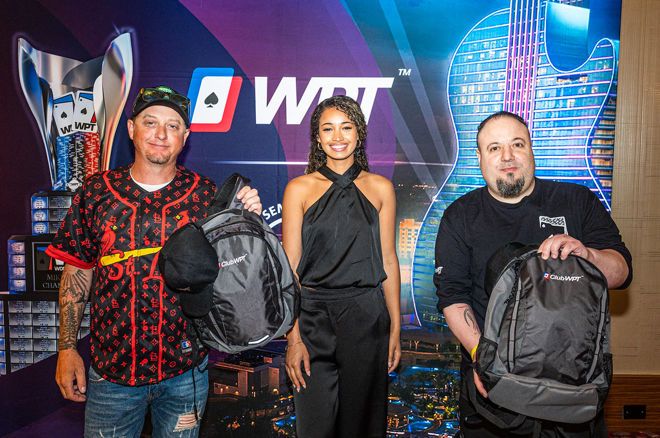 the World Poker Tour (WPT) $3,500 Poker Showdown at Seminole Hard Rock Hollywood Attracted more than 1,100 entrants on Saturday's Day 1b, and two of the competitors in the field were ClubWPT qualifiers Metti Saliu other Jon Batye.
The night before, the WPT took the two qualifiers on a catamaran ride complete with drinks, and on Saturday they were ready to compete in not only one of the biggest tournaments of the year but also the biggest in their lives!
Batye on a Freeroll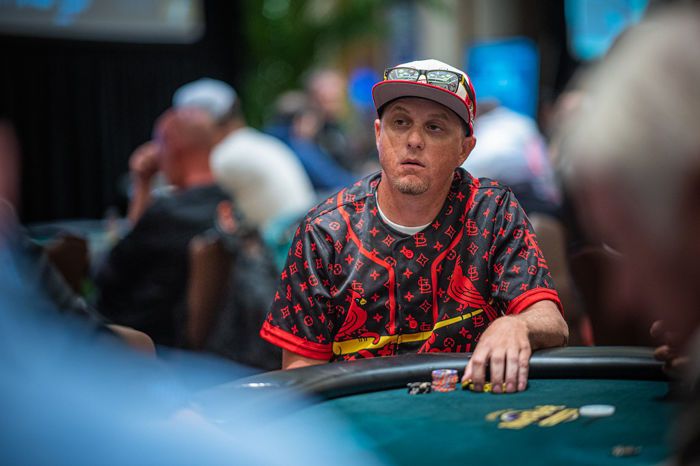 For the 40-year-old Batye, a concrete worker from St. Louis, he signed up for ClubWPT on a free trial and it was during that period he actually won his $5,500 package to the Seminole Hard Rock. Talk about a freeroll.
It was Batye's first time traveling for a poker tournament, and he was understandably excited. Early on Day 1b, he was up about 10,000 on the first break of the day. That was thanks in large part to a big pot where he flopped an open-ended straight draw with jack-ten and ran a semi-bluff against a player holding ace-nine.
Batye failed to make his straight, but he did river a ten and went for value with a bet of 10,000. He extracted it too as his opponent made the call.
"Overall not too bad," he said with a smile. Unfortunately for Batye, his luck crashed hard over the course of the next two levels and he busted shortly before the second break of the day.
ClubWPT 'Stream Team' Finally Gathers at Wynn in Las Vegas Post-COVID
From Milwaukee to Hollywood, Florida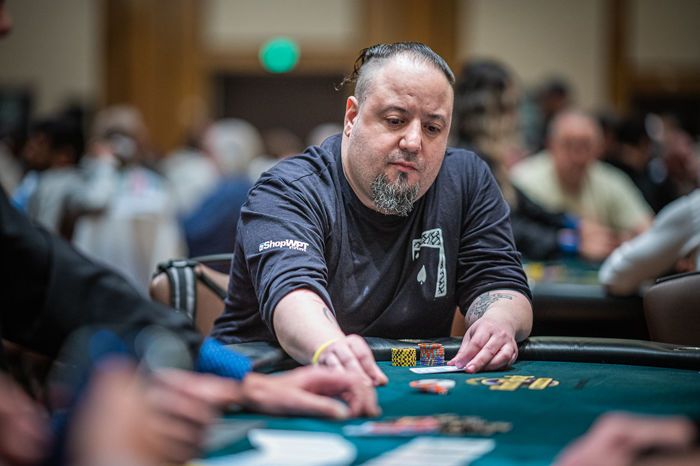 As for the 46-year-old Saliu, who hails from Milwaukee, Wisconsin, and works as an estimator, he has been playing on ClubWPT for years, especially after his local card room at Potawatomi Casino closed down during the pandemic. It was then that Saliu re-upped as a ClubWPT Diamond member.
He wound up taking down a winner-take-all satellite to win his way to Florida. It was redemption for Saliu as he had played the same tournament the year before only to finish in second place.
Saliu has been playing poker for approximately 11 years after picking it up from his father and brother, both of who learned to play during the Moneymaker "Boom" years.
"I was hooked," Saliu admitted. He then shared something interesting – the night before the tournament he had a bad dream that he picked up pocket aces in the first hand and went bust.
As fate would have it, he actually looked down at pocket aces in the very first hand of the tournament! In an attempt to dispel the premonition, he opted to just limp from the small blind and didn't go bust, instead winning a small pot. Even so, it was a little too close for comfort.
Eventually, Saliu became comfortable in the tournament and by the time Level 5 began he was sitting with 67,000 in chips. That is when PokerNews opted to spend an entire orbit watching him play. Here is what we observed.
In a Poker World Gone Mad, the World Poker Tour (WPT) is Proving Itself Righteous
An Orbit with Metti Saliu
Level 5 with the blinds at 300/600/600…
Hand #1 (Button): Action folded to Saliu and he just called. The player in the small blind did the same before the big blind checked their option to make it three-way action to the flop of 10♠2♣3♦.
The small blind checked, the big bet 800, and only Saliu called to see the 5♦ turn. The big blind checked and Saliu tossed out 1,300. That did the trick as his opponent folded.
"I owe you that one," Saliu told his opponent before showing the 5♦5♣ for a turned set.
Hand #2 (Cutoff): Action folded to Saliu and he did the same.
Hand #3 (Hijack): Action folded to Saliu and he released.
Hand #4: (Middle Position): Action folded to Saliu and he let it go.
Hand #5 (Middle Position): A player in early position limped and Saliu folded.
Hand #6 (Early Position): Salius folded.
Hand #7 (Under the Gun): Saliu limped and the player in the cutoff min-raised to 1,200. The button called, both blinds folded, and Saliu called to see a flop of 8th♠K♦8th♦. All three players checked and the 10♠ appeared on the turn.
Two more checks saw the player on the button bet 2,000 and only Saliu called. When the 7♠ completed the board on the river, Saliu checked, and the button bet 3,000. Saliu called and said, "I have a flush."
He then tabled the K♠J♠ for two pair that turned into a runner-runner spade flush and his opponent mucked.
Hand #8 (Big Blind): A player in early position limped and the next player raised to 1,200. The small blind called and Saliu did the same from the big. The limper came along and it was four-way action to the flop of 6♠J♠J♦.
Everyone checked as they did on both the J♥ turn and 2♣ river. Salius showed the A♥8th♥ but he was pipped as another player won the pot with A♣9♦.
Hand #9 (Small Blind): Both the under-the-gun player and the cutoff limped before Saliu folded from the small blind.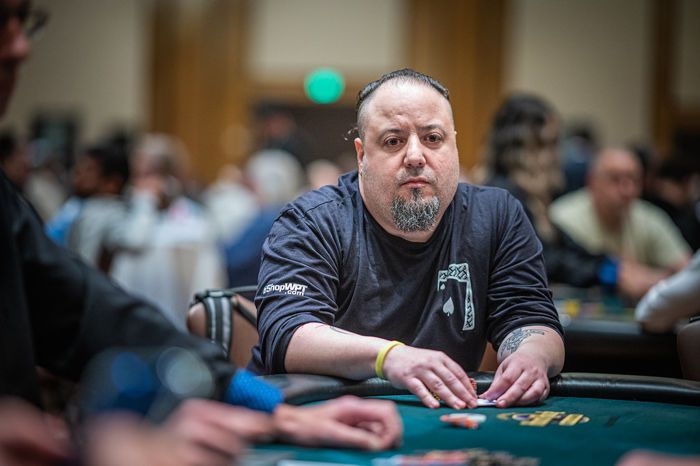 In With Aces, Out With Aces
Saliu made the most of the orbit by increasing his stack to roughly 75,000. He'd use that to grind out a good portion of the day, but like his fellow ClubWPT qualifier, lady luck turned against Saliu and he bowed out shortly before the last break of the night.
Ironically, it happened when he was holding pocket aces. With a player already all in preflop, Saliu and another player were engaged in a side pot. The latter just jammed with a diamond flush draw on an ace-high flop, and Saliu called off with top set. The turn was safe but the river was not as another diamond appeared. For Saliu, his day was in with aces, out with aces.
While they failed to find a bag, the night wasn't a total loss for the pair as both Batye and Saliu made their way to the WPT Poker Showdown Player Party that evening to rub elbows with some poker luminaries and tell a bad beat tale or two.
Learn More About the Subscription-Based ClubWPT here!
Did You Know the World Poker Tour is Online?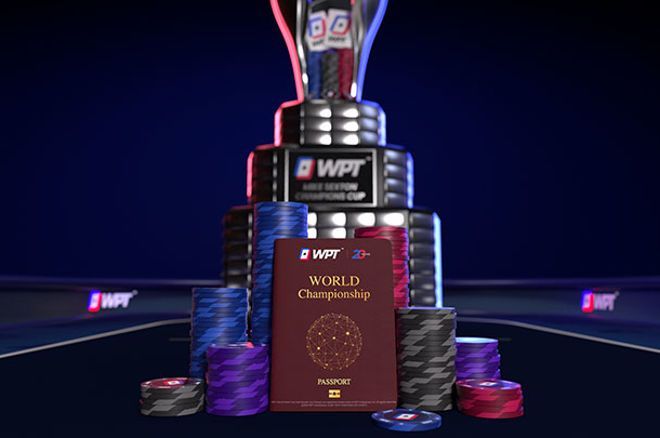 The launch of WPT Global means that poker players around the world now have the chance to win their way to WPT events, win prizes and enjoy exciting games such as Poker Flips. As one of the world's largest cash game poker networks, WPT Global is available in over 50 countries and territories around the world.
WPT Global offers a large deposit match bonus: 100% on deposits up to $1,200 (using any payment method). New players depositing a minimum of $20 automatically receive this match bonus which is unlocked in $5 increments (credited straight to the cashier) for every $20 of rake contribution.
Both tournaments and cash games count towards bonus unlocking; new players have 90 days from the date of first deposit to unlock and claim their full bonus amount.
*Images courtesy of WPT/Drew Amato.

Executive Editor US

Executive Editor US, PokerNews Podcast co-host & 2013 WSOP Bracelet Winner.