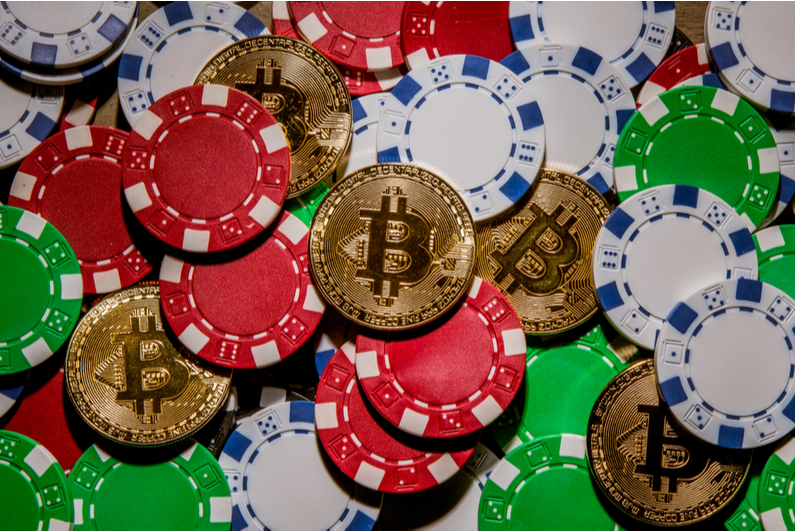 Crypto gambling is quickly becoming a gambling method of choice for many players, and VSO News has taken a look at how it has utilized partnerships to make a name for itself. [Image: Shutterstock.com]
Expanding its reach
Crypto gambling seems to be making the Vegas Slots Online News headlines more and more these days. The gambling method – in which players stake cryptocurrency rather than cash – has grown immensely in popularity over the past two years, helped by a selection of celebrities and high-stakes players who have endorsed it.
50% of Bitcoin transactions are associated with gambling
Demonstrating crypto's relationship with the gambling industry, around 50% of Bitcoin transactions are reportedly associated with gambling in some way. Meanwhile, experts have estimated that gambling-specific digital currencies have a combined value of more than $150m.
Now, crypto gambling also has an important role to play in virtual reality. In the Metaverse, gamblers can use cryptocurrency to play their favorite games, such as blackjack, roulette, and baccarat. In its first three months, the digital casino in Decentraland raked in $7.5m in revenue, and industry minds expect much greater profits than that in the future.
In the light of its increasing importance in the gambling space, VSO News has taken a look at how this new crypto gambling trend has carved out a name for itself in such a competitive industry.
Bankrolling gambling Twitch
In the world of popular streaming site Twitch, high-stakes gamblers have a strong following. Texan streamer Trainwreck, otherwise known as Tyler Niknam, has amassed 1.8 million followers through his high-stakes gambling exploits. He placed second in the Twitch streamer popularity rankings in March, ahead of ninth-place Roshtein, another gambler with 914,000 followers:
Like various other streamers, Trainwreck and Roshtein have deals in place with crypto gambling website Stake. The firm pays them to play, and they get to keep a portion or even all of their winnings. In February, Niknam revealed that his own deal with Stake is now valued at much more than the initial $1m per month contract he received when he first partnered the firm.
A questionable area
What does Stake get in return for these incredibly costly contracts with Twitch streamers? Well, the marketing exposure these deals offer is truly unparalleled.
The vast majority of Niknam and Roshtein's followers are likely gamblers or potential gamblers themselves. Added to this, despite his record-breaking wins, Trainwreck consistently reiterates that he is down millions of dollars in the long term – something probably true for all of Twitch gambling. After all, the house always wins in the end.
there is a moral issue
So, there doesn't seem to be a downside to these deals, but there is a morality issue. The agreements could potentially see vulnerable Twitch fans lured into the gambling world by big-money deals between streamers and operators, especially if followers are not aware that the deals have been made in the first place. This is something that streamers such as Trainwreck have drawn light to in the past, recently taking aim at Roshtein in a rant about transparency.
Regardless of the moral issue, crypto gambling has certainly utilized Twitch to the best of its ability, positioning itself as the go-to gambling method for high-stakes stars.
Celebrity endorsement
It isn't just Twitch streamers getting in on the crypto gambling hype, In the world of celebrity, no one has proven a better cheerleader for crypto gambling than Canadian rapper superstar Drake. He has consistently publicized his high-stakes gambling hobby on social media, and Stake is his operator of choice.
staked over $1bn since joining the Curacao-based gambling site
In February for instance, he bagged himself more than $298,000 betting on Super Bowl LVI. The rapper, real name Aubrey Drake Graham, wagered in excess of $1m on three bets. Other times, he hasn't proven quite so lucky, losing $275,000 backing Jorge Masvidal to win UFC 272 last month. Drake has supposedly staked over $1bn since joining the Curacao-based gambling site in December 2021, placing a total of 7,498 bets.
Such is Drake's support of crypto gambling that in March he announced a partnership with Stake, declaring the agreement "inevitable." He shared a video on his Twitter at the time to commemorate the moment:
Boasting an Instagram following of 104 million and Twitter following of 39 million, Drake's value to the world of crypto gambling is undeniable. Much like Twitch streamers, he has paved the way for the vertical to transition into the mainstream. With the rapper soon to announce a date for a live crypto gambling event, that influence looks set to only grow.
Both sides of the coin
Like most things, crypto gambling has both positives and negatives. It allows gamblers to wager without having to go through lengthy baking procedures, making transactions faster than anything other operators can offer. Then, the use of cryptocurrencies also increases the trust between player and operator with transactions registered in a blockchain framework.
the vertical can create a headache for regulators
However, crypto gamblers must also bear in mind that digital currencies are extremely volatile, unlike standard currencies. In addition, the gambling method can create a headache for regulators around the world. It allows players to remain anonymous and increases the possibility of gambling from prohibited jurisdictions.
Regardless of these issues, it's clear that crypto gambling is here to stay. With the help of Twitch streamer deals and celebrity endorsements, the vertical has cemented its name in a highly-competitive industry. If crypto sites are able to capitalize on that growth, then the possibilities seem endless.