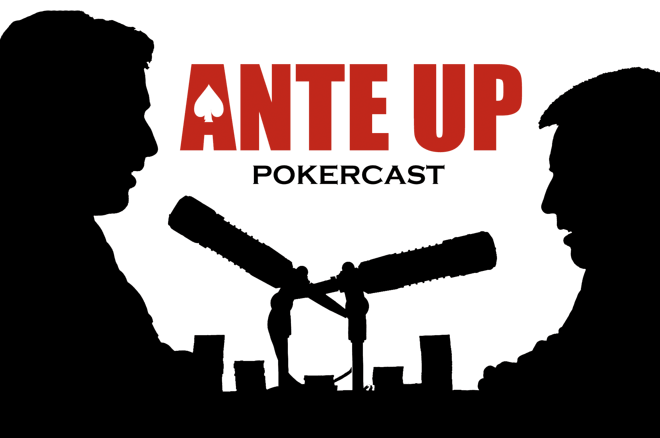 Ante Up Poker Media LLCwhich was dedicated to everyday poker players and their poker rooms, was founded in June 2008 by Scott Long other Chris Cosenza. In addition to publishing Ante Up Magazinewhich was distributed to rooms around the county, and hosting Ante Up Cruises on the high seas, the pair also released weekly episodes of the Ante Up Poker Cast.
The audio show actually debuted on June 15, 2005, three years before the company (which is officially for sale) was founded, and between then and February 17, 2022, never failed to produce an episode each and every week. It was the longest-running poker podcast in history at 870 showsbut unfortunately, their run came to an end earlier this year.
"I am retired and needed my schedule free to pursue other interests," Cosenza explained. "We have been doing this for just about 17 years and it just felt like the time was right."
Long echoed those sentiments: "It just felt like it was the right time to bring this chapter of Ante Up and our lives to an end. Chris has wanted to retire for a couple years now and was getting busy with new hobbies, and I recently started my new business and have been growing it while getting even more active in my community. Our creativity was just going in different directions now."
PokerNews recently caught up with both Long and Cosenza to reflect more on their incredible run and contributions to the game.
Starting the Ante Up Poker Cast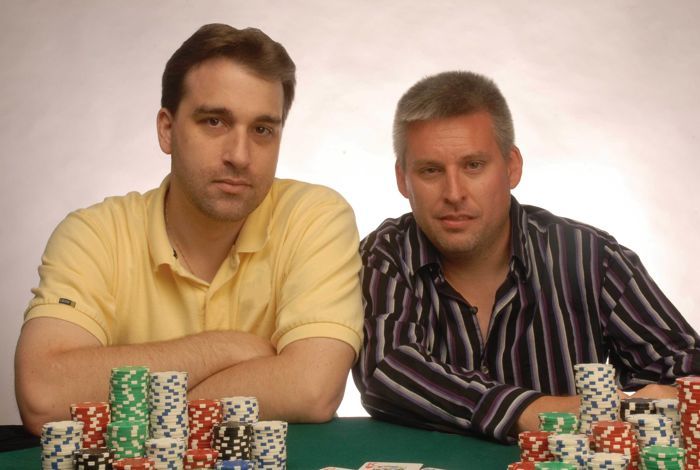 Back in 2005, Ante Up's famous duo were both working at the St Petersburg Times in Florida. Cosenza worked in a department that explored new media, including podcasting, and he volunteered Long and himself to tackle the new medium in the midst of the "Poker Boom."
"We were bad then, really bad," Long recalled, "but within about a month or so, we were getting emails from around the world, so we knew we were on to something. We would later build an entire company around it."
Indeed, the company would grow to become one of the most recognizable brands in the industry thank to having its own poker tour, which PokerNews has reported on, and putting hard copies on magazines directly into the hands of players.
During that time, Long and Cosenza became recognizable names to "Average Joe" players.
"I really enjoyed learning what Mayhem Scott got into the week before and poking fun at him for it, and vice versa," Cosenza said in regards to what he enjoyed week in and week out. "Nothing is more fun than two guys busting each other's chops."
For long, it was all about the fans.
"By far my favorite part of doing the show has always been the interaction with our fans. On a daily basis, it's been answering their emails about hands they've played, situations they've run into in poker games or questions they have about this great game. But over these past 17 years, it has meant sailing with them on Ante Up Poker Cruises, playing with them at Ante Up Poker Tour events, or crashing their home games. A good number of them have become great friends and will continue to be forever, I hope."
Best Free to Play Slots
Changing with the Times
When the Ante Up Poker Cast first debuted, there was a worldwide craze for poker. Money and opportunity abound, but in the decade that followed things changed considerably on more than one occasion.
Long explained: "The show has definitely changed over the years. From a technical perspective, we bounced around from a couple of different studios before deciding that Skype technology was good enough for us to do the show from our offices. But the content structure has been the most dramatic change. In the beginning, we just yapped into the mics, a mistake too many podcasters make. It wasn't long before we started structuring the show with regular segments, and that structure really helped bring the show together each week. Financially, we never monetized the show to its potential, a decision that oddly doesn't bother me much. We appreciate a strong partnership with PokerStars for many years until Black Friday, and we never found a true partnership like that again. I really wanted that, rather than popping in random ads or reading scripts for advertisers. So, we didn't make much money from the show, but I believe it remained authentic because we didn't."
"We interviewed just about every popular poker player and industry leader over the first 10 years or so, but then we really wanted it to be more about the fans."
Cosenza thought back on similar lines: "Being lifelong journalists, we felt we needed to inform the public, so we basically recapped whatever poker news was happening that week, but as our listeners grew, so did the need for more content. So, we incorporated standard bits and regularly scheduled segments, such as Columbo's One Minute Mysterywhich gave way to O'Mally's Move. We interviewed just about every popular poker player and industry leader over the first 10 years or so, but then we really wanted it to be more about the fans, so almost all of our segments eventually became fan-driven, from Listener Spotlight and Call the Floor to Hand of the Week and even some banter."
Speaking of guests, who were some of their favorites?
"Without a doubt, my favorite guest was AJ Benza," Cosenza said. "The guy was spot on, obviously very audio savvy, and he was hilarious. At the time, we were still working for the Times, so we had a certain journalistic integrity we had to adhere to, but he dropped so many F-bombs and other curse words that the show would have been one long beep. So, I approached our bosses and told them the situation. They let us post the show without any editing and it was easily one of our most popular episodes. It's the only time I ever had to check the profane language box when uploading to iTunes."
for long, Barry Greenstein was someone who immediately jumped to mind: "He had been up all night playing cards and our producer forgot to push the 'record' button. Barry was so on, and was incredibly gracious when we had to start over. And when we did, it was almost like we never started over. He was a true poker pro."
As for guests they never regret getting, Cosenza only had one.
"The only guest we didn't get that I regret was Phil Ivey," hey admitted. "I watched him play at Foxwoods once. I had to use the men's room, and when I came back he was knocked out and already on his was to Atlantic City to play baccarat at the Borgata."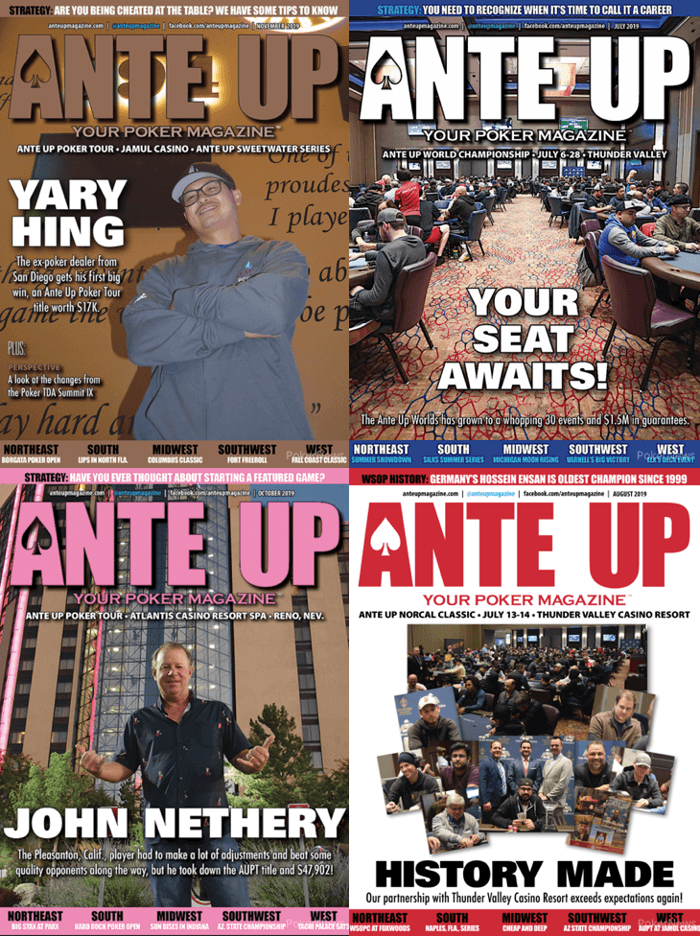 What Will Become of the Rest of Ante Up?
While the Ante Up Poker Cast has ended their weekly run, future one-off episodes are a possibility. Similarly, the rest of the company will remain operational.
"Ante Up Poker Media LLC remains for sale, and we've received three new inquiries this week and continue conversations with other interested buyers," Long revealed. "So, the future of the company, including whether the podcast will be resurrected, will depend on who decides to carry on our legacy. But in the meantime, we have refreshed our website, will monetize it better, and expand our online news report to include all forms of gambling as sports wagering, in particular, grows quickly."
Those interested in learning more about Ante Up Poker Media LLC can contact Long directly at [email protected].
As for Long himself, while poker is playing a smaller role in his life nowadays, he's not slowing down.
"I created a new company, Quiz Creative LLC, last year that combines all of my passions – content creation, event planning, community engagement, and more," he said when asked about what's next. "I structured the company to run small if I'm still needed at Ante Up, or much larger if not. Right now, I'm transforming my home office into a podcast and video studio and plan to launch some new video podcasts of my own very soon. That medium is just so strong in communicating with people and building communities – so strong that I can't imagine that podcasting won't be a part of my life forever, even though our Ante Up run has come to an end."
For Cosenza's part, he offered: "I'm looking forward to all of the perks that come with retirement, you know, doctor visits, constant junk mail from AARP, and writing angry letters to the Editor. Actually, I am an active member of the bonsai community and look forward to my time with my wife, Jeanne, and our little trees."
Ante Up Poker Cast's Legacy
Finally, PokerNews took the opportunity to ask both Long and Cosenza what they either believed or hoped would be the lasting legacy of the Ante Up Poker Cast.
Long: "We weren't the first poker podcast, but we were one of the firsts, and I doubt anyone was on the air consistently for as long as we were, so those are two legacies for which I believe we'll be remembered . But I hope our biggest legacy will be our dedication to 'everyday players,' which is who we always catered to, not just with the podcast, but also with our magazine, our cruises and our tour. Most poker media focus on big-name pros, large tournaments, and celebrities, but I've heard estimates that say 95 percent of poker players are recreational players. We made that 95 percent feel special in a way few others in the poker world have or will."
Cosenza: "There are quite a few things I think the show should be known for now that it's basically finished. First, we did a clean show. Occasionally a cuss word would slip in because in real life we ​​both swear like sailors on leave, but we wanted to remain professional and didn't want to offend anyone. So, the dedication. For the most part, it was done out of sheer enjoyment, never missing a week for like 800 straight episodes. We didn't make our bread and butter with this show; it was just that one chance a week to catch up, make each other laugh, and help that cab driver in Denmark make it through his shift."
Click here to listen to the final episode of the Ante Up Poker Podcast!
*Images courtesy of Chris Cosenza and Scott Long of Ante Up Magazine.