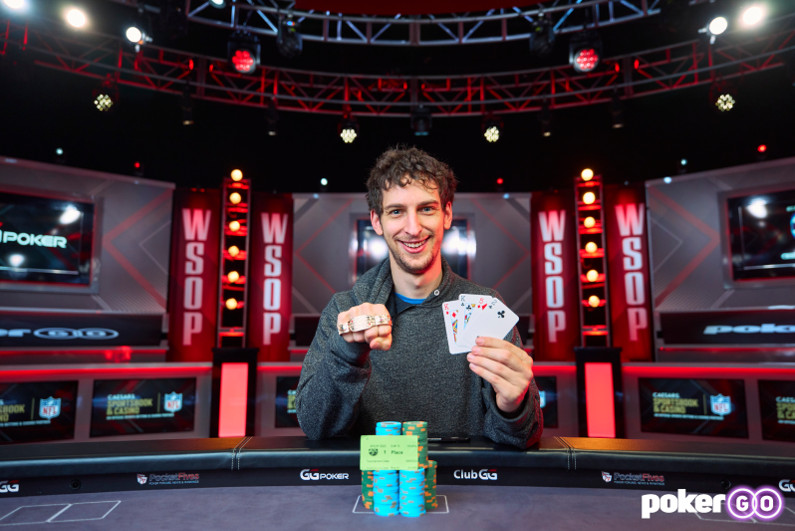 Sixteen cashes, four final tables, and two bracelets earned Dan Zack the 2022 World Series of Poker Player of the Year crown. [Image: PokerGO.com]
Deeb taught Zack all the tricks
A couple of weeks ago, I was playing the 2022 World Series of Poker Mini Main Event, drawing an unusually tough table for such a soft tournament that included Shaun Deeb and top Irish player/professional mystery bounty envelope-opener Padraig O'Neill.
Deeb exquisitely "reversed slowrolled" me
Deeb exquisitely "reversed slowrolled" me in a spot where we got it all-in on the turn, I holding the third nuts and he with the nut blocker.
"Nuts," he declared before rolling over the nut-draw with one card to come. I held and we got chatting, playing a game of "Name the Main Event winners from each year in reverse chronological order" and then later discussing the Player of the Year contest. It went roughly as follows:
Me: "How many people can win it?"
Deeb: "That's a great question."
Me: "Thank you Shaun, asking great questions is what I do."
Deeb: "What do you think the number is?"
Me: "40-50?"
Deeb: "It's bigger than that. If someone catches heat early, they normally go for it and always have a chance."
Me: "Fair point."
Deeb: "But you're right that it's not that many."
The conversation naturally turned to the leader in the race Dan Zack with Deeb half-jokingly, helped seriously lamenting how he had given away to Zack "all the tricks" of how to maximize his chances. Deeb certainly knows his stuff on this front. He is a perennial chaser, always in the mix, and this year was no exception as he finished fourth. In fact, when you look at total WSOP POY points earned over the last decade, he is miles in front.
Zack's three-year goal
Zack hopped into everything he could stretch down the home, ultimately holding off challenges from Deeb, Dan Weinman (2nd), Koray Aldemir (3rd), and David Peters (5th). A contender since 2017, it was finally his time. Sixteen cashes, four final tables and two gold bracelets was enough to get over the line.
After being declared the winner, an emotional and grateful Zack made it clear that full-time poker is not in his long-term future. He is getting married next year and plans to settle down and have a family. This was therefore one of his last shots at the title.
it's been an insane battle each year and I'm really ecstatic to actually get there"
"It means a lot, I set a goal three years ago that I really wanted to try to win it before I left poker, and this is the third series I've tried…it's been an insane battle each year and I'm really ecstatic to actually get there…I have been super stressed the past few weeks trying to close out the series. Thanks to everyone who's wished me luck."
Two bracelets
On his way to winning POY, Zack won his second and third bracelets, single-handedly keeping the streak of double-bracelet winners at the series since 2000 alive. Those bracelets were hard fought, as Zack played two of the longest heads-up matches of the summer to claim them.
Zach's first came in the $10,000 buy-in Omaha Eight-or-Better Championship event, in which he battled with Dustin Dirksen for seven hours to ultimately claim the title and $440,757. His second came in the $10,000 Seven Card Stud Eight-or-Better Championship event where he won $324,174. This time, it was David Funkhouser who clung on for eight hours before finally succumbing.
Despite the two victories, Zack could feel the chasing pack breathing down his neck and knew that he would have to make EV sacrifices. He alluded to this in his post-victory interview:
"You're tossing away a few hundred dollars here and there just to give yourself the best chance to compete because you know that guys like (Deeb) are doing the same thing and it's the only way to keep pace with them."
Poker immortality
Down the home stretch, with the POY crown within his grasp, Zack sold action to enter the $250,000 buy-in Super High Roller event. He made the final table, bowing out in 8th place for $488,095 and a vital points injection. At the 2022 WSOP, his cashes totaled almost $1.5m, accounting for half of his career live tournament earnings.
Zack's prize for winning Player of the Year is a custom trophy and a $10,000 seat into the 2023 main event. More importantly though, he becomes immortalized at the WSOP with a personalized banner that will hang proudly on the wall of either Bally's or Paris during future Series.
Final 2022 WSOP POY Standings
Dan Zack – 4,530.64
Daniel Weinman—4,040.20
Koray Aldemir – 3,275.02
Shaun Deeb – 3,197.65
David Peters—2,982.08
Yueqi Zhu – 2,766.27
João Vieira – 2,752.88
João Simao Peres – 2,735.76
Alex Foxen – 2,548.47
Brian Rast—2,520.06
Dario Sammartino – 2,465.20
Phil Hui – 2,445.32
Yuri Dzivielevski – 2,433.13
Lawrence Brandt—2,418.11
Calvin Anderson—2,403.91
Georgios Sotiropoulos – 2,397.74
Harry Lodge-2,370.19
Raj Vohra – 2,358.05
Chad Eveslage – 2,346.89
Jose Ignacio Barbero – 2,333.67
Michael Moncek – 2,320.70
Phil Ivey – 2,264.88
Yuliyan Kolev – 2,250.31
Adam Hendrix—2,242.90
Scott Seiver—2,236.35